AirAsia has become the latest airline to offer the interest-free finance program Zip Pay. Payment by this method is now available to all Australian AirAsia customers. Already available across a range of retailers and service providers, it is the largest competitor to the ubiquitous 'lay-by' provider, Afterpay.
What is Zip Pay?
Zip Pay offers approved customers a standard finance limit ranging from $350 to $1,000, with no interest on purchases. However you are required to pay at least $40 per month off any remaining account balance. Additionally, you'll need to pay a $6 account keeping fee per month. Paying your account balance in full by the end of your billing period will see this fee waived. Note that missed payments attract a $5 late fee. As a credit service, Zip Pay does perform credit checks on applications and payment defaults are reported to the Credit Reporting Body. For more information, see full terms of service here.
How do I access it on AirAsia?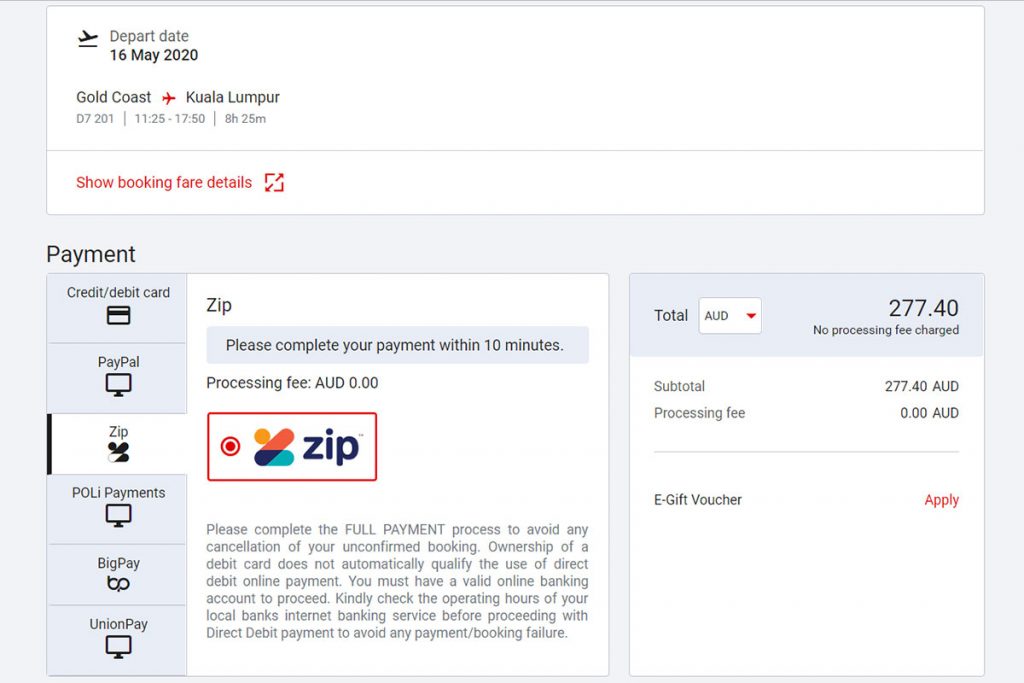 If you're an existing account holder, choose Zip Pay from the payment methods when completing your AirAsia booking. In order to process the payment, you'll be temporarily re-routed to log in to your account. If you do not have the available balance for your purchase, you have the option of using your available balance; you can pay for the remainder using a debit or credit card.
This new option is certain to attract more Australian customers as demand for interest-free finance options has risen sharply in the Australian travel market. Low-cost competitors Tigerair and Jetstar and are already offering this and Afterpay respectively.
Note: Zip Pay is a financial product from a licenced credit provider. Economy Traveller is not offering any financial advice, opinions or recommendations whatsoever and intend to provide factual information only. You will find the terms of service and additional information here.