It's that time of year when Woolies starts selling mince pies (what, already?), your tax return is in and notions of travel creep into daydreams. Well it's time to stop daydreaming and book some travel! AirAsia are putting up some pretty good deals for travel between now and June 30, 2019. With up to 50% off base fares, it'd be silly not to have a squiz. Here's a sampling of what's on offer:
[table style="table-condensed"]
| From | To | One-way fares from | Travel dates |
| --- | --- | --- | --- |
| Melbourne (Avalon) | Kuala Lumpur | $173 | 1 Jan to 30 Jun 2019 |
| Gold Coast | Kuala Lumpur | $192 | 1 Jan to 30 Jun 2019 |
| Perth | Kuala Lumpur | $155 | 1 Jan to 30 Jun 2019 |
| Sydney | Kuala Lumpur | $185 | 1 Jan to 30 Jun 2019 |
[/table]
Flights to 130 destinations beyond Kuala Lumpur are also on sale. So why not look at Delhi, Taipei, Seoul, Bali, Phuket, Siem Reap, Yangon, Manila, Singapore and Kota Kinabalu?
To book, visit airasia.com or fire up the AirAsia app. This sale ends at midnight on October 28 and availability is limited, so don't dilly dally!
Don't forget to book your meal
There's nothing worse than smelling the delicious waft of food after take-off… and realising it's not for you. The consensus at Economy Traveller is that you should usually pre-book food because (if you're weak for food like we are) you're probably going to shell out anyway. And as with all LCC travel, it's always cheaper to pre-book. So here's a dose of AirAsia deliciousness that you might want to not miss out on when the trolley rolls down the aisle: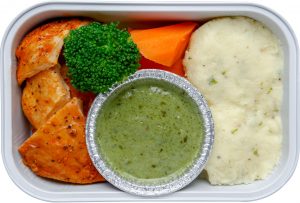 Roasted Chicken with Pesto Cream Sauce
This new meal features roast marinated chicken accompanied with fresh pesto cream sauce, buttery mashed potatoes and blanched vegetables. A delicious savoury treat that is perfect for any time of the day. Pre-book this as a combo meal with a drink for only RM15 (about AUD 5) on AirAsia X flights.