Pick up your first round of Free Seats 2018, with these offers available until 11th March 2018. Remember 'Free seats' means the base fare may be free, you still have to pay the taxes and charges as well as all your add-ons for baggage, meals etc.  ** For the latest offers (as at 20th May 2018)
Free Seats 2018
You'll need to have some plans in place before you book – the seats are for travel between 3rd September 2018 – 28th May 2019. There are also some restrictions on dates. Embargoed periods are generally school holidays and festivals.
This booking page has offer fares quoted as all in, one-way fares. This includes the fees. Please note that the prices may vary for some dates and times. If you are booking from overseas, go to the AirAsia website and select the offers from there, as well as your preferred currency.
If you're looking for Malaysian domestic destinations, these are what they have on offer from Kuala Lumpur klia2:
Alor Setar, Johor Bahru, Kota Bharu, Penang, Kuala Terengganu, MYR 15.00
Langkawi MYR 39.00
Kuching, Sibu, MYR 69.00
Miri MYR 79.00
Kota Kinabalu MYR 99.00
Labuan MYR 109.00
Bintulu MYR 119.00
Sandakan and Tawau MYR 149.00
International destinations
For International destinations, look at these prices out of Kuala Lumpur klia2:
Choose from over a dozen destinations starting at MYR 40, including

Brunei,
Bali,
Nha Trang,
Phnom Penh,
Siem Reap,
Ho Chi Minh City

or add anther MYR 6 and fly to Phuket or Krabi.
Other destinations available for under MR100 include

Yangon, MYR 53.00
Hua Hin MYR 79.00
Hanoi and Da Nang in Vietnam MYR 99.00
Yogyakarta, Bandung and Lombok, Indonesia, also going for MYR 99.00
Luang Prabang MYR 99.00

For less than MYR199, you can fly to

Chiang Mai, Vientiane, Kochi and Chennai from MYR 139.00
Macao, Colombo or Kunming

Plenty of choice for MYR199, including

Kolkata, Hyderabad & Jaipur in India
Chongqing, Nanning or Shanghai in China
plus Makassar,  Taipei – Taoyuan or Male

Up to MYR 300, we're looking at

Xi'an, MYR 239.00
Jeju, MYR 249.00
Melbourne or Gold Coast MYR 299.00

Above MYR 300, you can also pick up

Seoul MYR 329.00
Tokyo – Haneda MYR 359.00
Auckland MYR 499.00

and the most expensive is
Honolulu MYR 699.00 (via Osaka Kansai)
They also have some good deals on Premium Flatbed seats which will go quickly, especially for overnight flights. Fly-thru packages are also available as well as flights out of other Malaysian airports. Scroll down the list to check out their offers.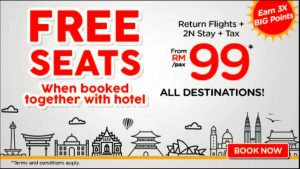 You want a holiday with that?
Why not book your flight and accommodation together and earn extra BIG points at the same time.
If you're an AirAsia BIG member, you get a preview sale the day before everyone else. Sign up and get their mailers so you can get in first next time.