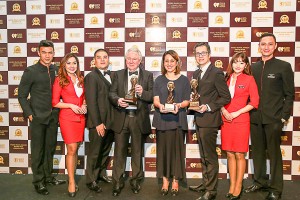 The AirAsia group has taken out three of the four awards they were nominated for, in the 2015 World Travel Awards, announced in Morocco on 13th December 2015.
The airline was named 'World's Leading Low Cost Airline' for the third consecutive year took out the awards for 'World's Leading Low – Cost Airline Website' and 'World's Leading Low – Cost Airline App' awards for the first time. The were also nominated under the 'World's Leading Cabin Crew' Category.
In conjunction with the awards and the airline's 14th Anniversary celebrations, AirAsia is offering promotional all – in – fares to all destinations throughout their route network on AirAsia and AirAsia X. You can also pick up special deals on Flight + Hotel packages.
I accepting the awards, AirAsia Group CEO, Tony Fernandes acknowledged the efforts of the AirAsia staff, adding that he is very proud of his team for banding together and working hard to emerge stronger and better, learning from all of their experiences in what had been a challenging year.
…As we work towards continuous improvement of service excellence, these three awards, especially the recognition of World's Leading Low Cost Airline for the 3rd consecutive year is incredibly encouraging. We are also thrilled to be nominated in the"World's Leading Cabin Crew" category.
Book your seats on the AirAsia website or mobile site, as well as via AirAsia's mobile app on iPhone and Android devices.
** Promotional all-in-fares quoted are for one-way travel only inclusive of taxes and fees. Terms and conditions apply.