AirAsia continues to strengthen their Kota Kinabalu hub with the launch of new direct Macao flights. The four times weekly flights to the southern Chinese city begin 2nd November 2018. Globally known as 'The Vegas of Asia', Macao is a vibrant city offering 25 world historical heritage sites and blends Portuguese and traditional Chinese culture, making it a unique destination.
….. Kota Kinabalu is one of our largest hubs after Kuala Lumpur and we are committed to grow it further by expanding our network to more local and international cities. We recently launched direct flight from Kota Kinabalu to Bangkok, and we are delighted to connect Sabahans to Macao and the Pearl River Delta. With Sabah strategically located in the northern part of Borneo island, we hope to bring the world to Sabah by linking Sabah with Asean, North Asia, Australia and beyond. Spencer Lee, Head of Commercial, AirAsia Malaysia
He added that the airline has, in the first seven months of 2018, flown more than 6.7million passengers to and from Sabah on 281 weekly flights. This further increase in flight connectivity aims to boost tourists arrivals and contribute to local economic growth.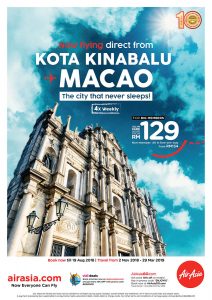 Promotional fares to Macao
AirAsia is offering special introductory all-in, one-way fares from Kota Kinabalu to Macao from MYR129. Book on airasia.com and the AirAsia mobile app until 19th August 2018 for travel between 2nd November 2018 and 29th March 2019.
Save extra
Log in as BIG member to enjoy an instant member discount.
BigPay members will save up to MYR32 when making payment using BigPay card. (** one (1) return flight per guest.)
*Promotional all-in-fares quoted are for one-way travel only inclusive of taxes and fees. Fares shown are for BIG members only.  Terms and conditions apply.
What is there to see and do in Macao?
The Historic Centre of Macao has many historical streets of residential and religious buildings. Many of the public Portuguese and Chinese buildings are inscribed on UNESCO's World Heritage list.
Stroll through the European-style neoclassical buildings and browse the boutiques around Senado Square.
Take a tour to the ruins of St. Paul's, Macao's most famous landmark, built in the 16th century as a college and cathedral.
Macao Tower, a 338m national monument offers the best 

bird's eye view of the city and 

popular activities including

Tower Climb,
Bungee Jump,
Sky Jump, and a
Skywalk.
Macao has many entertainment centres like the lavish Venetian Macao and Macao Fisherman's Wharf, a huge complex of theme parks -fun for the whole family. Foodies will already look forward to enjoying their famous egg tarts. Macao's national dish, Minchi –minced beef, potatoes, onions, soy sauce, topped with black fungus and fried egg over rice is also popular. And look for salted fish cakes or Macanese-style prawns to get you started on a serious food hunt!