It's summer in Australia right now and a great time for Festivals of all kinds. There's always music and other entertainment and quite a few of the festivals incorporate other varied activities as well, many of which are kid friendly. So get out the tent and get set to Rock Down Under during Australia's Summer Festival Season.
Our friends at Cheapflights have put together the top ten Aussie festivals to add to your summer bucket list…..
1. Meredith Music Festival – VIC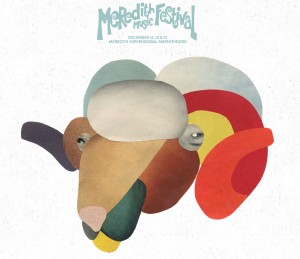 When: 11th-13th December 2015 Mostly sold out, but you may still get tickets
Where: Meredith Amphitheatre (in the small township of Meredith, halfway between Geelong and Ballarat on the Midland Highway (A300), about 90kms due west of Melbourne.)
What: The Meredith Music Festival (MMF) is a three-day outdoor music festival held at the "Supernatural Amphitheatre" boasting music, nature, nonsense, humanity at its most wonderful. A self-funded, non-commercial event that has been running since 1991, it is hosted on Nolan's Farm – a private property owned by the family of one of the organisers, Chris Nolan. The festival is not just on-stage, it's site-wide, there's things going on all over at all hours. For more info visit their website which is very helpful and also has information about transport from Melbourne.
2. Woodford Folk Festival – QLD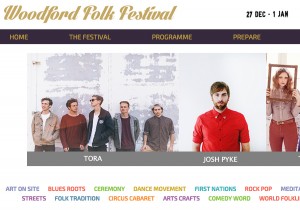 When: 27th December – 1st January 2016
Where: Woodford, in the Sunshine Coast hinterland (near Caboolture)
What: The Woodford Folk Festival has reached mythical proportions and status, with the annual event drawing more than 2,000 global performers. This year will be the 30th Woodford Folk Festival, where you can expect concerts, dancing, street theatre, comedy, art workshops, writers' panels, a film festival, circus acts and a festival for children. You'll even come across folk medicine and be able to debate major environmental issues as part of a special program. For more info visit their website and see how you can save money and organise transport from Nambour, Maroochydore and Caloundra as well as Montville & Maleny. 
3. Falls Festival – VIC, TAS, NSW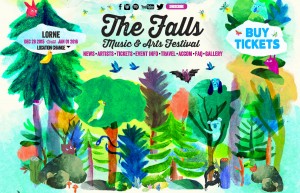 When: 28th December – 3rd January 2016
Where: Lorne, Marion Bay and Byron Bay (Three different venues)
What: A relaxed music and arts festival, the Falls Festival starts at Lorne with sister festivals at Marion Bay and Byron Bay during the same period. With something for everyone, you can listen to acoustic guitar artists, stand-up comedy and cabaret, or have a go at line dancing, take part in a circus workshop or fix up your 'do at a hair salon station. This year's big music acts include Bloc Party and Disclosure. For more info each of the venues has a different website, but you can start at any of them and move between all three using links at the top left.
4. Rainbow Serpent Festival – VIC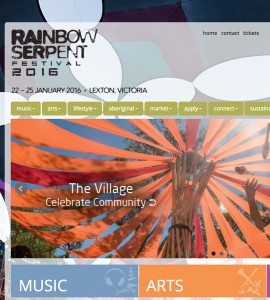 When: 22nd – 25th January 2016
Where: Lexton, on the Sunraysia Highway, 161 kilometres north west of Melbourne
What: Now in its 19th year, the Rainbow Serpent Festival is an electronic music festival where you can expect to experience a unique combination of music, art, performance, spiritual education, relaxation and healing. The name Rainbow Serpent comes from the Dreamtime creation story told by the traditional owners of the land, and one of the few dreamtime stories common to all aboriginal tribes. For more info visit their website, which is packed with information about the festival – what's on and lots of FAQs.
5. St Jerome's Laneway Festival – QLD, NSW, SA, VIC, WA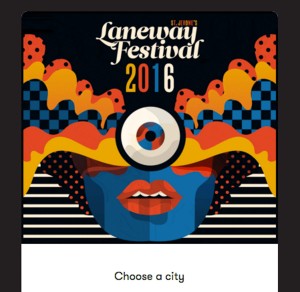 When: 24th January – 8th February 2016
Where: Various venues, starting in Singapore, before moving on to Auckland, Brisbane, Sydney, Adelaide, Melbourne and Fremantle
What: Covering seven cities and three countries, St Jerome's Laneway Festival breaks new ground this year with cutting –edge acts including headliners Chvrches. Originally founded in Melbourne and commonly referred to as Laneway, the festival opens in Singapore on January 24th before heading to Auckland on January 26th. The Brisbane show opens the Australian tour and is followed by festivals in Sydney (Feb 1st), Adelaide (Feb 6th), Melbourne (Feb 7th) and Fremantle (Feb 8th). For more info about all the performers and venues, visit their website.
6. Saltwater Freshwater Festival – NSW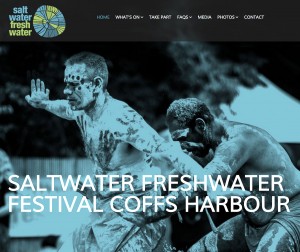 When: 26th January 2016 (Australia Day)
Where: Coffs Harbour, on the North Coast of New South Wales Held at the Botanic Gardens
What: The Saltwater Freshwater Festival is a one-day festival to coincide with Australia Day celebrating the music and culture of Australia's first people. Launched in 2010, it is one of the East Coast's premier Aboriginal cultural events and run by the 10 Local Aboriginal Land Council of midNSW. Featuring prominent aboriginal artists, the event also includes cultural workshops, indigenous dance troupes and art and craft markets. Entry is by gold coin donation. For more info on how to get there and what's on, visit their website. They've also got photos of previous festivals.
7. Perth International Arts Festival – WA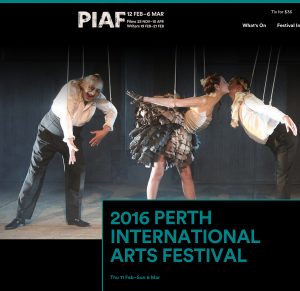 When: 7th February – 1st March 2016
Where: Various venues in Perth
What: The Perth International Arts Festival, or PIAF as is it is commonly known, is a three-week annual festival celebrating the work of contemporary artists from around the world.
It includes the Perth Writers Festival (Feb 20th – 23rd) and over the course of the event showcases theatre, music, film, visual arts, street arts and literature events that transform the whole city into a stage. For more info visit the Festival website.
8. Adelaide Fringe Festival – SA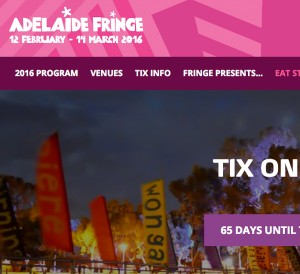 When: 14th February – 16th March 2016
Where: Various venues around Adelaide
What: Adelaide Fringe Festival is an annual arts festival where carnival meets Mardi Gras. The entire city of Adelaide is transformed to showcase artists of all genres, in venues of all sizes.
More than 900 events are held in places such as parks, warehouses, theatres and cafes and features an eclectic program of cabaret, comedy, circus, dance, film, theatre, music, visual art and design. For more info visit the Festival website.
9. Melbourne Food and Wine Festival – VIC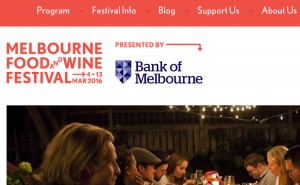 When: 28th February – 16th March 2016
Where: Various venues throughout Melbourne
What: Food and wine lovers descend into Melbourne in their hundreds and thousands each year to indulge in more than 200 events. The city becomes a gastronomic playground that fill the city's labyrinthine network of restaurants, laneways, low-lit basements and lofty rooftops. The Melbourne Food and Wine Festival is so popular it spills out into wider regional Victoria, known for its high quality and artisanal producers. For more info visit their website. Follow the dates on the website.
10. WOMADelaide – SA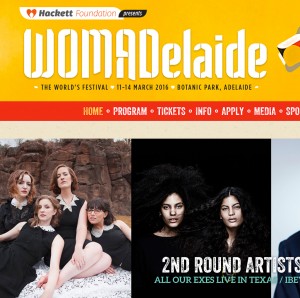 When: 11th – 14th March 2016
Where: Botanic Park
What: Now in its 20th year and very family friendly, WOMADelaide is the southern hemisphere's biggest world music and dance festival. As diverse as it is wonderful, more than 30 countries are represented across 7 stages, showcasing incredible talent from around the globe. Events include The Planet Talks, Artists in Conversation, Taste the World, KidZone and the Electrolounge, For more info visit the Festival website.
You can find out more and book your flights on the Cheapflights website.