Although this writer visited Hanoi some time ago, it's a destination that calls for another visit. We actually went on a whim, wanting to find a place to visit for a week not too far and certainly not too expensive. Hanoi came up top of the list on all counts even though it had never been even close to the top of our 'must visit' list. We really were doing Vietnam on a budget.
Why? Because Vietnam had a long and protracted war, so the country must be poor and backward.
Wrong – they have faster internet speeds than quite a few other countries in the region, for starters. OK, they're a Communist country so there must be no real economy to speak of. Right on the first, but surprisingly wrong on the second, as you'll see…..
Vietnam on a budget
We found our trip to Hanoi very affordable, despite being surprised that we couldn't but any cashews to bring home, one of the top producers in the world. Their amazing coffee, however, it easily available and packed well for you to carry safely.
Find a place to stay
We found our hotel by looking on AirAsiaGo (now AirAsia Holidays) for the least expensive options (In the Hoàn Kiếm area, with breakfast and wifi included) and got a really good deal. Prices aren't that much more now, you have a choice of hotels which bring a 7 night trip from Kuala Lumpur including air fares and taxes for under MYR800 per person. Of course, you do have to add in any baggage and 'convenience' fees, but it's still not too bad. The hotel we stayed in is no longer on the list, but going by the info and friends' comments, most of the similar hotels are just as good. Plus if you stay in the Hoàn Kiếm area, you are in the old quarter, where there are lots of things to do and see.
**TIP – We found the internet in Vietnam to be very fast and reliable and our hotel also had a free to use desktop in the lobby.
Have a beer and a meal
If you don't already know from friends about the 'cheap beer' corner, anyone can direct you to the right location. Inexpensive at between 3,000 and 10,000 dong, (less than MYR1 or AU$.30) and you get to sit on tiny stools by the roadside, watch the world go by and make new friends.
We enjoyed our tipple at the Ta Hien Beer Street in the Hanoi Old Quarter, but there are others nearby, well patronised by locals and tourists alike.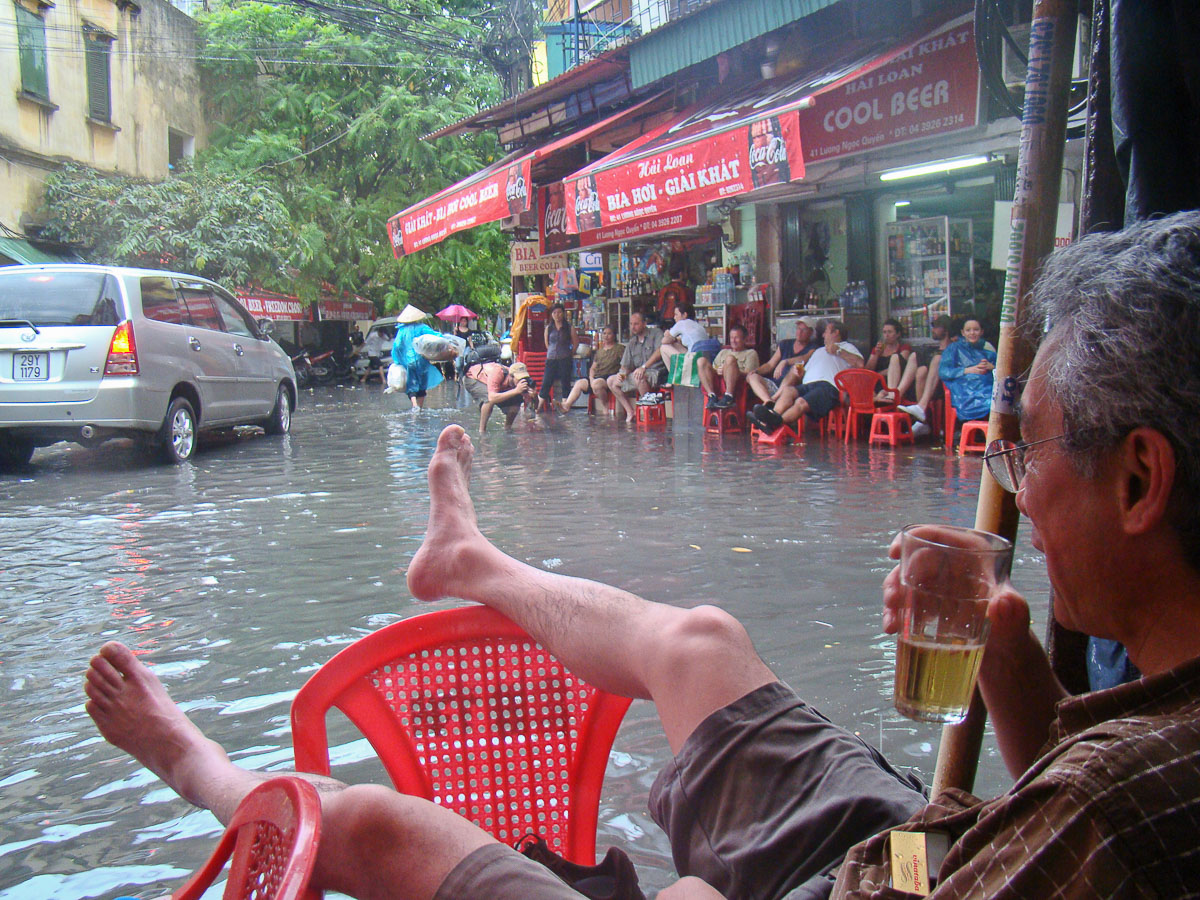 Be brave with the food – there are plenty of regular restaurants, but street food is freshly cooked and excellent. Try the baguettes with fillings of your choice, or look for a small open air place where they can cook a pretty decent variety of dishes for you. There will be plenty of locals there, and if they speak English or French, be ready to chat. We enjoyed one dinner talking to a very cultured gentleman who owned a group of martial arts schools in Vietnam, China and France.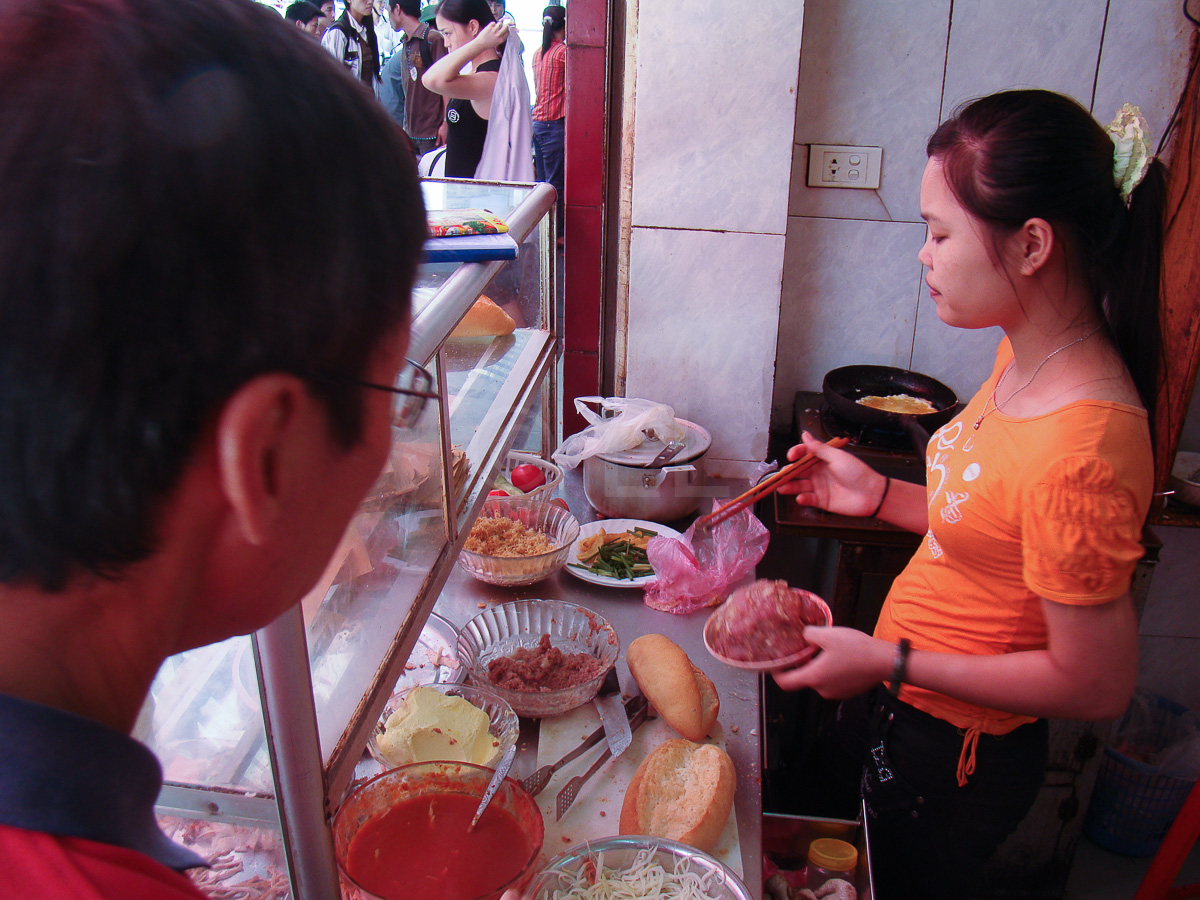 Go Shopping
For a self-avowed Communist state, Vietnam has a large number of shops selling all sorts of items and the Old Town area of Hanoi and its 'Thirty-six old streets' is surely 'commerce central'. The streets tend to specialise, so you can walk along the 'silver street' the 'shoe street', 'silk street' and so on.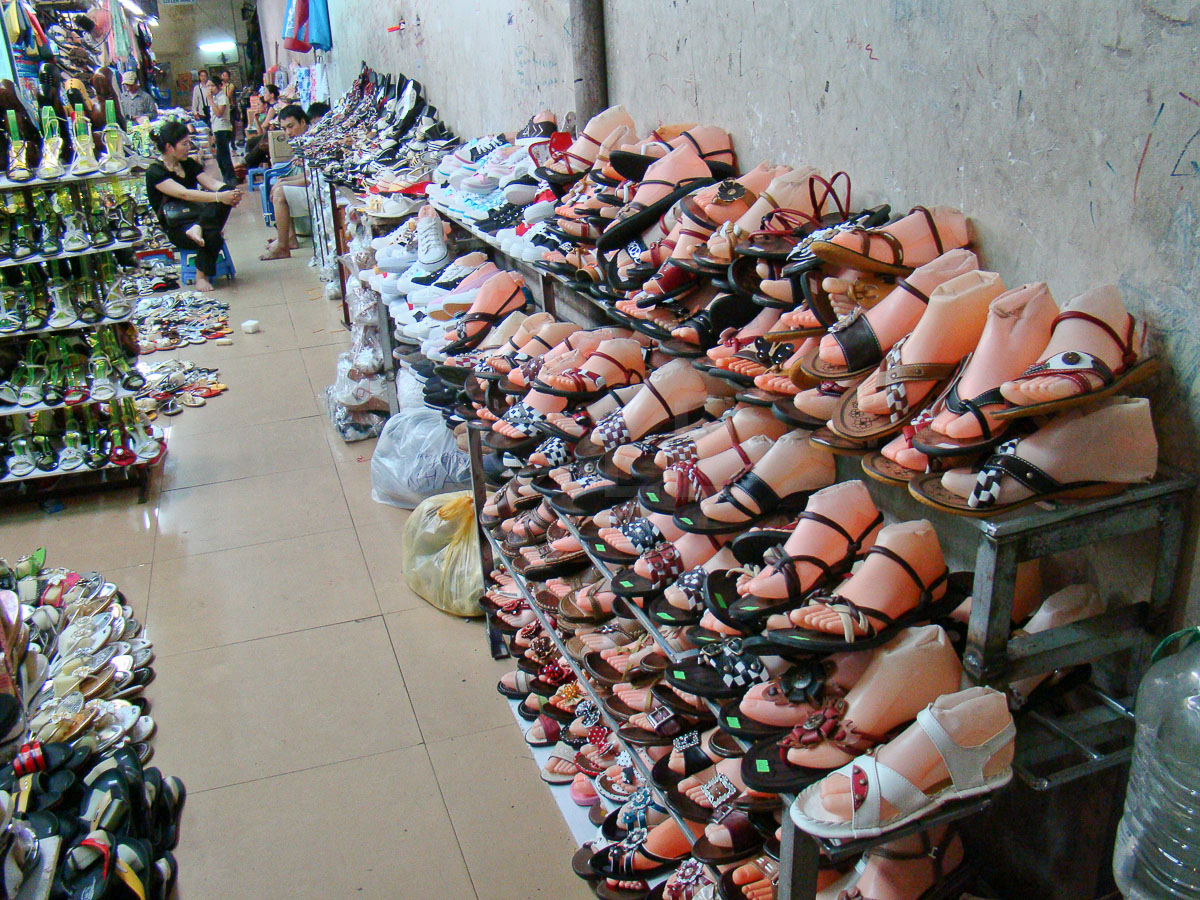 Get some new clothes made in the Silk street and apart from the ubiquitous and mandatory to buy t-shirts, you can take home beautiful lacquer ware and all sorts of 'antiques' and silverware. The other main popular item is coffee and you can choose from many types and strengths as well as choose your coffee making equipment to take home. Surprisingly, though we searched all over, including making a special visit to the central market, we couldn't find cashews for sale. Vietnam is a major producer of these nuts so we can only guess they must mostly be exported.
Visit a temple
The temples around Hanoi have also not suffered from Communism – the cultural roots go too deep especially where they relate to the Hoàn Kiếm and the temple built to honour the turtle that reputedly saved the city in times long ago. There has long been at least one turtle living in the lake, rarely seen and only one of four known such in the world until it died in January 2016.
Another temple worth a look is possibly the oldest in the city, which itself is over a thousands years old. The Chùa Tran Quoc Pagoda is located on the banks of the West Lake and holds many ancient Buddhist artefacts. Another ancient temple worth a look is the Temple of Learning with plaques commemorating scholars. Interestingly, you will notice that some have been defaced. We were told this was because the scholars had fallen out of favour and his name was 'obliterated'
The temples are very well kept and are spread around the city. If time is at a premium, a half day tour, including lunch is a good way to visit all. You can go back to the temple on Hoàn Kiếm later for a better look around. Ask at your hotel desk about tours, the prices are very competitive and you'll find out some inside stories on some little known events.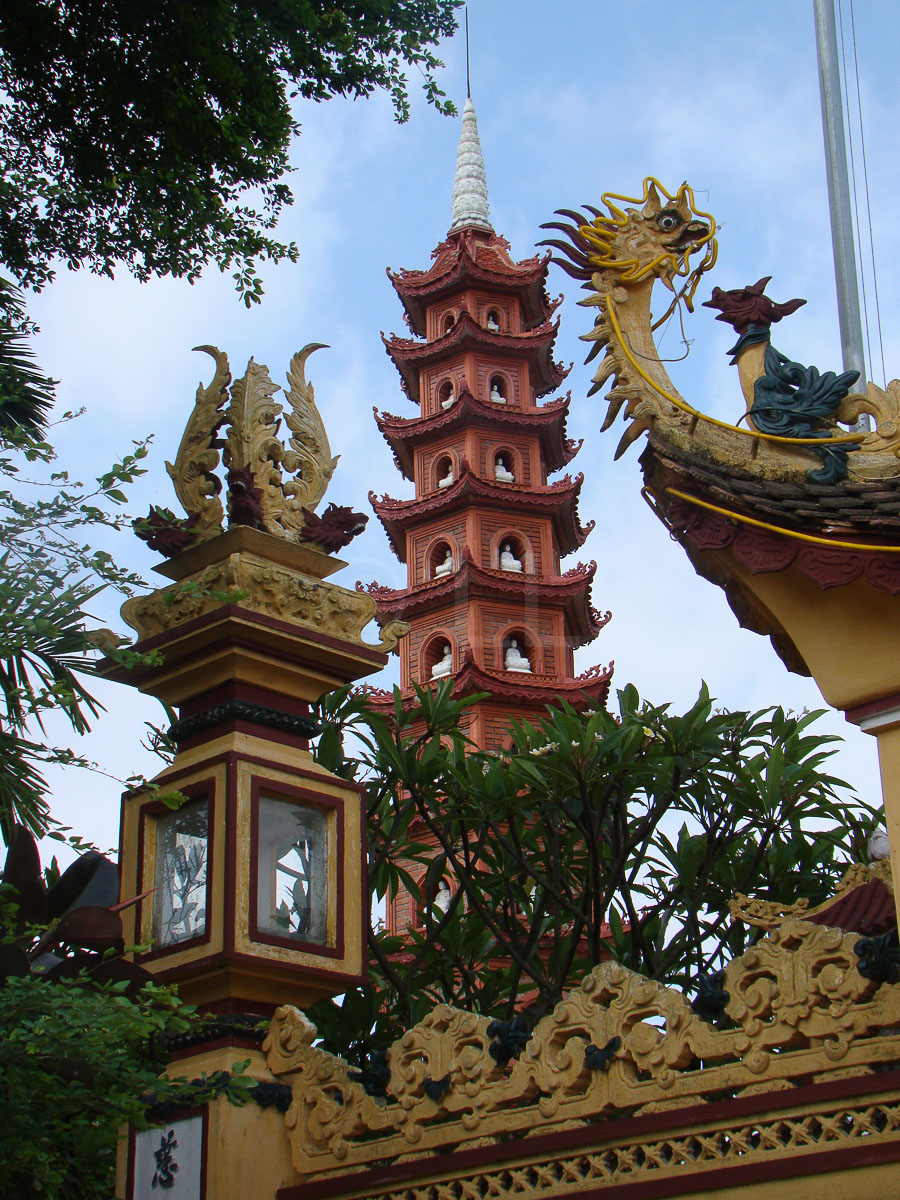 Visit Uncle Ho
If you're taking a half day tour, get one that includes a trip to the Ho Chi Minh Mausoleum. You will be required to deposit your cameras at a checkpoint and join the queue. Stay in single file (including children under your care) and move through in a respectful manner. In case you are in any doubt about any part of these instructions, the guards do not smile and they have fixed bayonets.
Close to the mausoleum is the colonial era Presidential Palace, but you will also be taken to the simple wooden house where Uncle Ho (as he is referred to by the Vietnamese) preferred to live. Listen carefully to the story of the tunnel and how he escaped the French, and admire the lake where he enjoyed feeding the fish.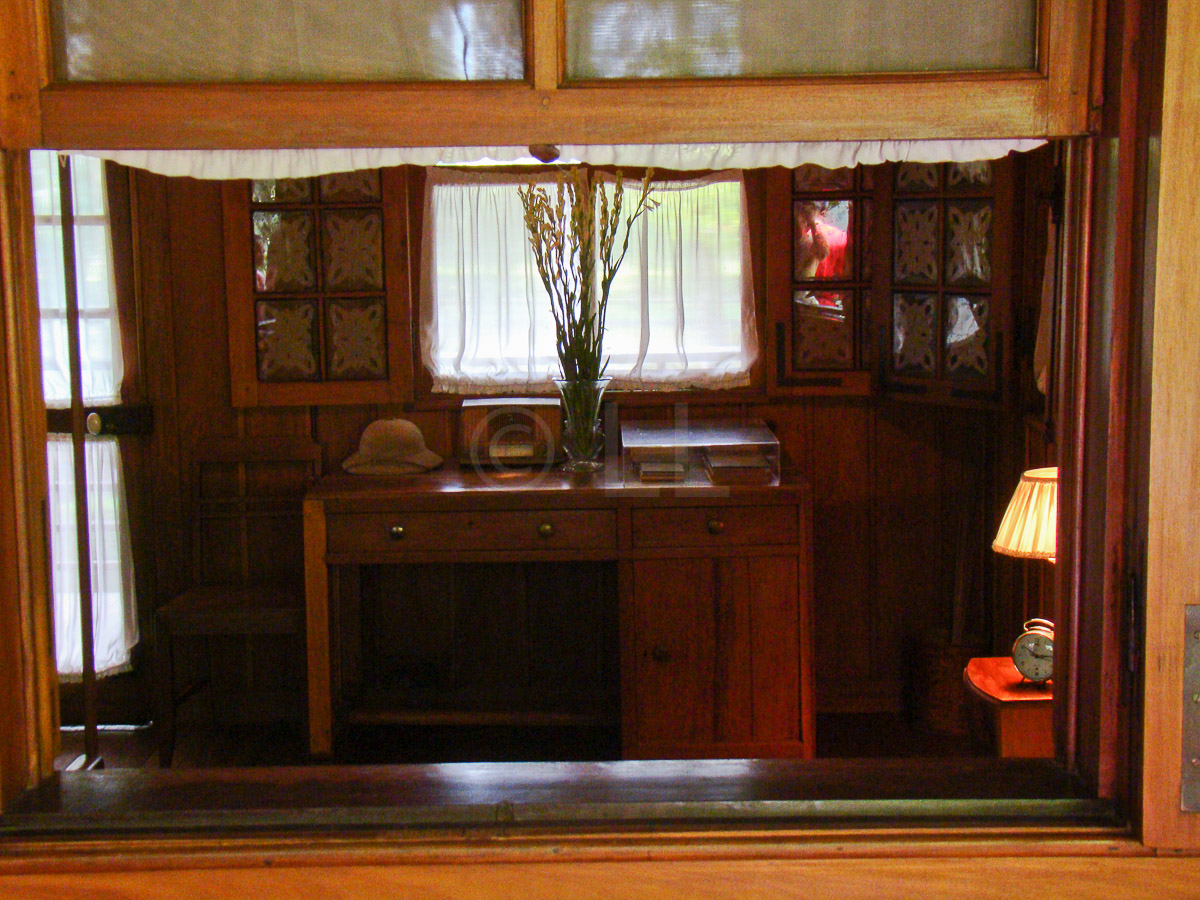 Get out of town
Your hotel or one of the many agents around the city, can help you find a trip to visit Ha Long Bay or Sapa in the mountains. Ha Long Bay really warrants at least an overnight trip so you can enjoy swimming and visiting the various communities in and around the more than 1600 karst islands forming part of this UNESCO World heritage area. Your trip will include the boat trip out and the overnight stay gives you a cabin on board and all your meals.
Sapa is quite a distance up in the mountains to the west and would be best to factor in before you arrive as a few days would be best especially if you enjoy hiking. There are a number of ethnic minority villages, farms and beautiful scenery.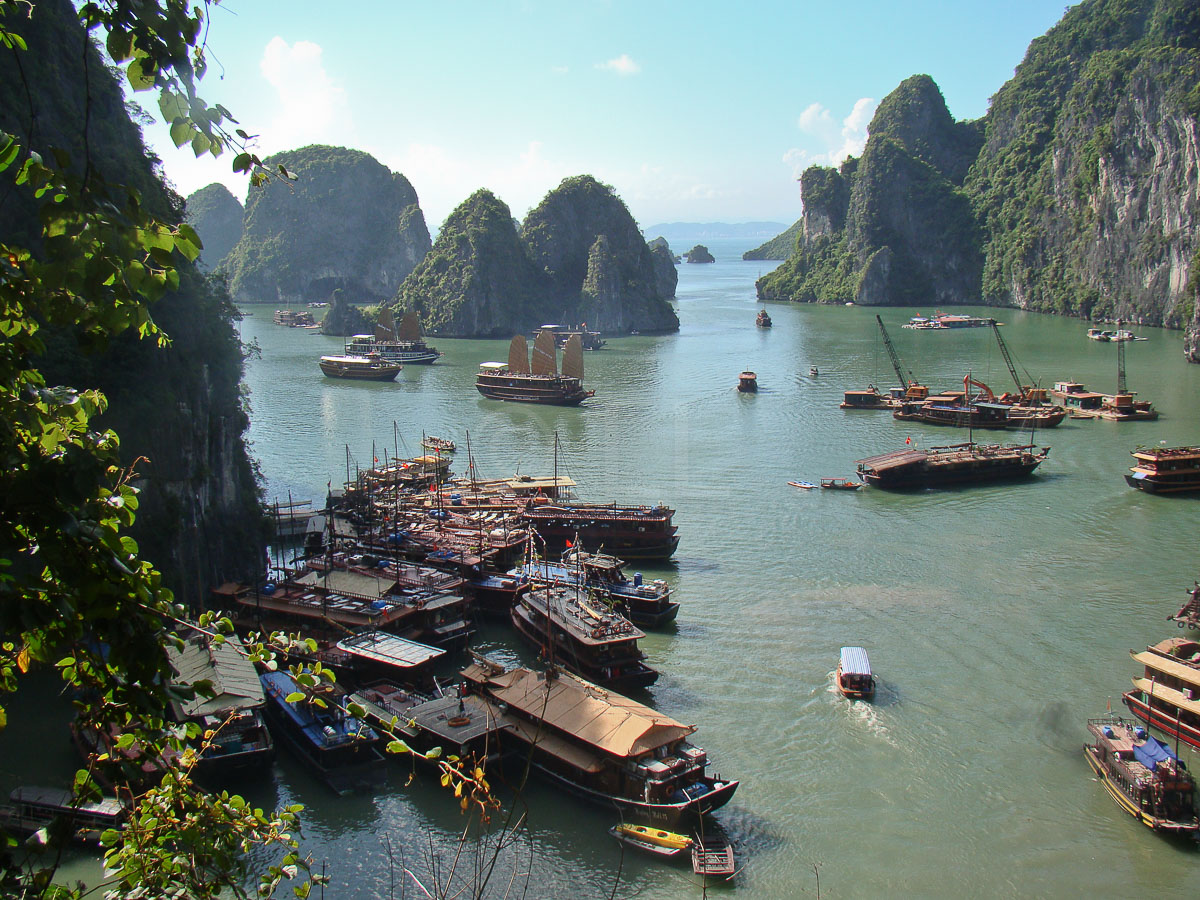 A bit of Culture
You can get a culture fix very easily in Hanoi – The Water Puppet Show (57B Dinh Tien Hoang) is uniquely Vietnamese and features a live orchestra and puppets moving about in the water controlled using poles from behind a curtain. There are a few performances a day and if you go on a Sunday morning, you may be able to take your camera in for free.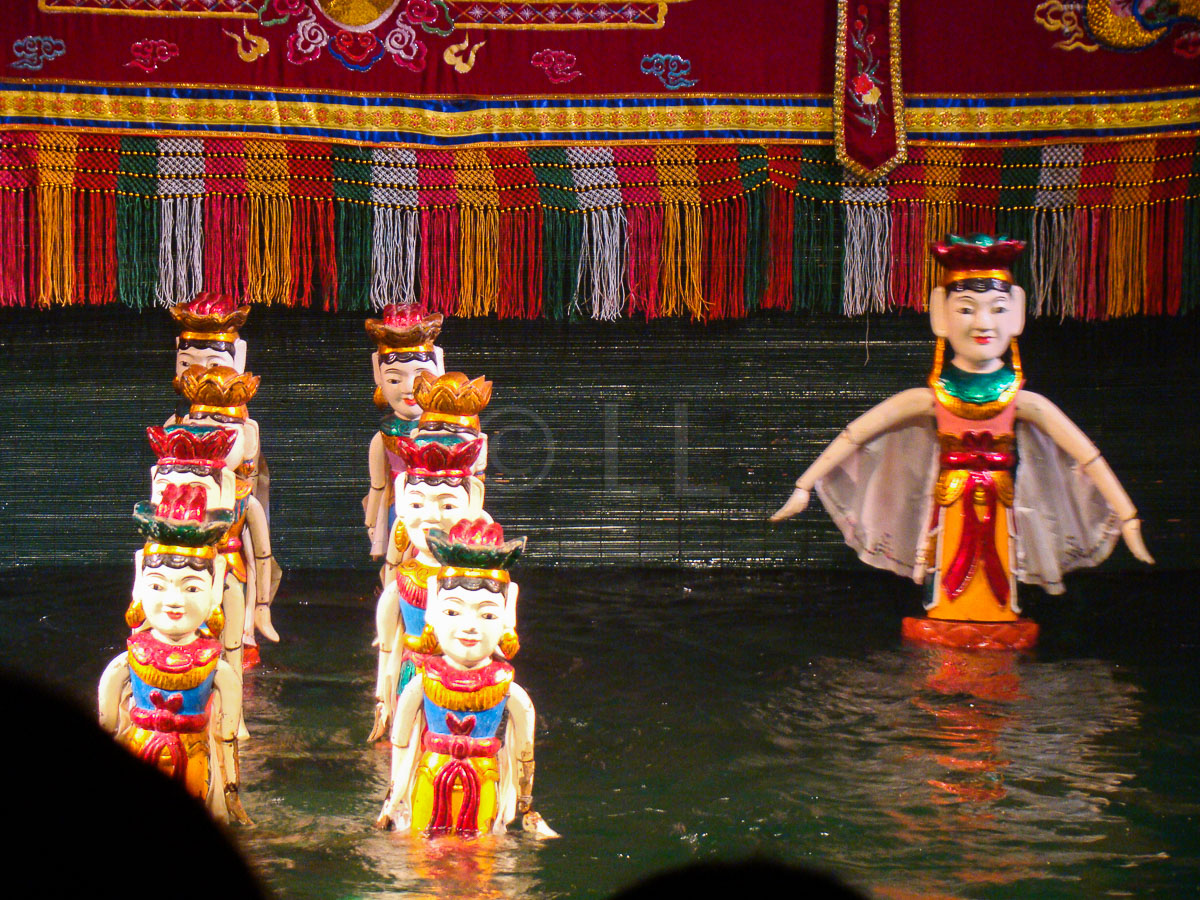 Visit the Hanoi Opera House at 59 Ly Thai To, either just for a look or a performance, and also in the same general area is a beautifully reconstructed Ancient house at 87 Ma May Street, giving an insight into life in old times in the city.
Visit a Museum
If Museums are your 'thing', the Vietnam Ethnology Museum in Nguyen Van Huyen gives the visitor a peek into the life of old and new Vietnam. Look for the bicycle with the baskets and read the story.
Annotations are generally well done and informative and there is also an outdoor area where you can see different types of houses used buy various communities. The outdoor area is popular with couples taking wedding photographs.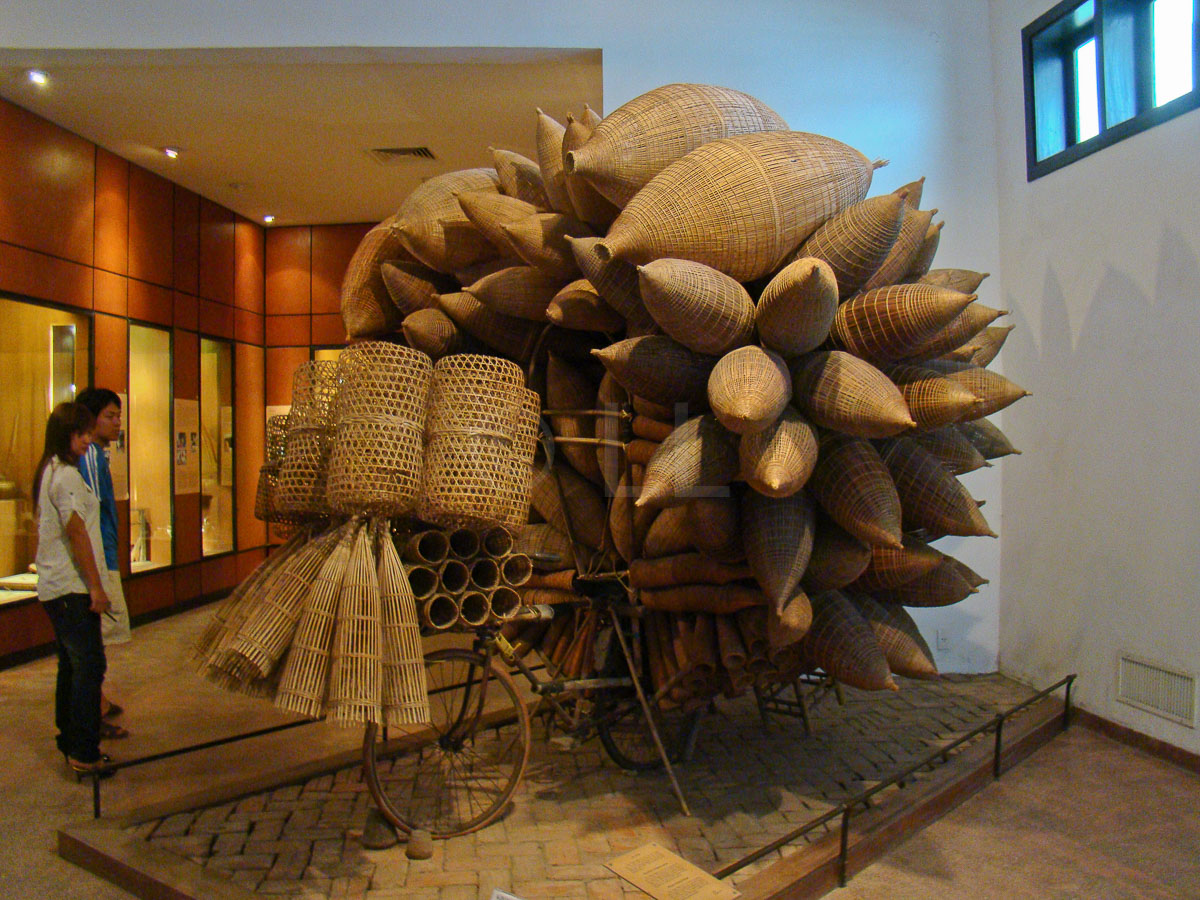 Walk!
If you are staying anywhere close to the lake, get up early and join the locals as they exercise in the park surrounding the Hoàn Kiếm Lake. There are individuals stretching, walking and jogging and groups exercising with swords!, badminton racquets and enjoying other group activities.
This part of the city is very walkable, with plenty of shade and good footpaths. In the shopping area, you may have to dodge shop stands spilling outdoors and be wary of motorcycles – there are apparently a couple of million of them in Hanoi.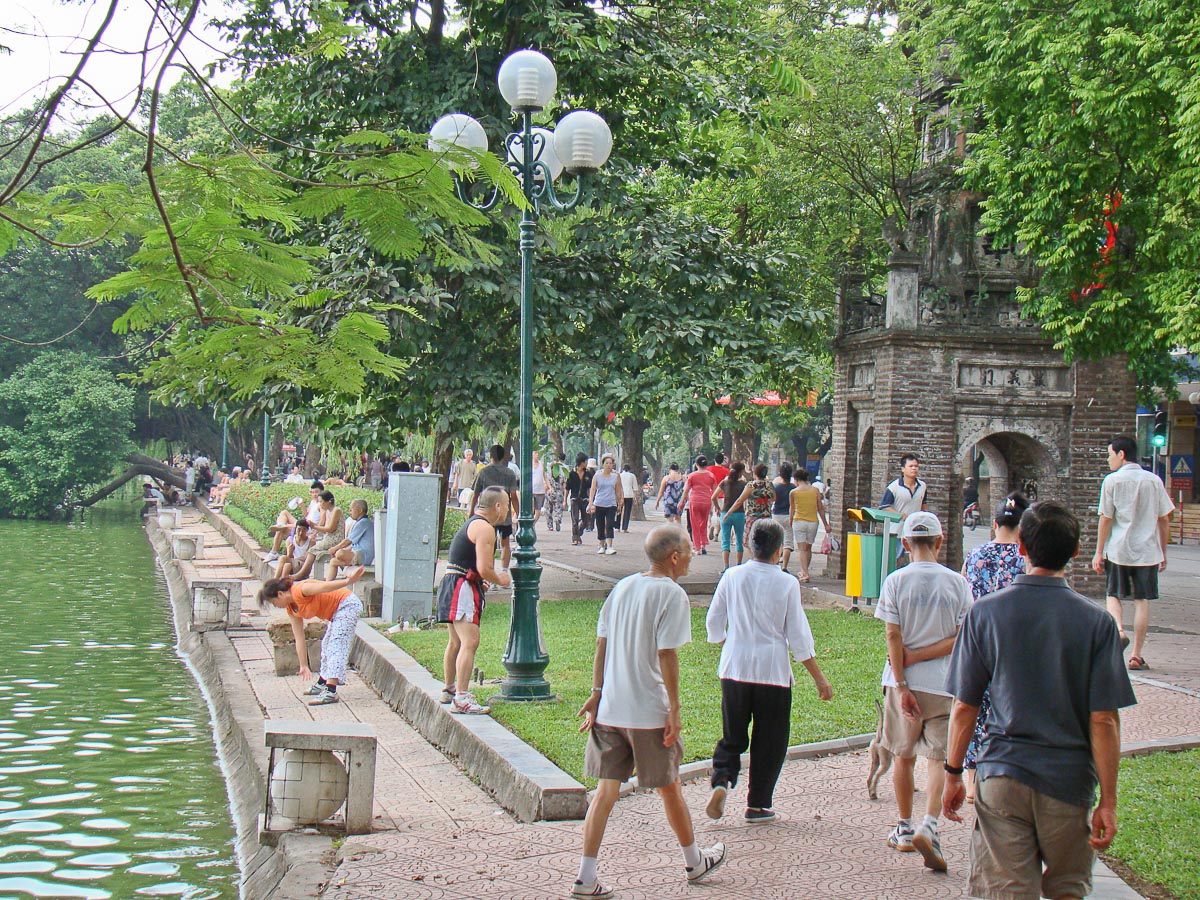 *** Be warned – if you go in July the weather is very hot and humid, so if you walk during the middle of the day, make sure you drink plenty and if you're staying nearby, run home every now and then to have a shower and cool down before venturing out again. This is advice from one who is used to living in year round heat!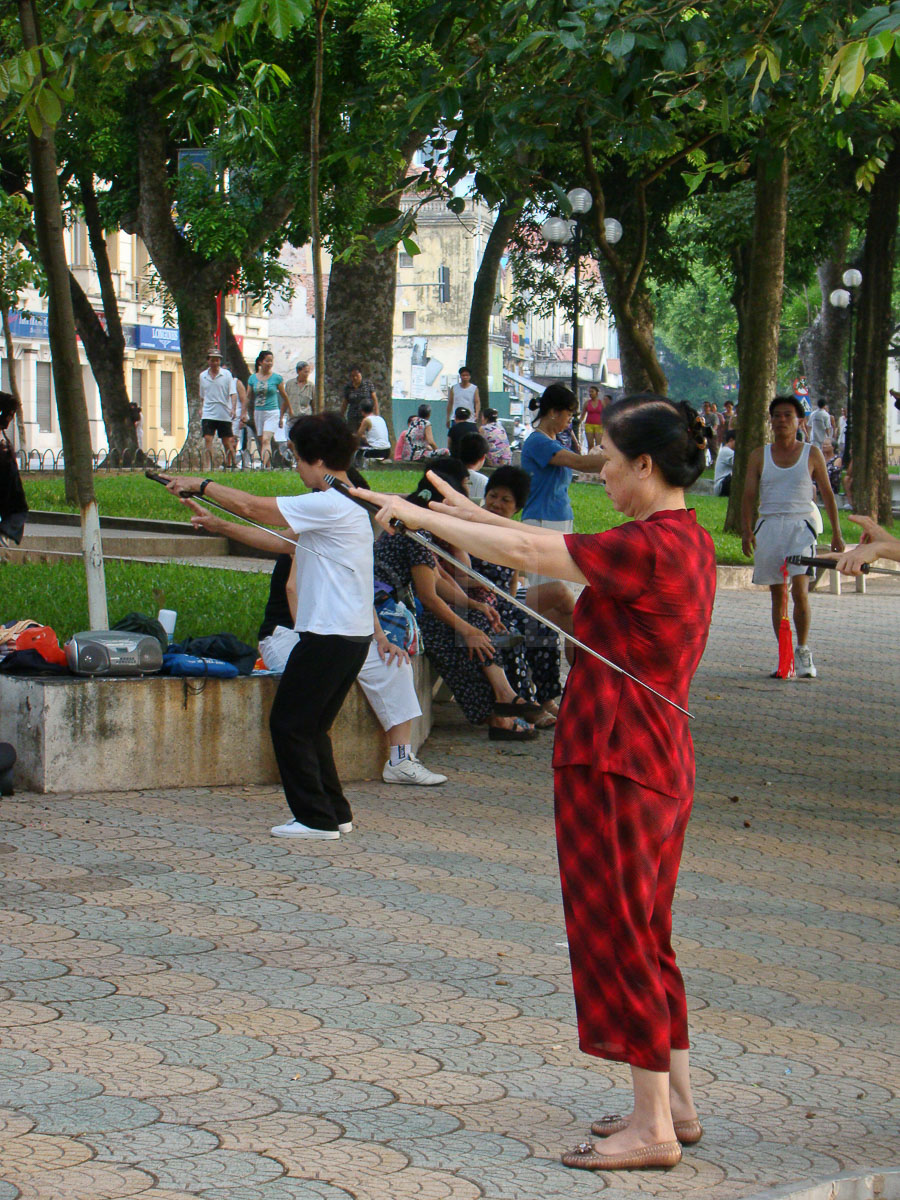 Visas
Citizens of ASEAN countries don't need visas to enter Vietnam for tourism purposes. Currently citizens of South Korea, Sweden, Denmark, Belarus, France, Finland, German, Norway, Italy, Japan, Spain, Chile, Russia, United Kingdom also enjoy a visa waiver.
Vietnam uses official agents to make it easier for you to apply for your visa online before you travel. Use these links for more information on visa requirements for specific countries and costs and forms for online applications,  HERE or HERE. You can also check requirements and apply HERE.