Three wonderful festivals coming up in Asia in the next few months and one that happens every month, offer travellers the chance to get messy with the locals – participation in a local activity is a great way to make friends and if you're a photographer or don't actually want to get dirty yourself, you can get great shots and some great laughs.
Here are some Messy Asian Festivals to get you started…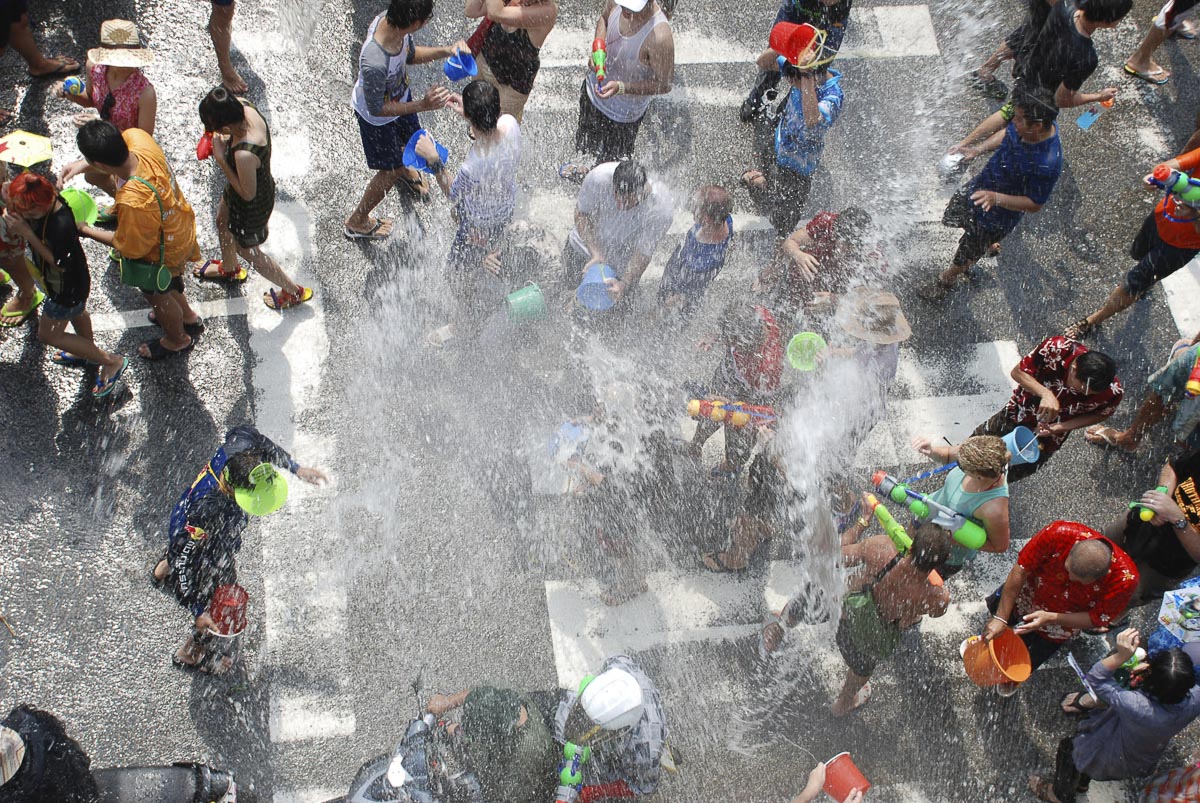 This is not an exhaustive list – there are lots of places you can have a great time getting grubby, colourful or giving a last fling to some clothes you wanted to throw out anyway!
Mar 24 – Holi Festival of Colour, India – characterised by the enthusiastic and generous throwing of coloured powder – don't expect to be able to wear these clothes again!
Apr 13-15 – Songkran Water Festival, Thailand – water should be much cleaner than coloured powder, right? Not necessarily. In some locations, participants colour the water and use water pistols to make sure everyone within squirting distance gets thoroughly wet. Songkran is also celebrated in Laos and though different names are used, in Cambodia and Myanmar as well. The water splashing is part of the new year celebrations in these countries and is associated with washing away the old and welcoming the new.
Jul (exact 2016 dates TBC) – Boryeong Mud Festival, South Korea – it's held every summer and if you join in, you will be wallowing in mud, not just dipping your toes in!
Every full moon – Full Moon Party, Thailand. This is particularly popular in the beach resorts, in particular Ko Pha Ngan. Despite being promoted as a fun filled for revellers in glow-in-the-dark paint, the all night party does attract a lot of drug and alcohol over-users.
… Travelling through Asia is a rite-of-passage for many Aussies and a carnival or festival can be the ideal way to delve into local customs and culture. Asia is an increasingly popular destination for travellers, as are the festivals they host. Events such as Holi and Beryeong both attract numbers into their millions and the Australian Bureau of Statistics* revealed that in the last 10 years, the numbers of Aussies visiting India and Thailand are up by over 200 and 194 per cent respectively. While festivals can be great fun, tourists can become targets for thieves and injuries can easily occur amongst the vibrant crowds so planning ahead and doing your destination homework is always important to help avoid unwanted travel surprises." Claudio Saita, Deputy CEO and Executive Director in Australia for Tokio Marine
Five top safety tips to staying safe while you party:
Less is more – street crime is always something to be aware of at any large public gathering in any location, but it's easy to forget the ground rules when you're away from home and having a great time.
avoid wearing flashy items and jewellery
if you're carrying a camera hide it or ensure you have a good hold on it all the time
never leave your things unattended
keep money, passports and credit cards in a body pouch, and make use of your room safe if there is one for items you don't need.
remember that even if you have insurance, you still have a responsibility for your safety and belongings and if you are careless, you may not be able to make a claim.
Respect the boundaries – If local authorities have set up barriers and boundaries, respect them. You don't want any incidents where you have an accident or end up in trouble with the police because you didn't follow the rules. It's also important to remember that you are a guest in the celebrations, especially if it is a religious festival, so respect the participants and cultural boundaries – keep your distance and don't make fun of the proceedings. Leave all performances to the participants, be they fire eaters and dancers or sword twirlers. Keep a safe distance.
Create a 'safe zone' – finding people at festivals and parades can be a nightmare, so try to meet your friends elsewhere and travel together to and from activities. Pre-plan a safe point nearby where you can easily meet each other if you get separated and carry a card with key contact numbers in case you need to make an emergency call. There is also safety in numbers, as the risk of kidnap is high in various countries, including India**. Sticking together could help you avoid being a target.
Know your limits – cheap alcohol is readily available in many Asian countries and can often be sold in stronger measures than the traveller is used to at home.  This is particularly prominent at Thailand's Full Moon Parties where alcohol is available 'by the bucket-load'.
Often unfamiliar types of alcohol are available, which can have a kick much greater than you'd expect. Toddy (palm wine) is one such example that is widely sold across Asia.
Keep an eye on your drinks and don't leave them unattended.
Spending long hours in the sun watching a parade can also make you dehydrated which quickens the effects of alcohol and over-indulging can impair judgement and increase the potential for accidents.
Check your travel cover – make sure you're not just covered for the festival period, but for the full duration of your trip which includes the days you leave and return to your home address. Also ensure you're covered for any of additional activities you may wish to participate in like motorcycle riding or jet skiing during your holiday. *** Remember – There are often exclusions or special conditions for activities with heightened risk so always read your policy to check the limits and terms and conditions.
If you are looking for Travel Insurance for your upcoming trip, remember to select a policy based on your needs and Read The Fine Print!  Some of the material provided in this article has been contributed by World2Cover, underwritten by the Australian arm of global insurer, Tokio Marine.
* http://www.abs.gov.au/ausstats/[email protected]/products/961B6B53B87C130ACA2574030010BD05
** According to a 2015 NYA International report, India was the second highest ranking country for risk of kidnap in January – December 2014 and risks remain high. NYA International (NYA) is a global risk and crisis management consultancy.