Why not take the kids to the airport these holidays? Wherever you live, if you have an airport nearby, it's a great way to fill a morning, an afternoon, or even a whole day. Watch the planes taking off, imagine where the people are going or see how many different airlines are visiting.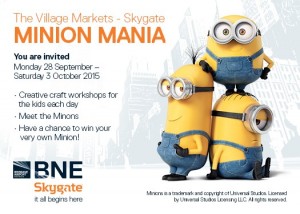 More and more airports these days are working to make themselves more accessible and providing many more services than just getting on or off planes. They are better connected with ground travel options like buses and trains and many have extensive shopping options as well.
Brisbane Airport have their Skygate Shopping & Dining Precinct and they've come up with some activities for the kids these September school holidays.
If your kids are Minion maniacs – why not take them along for the Minion Mania craft workshops between Monday 28th September and Friday 2nd October with a Meet & Greet session on Saturday 3rd October.
Image credits © Skygate