Passengers paid $737 each for a seat on the service and bid for a number of auction items, on a special 'Retro Roo' flight on 31st October, helping Qantas raise more than $114,000 for the Western Queensland Drought Appeal. The appeal was established in 2015 to assist with the co-ordination and distribution of drought aid across the Longreach area, which like many Western Queensland communities, has been drought declared for two or more years affecting the agriculture industry, local economy, businesses and services.
The Retro Roo flight to Longreach in Western Queensland was a one-off charity flight from Sydney to the Qantas Founders Museum in Longreach, using its 'Retro Roo' aircraft in 70s livery. Passengers got into the 70s spirit with retro outfits, a special Neil Perry-designed menu and cocktails, and entertainment from some of the musical icons of the era.
The initiative is part of the lead up to Qantas' 95th birthday in November and was aimed at supporting the community that gave wings to Qantas almost a century ago as the Queensland And Northern Territory Aerial Service. Leo Sayer provided the pre-flight entertainment in the Qantas Business Lounge, while Glenn Shorrock belted out Little River Band classics at the Qantas Founders Museum.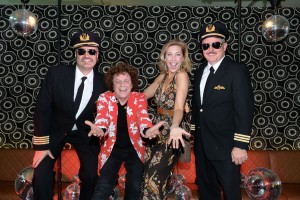 QantasLink CEO John Gissing acknowledged the tough times experienced by rural communities, saying "We know these are difficult times for Longreach and we're committed to playing our part to help both through this charity flight and through ongoing support for the local tourism industry."
In response, Western Queensland Drought Appeal Chairman Mr David Phelps said Qantas' support would help farmers and landowners in the region. He added "Qantas has shown their true spirit today. They have shown they are still very much a part of the outback communities where Qantas began, by generously raising money to help farmers battling drought. We are very thankful for this donation to our cause, and for Qantas' ongoing support of tourism and essential air travel in western Queensland".
The Retro Roo charity flight was made possible by Caltex and Air BP who donated fuel, Sydney and Longreach Airports who waived landing fees and Qantas cabin and flight crew who donated their time to operate the flight.
If you'd like to do your bit to help, donations can be made via the Western Queensland Website.
Image credits©James Morgan