From late February 2017, Qantas will begin trialling a new in-flight Wi-Fi service on a single Boeing 737 aircraft. The trial will include streaming services from Netflix, Foxtel and Spotify offered free to all travelling passengers. Following the trial, the service will be rolled out to its domestic Boeing 737 and Airbus A330 aircraft from mid-2017.
It's not the first time Qantas has trialled in-flight Wi-Fi. In November 2016, Qantas began trials using ViaSat equipment on a single Boeing 737 aircraft, with that trial continuing. The new service will use Sky Muster™ satellites launched as part of Australia's National Broadband Network initiative. The new service offers much greater speeds than existing satellite services, allowing the debut of in-flight streaming services.
How does it work?
You'll need to bring along your own smartphone, tablet or laptop to use Qantas Wi-Fi. You'll want to ensure that your devices are fully charged before flying in case your aircraft does not have USB-ports or in-seat power for charging. Consider also packing a powerbank for longer flights. Once powered up, connect to the Qantas Wi-Fi network on board and you'll be presented with the Qantas Wi-Fi home page.
The home screen provides real-time information about your flight, as well as hotel, restaurant and transport options and the weather at your destination. You'll also see your itinerary and Frequent Flyer account information. Clicking the Entertainment tab will present you with your in-flight entertainment options.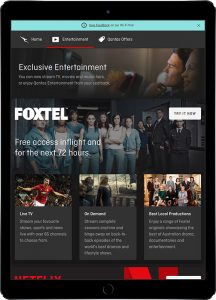 From here you'll be able to select a streaming service to suit you. In addition to the services below, streaming of Sky News Australia will also be offered.
Netflix
If you already have a Netflix account, all you need to do is log in and you're on your way. If not, sign up for a free 30-day trial, which gives you access to the entire Netflix catalogue.
Foxtel
You won't need to sign-up or subscribe to Foxtel. Simply select Foxtel and start watching anything from the vast catalogue, including The Real Housewives of Sydney, Game of Thrones and Big Little Lies. Live sports and news is also available to keep you up-to-date with the real world. You'll have three days of access to Foxtel every time you fly, so don't stress if you don't finish an episode (or series!) on board, just carry on watching once you're on the ground.
Spotify
If you're already a Spotify customer, sign in and enjoy your music as you would anywhere else. Otherwise, Spotify will offer a free 30-day trial of its Premium music service, which has no ads, shuffle play and unlimited skips.
You can also simply browse the internet, continue working online or stay in touch with loved ones. All of this presents a significant upgrade on what's currently available on board any domestic flight in Australia, and we can't wait to try it out. If you're one of the lucky ones to snag a Wi-Fi enabled Qantas plane, let us know about your experience in the comments!