In January 2017, Economy Traveller embarked on a Malaysia Airlines journey from Kuala Lumpur to Shanghai, returning to Kuala Lumpur from Beijing. About a day after completing our booking on the Malaysia Airlines website, we received an email from the airline, inviting us to bid for an upgrade to business class using MHupgrade: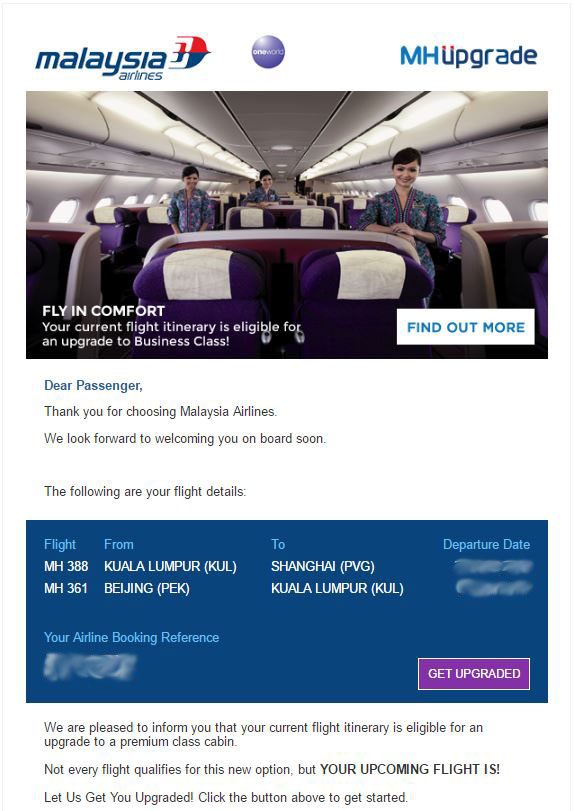 We decided to opt for the minimum bid, which was USD 100 in each direction. Upon submitting our bid, we received an email confirming it, stressing that confirmation of the upgrade (if accepted) would come within 48 hours of the flight:
Happily, on both of our flights, our minimum bids were accepted. About 36 hours prior to each flight, we received an email confirming that we'd been upgraded. The funds for the upgrade were debited from our pre-registered credit card at about this time. We then set about preparing for our experience of the new Malaysia Airlines Airbus A330 Business Class.
Pre-Departure
Seat selection
Malaysia Airlines does not offer online seat selection after you have booked, or prior to online check-in. Therefore in order to select a seat, Business Class passengers can call up the Malaysia Airlines contact centre, where an agent will offer available seats and allow you to pick one. We used a handy tool called ExpertFlyer to help identify available seats so that we didn't have to play a game of Battleship with the agent. Seat selection is free of charge for Business Class passengers.
Chef-on-Call
Given the advance notice, we were able to select a meal using the Chef-on-Call service. Chef-on-Call allows you to select your preferred meal before flying, offering a wider selection than what's available on board. Chef-on-Call is available if you're flying between Kuala Lumpur and London, Sydney, Perth, Melbourne, Adelaide, Auckland, Incheon, Beijing, Shanghai, Narita and Kansai. If you wish to use the service, view the menu and select your meal here at least 24 hours before flying.
Priority check-in
Having a Business Class ticket allows passengers to skip the check-in kiosks at Kuala Lumpur International Airport. Check-in is instead a more personal experience, accomplished at a section dedicated to premium passengers. With shorter queues and friendly service, bags are checked and boarding passes issued with minimal fuss. An assistant is often on hand to take your heavy luggage from you, so no heavy lifting.
Relax in the lounge
Lounge access is a perk of travelling Business Class on Malaysia Airlines. For our departure from KLIA, we enjoyed a teh tarik and a nasi lemak at the satellite building Golden Lounge. This lounge affords sweeping views of the apron and offers newspapers, showers and reasonably good Wi-Fi.
The experience
Malaysia Airlines is well-known amongst seasoned travellers for the service of its crew, who exhibit genuine warmth and humour. We experienced this from the moment of boarding, with crew making the rounds to ask about menu choices (or to confirm our Chef On Call choice), and to offer newspapers and a pre-departure drink. I happened to have the same crew on my return flight, and was instantly recognised and called by name.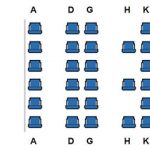 Best Business Class seat on the MH Airbus A330
The Malaysia Airlines Airbus A330 offers 27 Business Class seats in a mixture of 1-2-1 and 1-2-2 rows. The seat of choice in the A330 business class cabin is 1K. As shown in the seat map, this seat does not share a seat mate and has bench space on either side of the seat. Furthermore, the footwell is more spacious than other single seats, allowing more room to move when the seat is converted to a flat bed.
The seat also includes a massage function, a 16″ touch video screen, as well as USB and AC power sources. A thoughtfully placed pockets lets you keep your phone close to you, and plenty of compartments are available for devices and reading material.
Meals
On our flight to Shanghai, the Prawn Brochette with Tomato Linguine selected prior to the flight was served as brunch. On-board selections included a choice of nasi lemak, salmon teriyaki or ricotta crepes. All were served with a selection of breads and pastries, as well as a choice of either yoghurt with a berry compote and oat granola, or a plate of seasonal fruit. A mango mousse was offered as a dessert.
On the flight from Beijing to Kuala Lumpur, the Malaysia Airlines signature satay dish was served as a post-departure supper, one not to be missed. Breakfast was served about 90 minutes before landing, and we selected the nasi lemak, a Malaysian staple. Malaysia Airlines has a seen a marked improvement in its meals of late, and while its western selections are good, try the Malaysia Favourites for a real treat.
Wine list
A decent wine list was on offer including Philipponat Royale Reserve Brut NV Champagne, along with reds and whites from both South Australia and France. The list is worth paying attention to, given Malaysia Airlines' recent haul of awards at the recent Business Traveller Cellars in the Sky 2016 Awards. Aside from taking out Best First Class Cellar, the airline also received a special mention for its Business Class Wairau River Estate Sauvignon Blanc 2015 from Marlborough, New Zealand.
Overall
If you'd like to check whether your Malaysia Airlines itinerary is eligible for MHupgrade, enter your booking reference here.
We find that only Malaysia Airlines bookings ticketed on MH ticket stock tend to be upgradeable, however we've found the range of fare types eligible to be fairly broad. Our successful upgrades were for MH Basic and Economy Promo fares, for which we got great deals. Overall, for the total price paid we were richly rewarded for trying out MHupgrade.
https://www.youtube.com/watch?v=uu08TShTvs8
[signoff predefined="Self-funded Travel"][/signoff]