We recently flew Malaysia Airlines for a quick trip from Kuala Lumpur to Phnom Penh, with our 'out trip' on MH754, their morning service, returning a few days later from Phnom Penh to Kuala Lumpur on MH 763. Phnom Penh time is one hour behind Kuala Lumpur so with our flight expected to depart at 6.05pm, we should arrive back at Kuala Lumpur's KLIA at 8.45pm, after a flight of around 1hr 40mins.
As it happened, our aircraft arrived late from Kuala Lumpur, a result of knock-on delays caused by heavy morning rain, and we only took off at 6.50pm after pull back at 6.40pm, to land at Kuala Lumpur's KLIA at 9.22pm.
The aircraft on both legs of our trip were different and although configured the same, with three seats either side of a single aisle, this leg used an older, leased aircraft, 9M-MLH which has been in service with Malaysia Airlines since 2010. We understand that these leased aircraft will be eased out of the fleet in the near future.
First Impressions
Although we had earlier checked-in online, we weren't able to print our boarding passes, which wasn't a problem as they were happy with the print-out of our original itinerary. Because of the late arrival of the aircraft, the check-in counters opened late and although the Row indicators were in place, there was no information given until the desk actually opened. We met some interesting people in the queue as we chatted during the wait.
On board, we were greeted in a friendly manner, found our seats and settled in. It's a short flight,  and the flight was quite full so staff were kept busy passing out and later collecting the dinner service.
Since January 1st, 2016, Malaysia Airlines has not served any wine, beer or spirits on flights less than three hours in length, which means that on all the nearby regional flights you'll have only a choice of soft drink or juice as well as tea or coffee. This also applies in business class.
Similarly, if you are looking for the duty free cart, they don't carry one on these flights either so if you have any Enrich vouchers to redeem or a special purchase to make, book a longer flight! Perhaps Malaysia Airlines could implement a reserve and pay system so duty free purchases could be delivered to passengers on board, on flights out of Kuala Lumpur.
The seat
This aircraft is configured with 150 Economy seats arranged three either side of a single aisle with 16 recliner seats in four rows in Business class. My companion and I were seated in 22E and F, in the Economy section. The leather seats are comfortable, although there is no headrest or footrest. The paper headrest cover was missing on all seats.
With a seat width of 17″ and a pitch of 30″, it's a standard seat, a little cramped but it's a short flight so not a major problem. The seats in this row do recline, but I found my button to be very stiff and difficult to use.  The armrests can be raised to tuck into the gap between the seats. There is a column in between the windows in this row, but as the row is behind the wing, your view is not badly affected.
Legroom
Legroom is a tight, standard 10″ which makes it difficult to reach anything you may have dropped on the floor or for those with longer legs.  If you're on a longer flight, you may find it uncomfortable and it did make it difficult squeezing out for a trip to the washroom.
There is no footrest, but the space beneath the seat in front is clear for all seats apart from a small box under the middle seat, as the entertainment unit is not placed under the window seat, often an issue when it takes up passengers legroom in these seats in some airlines/aircraft.
This extra space is more than enough for a small bag to be pushed completely into the space, of for longer legged passengers to stretch out more easily. The magazine space is quite tight, enough to fit a mobile phone to charge, or a novel.
Workspace
The tray table is a non-fold table which can be pulled closer to the user during meals, or to use as a work space. There is a slight ridge at the edge, but no cup recess.
If you are seated in the front row of the cabin, your tray table is hidden in your armrest, and you will need to connect any charging items to the USB port on the entertainment unit located on the bulkhead wall.
There are no charging facilities on this particular aircraft. While working on a laptop, the space is adequate We couldn't find any under seat power socket.
Entertainment
There is no in-seat entertainment available on board this aircraft. The drop down ceiling units were only used to deliver the pre-flight safety announcements and then closed again. A few of these didn't appear to be working and one actually did a bit of an up and down dance before settling down and staying in place. The in-flight announcements were generally clear, but those in English were slightly muffled for some reason. You do have earphone controls on your seat armrest, though they don't give out any headphones, probably because of the short flight duration.
Food
Malaysia Airlines serves a meal on all flights longer than an hour. As the Phnom Penh to Kuala Lumpur sector is less than two hours, you get your meal in a cardboard tray, which makes for more efficient service within a tight time frame. The choice of chicken murtabak (pancake) or nasi lemak with fish is the same as that on our morning flight out, despite this being dinner time. The tight turnaround time was clearly aided by the fact that new food carts weren't required. Both dishes were rather bland, though the dhal curry accompanying the murtabak was quite tasty. The meal came with a pack of peanuts and a biscuit, (crisp and not too sweet, easy to carry for later) and a choice of apple / orange juice, followed up with tea / coffee. No wine, beer or spirits drinks are available on this flight.
The Best Seat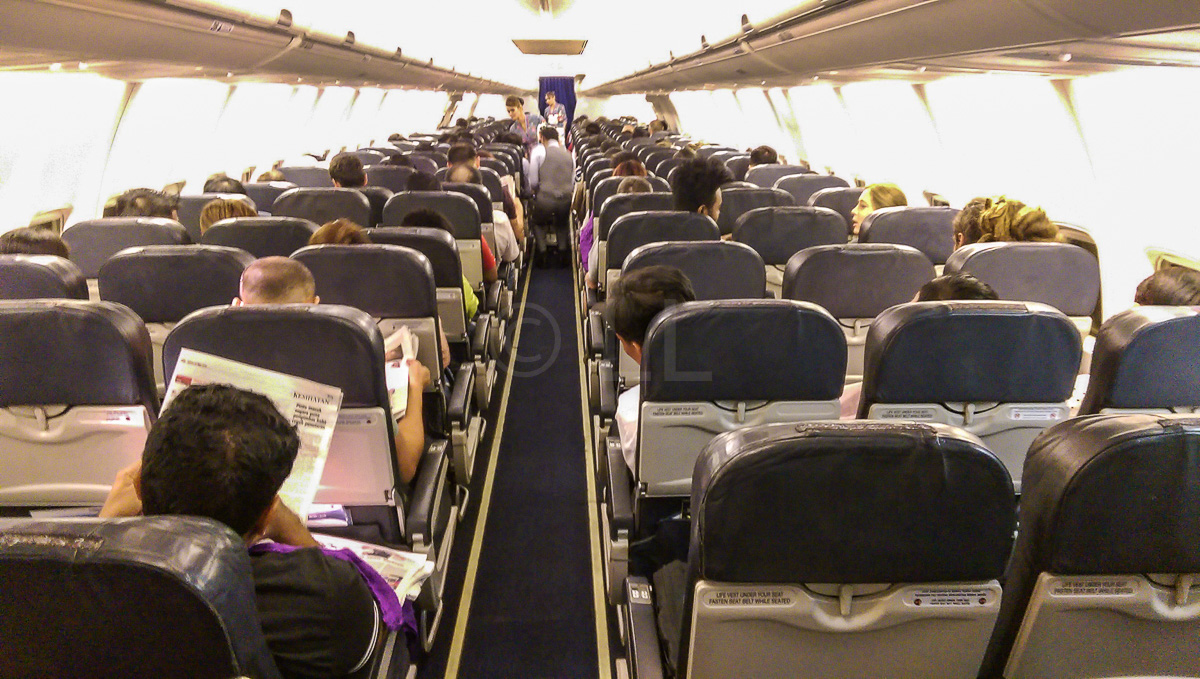 Seats between Rows 8 and 18 are over the wing. If you like an A or F seat so you can see out the window, don't select one in Rows 8 or 9 because these seats have no window. Seats in Row 5-8 are in front of the wing and those in Row 5 have extra legroom. However, you'll need to put your bag overhead as there's no under-seat storage for take-off.
If you don't want to deal with the person in front of you reducing your space by reclining their seat, Row 15 may suit you, as the seats in Row 14 can't recline as it's an Exit Row. Seats in Rows 11 – 14 and the back row seats don't recline, so if the flight is longer, these may be seats to avoid. However, the Exit Row seats in Rows 12 and 14 have a little extra legroom.
There is only one pair of toilets available in this type of aircraft for Economy passengers, located at the rear of the plane. The galley is also located here. If you are bothered by people queuing to go to the toilet, you may find the rear seats better to avoid.
Conclusions
Generally the flight was satisfactory, the seat was comfortable and the staff responsive and polite. Despite the lack of legroom, my seat was comfortable enough. I did appreciate that even though there is no footrest, there is no entertainment unit reducing the space under the seat and I was able to stretch my legs out comfortably.
Travel by Economy Traveller was self-funded.