May is the time for grabbing great fares for your next trip. Air Asia is running a number of Sales Programmes during May, until 10th May for flights in most cases, available until 30th September.
There are conditions attached of course, including the requirement to advance purchase and most are not available during embargo periods (read school holidays and public holiday weekends).
RM1 Basic fares:
If you're looking for All-in fares ex Kuala Lumpur (klia2) to various domestic destinations starting from RM11 or selected international locations from RM38, you can see what's on offer when you click this tab.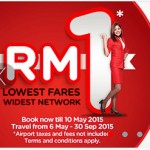 Book between 4th and 10th May for travel between 6th May and 30th September. Other Starting ports are also available.
Asia and Australia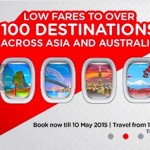 If you want Asian or Australian fares, book between 4th and 17th May to fly between 1st October 2015 and 31st January 2016. You can pick up Malaysian domestic fares from RM29 and international fares from RM59 to Surat Thani in Thailand or RM249 to a number of Chinese destinations as well as RM 269 to Perth or Colombo. Click the picture to go to the page on the AirAsia website.
Indonesia from RM79
This link will get you the same offers RM79 will get you a ticket to Medan – Kualanamu.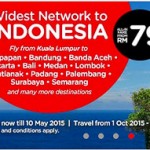 Flight + Hotel Packages
With a choice of flights and type of accommodation available, organising a business trip or holiday to your favourite destination was never easier. Bookings need to be made between 4th May and 10th May 2015  for travel between 11h May and 30th June 2015.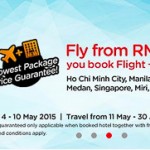 Find all the tabs when you visit the AirAsia website and remember to read the terms and conditions.