AirAsia X has announced the addition of its latest destination, Mauritius, due to take off on 4th October 2016. This island nation, located in the Indian Ocean, just east of Madagascar, is part of Africa and these direct flights, three times weekly, will add depth to travellers choices, both as a destination and a stop-over of the way to continental Africa. 
Flights will be operate on this service, the AirAsia X Group's 22nd destination, using the Airbus A330-300 aircraft offering passengers 377 seats, 12 of which are Premium Flatbeds.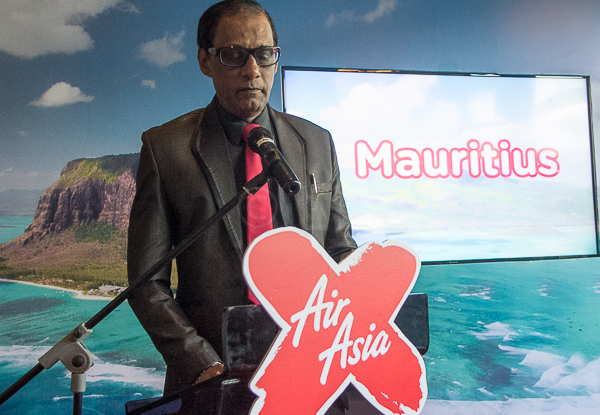 The launch was graced by His Excellency Issop Patel, High Commissioner of Mauritius for Malaysia, who in his comments listed the many reasons visitors would enjoy their visit to his country. Apart from the Three 'S' – Sun, Sand and Sea, he pointed out the very favourable exchange rate for the Mauritian rupee that makes a holiday in Mauritius a relatively inexpensive choice.

Promotional Fares
In conjunction with the launch, Benyamin Ismail, CEO of AirAsia X Berhad announced special introductory fares for the route.
These promotional all-in fares, available from RM299 one-way on standard seats and from RM999 one-way for the Premium Flatbeds will go on sale at midnight on 25th May 2016, until 5th June 2016, for travel between 4th October 2016 and 22 May 2017.  The fares include taxes and fees, but you will need to add on your preferred baggage and meal choices.
These promotional fares are available for booking online at the AirAsia website until 4th June 2016. You can also make your booking using the AirAsia mobile app for iPhone and Android devices or via the AirAsia mobile site. Promotional all-in-fares quoted are for one-way travel only inclusive of taxes. Terms and conditions apply.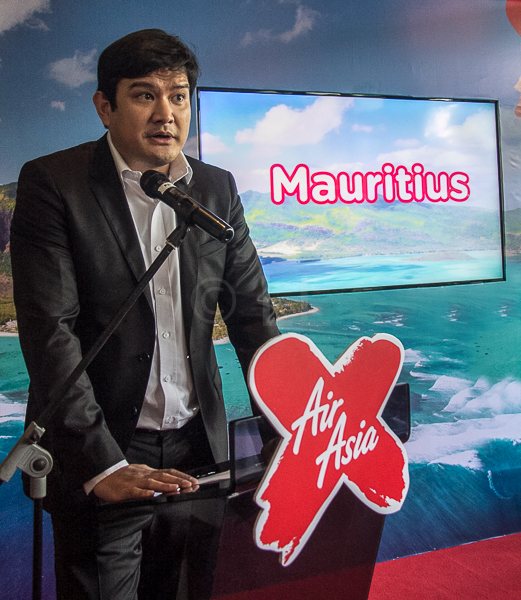 …. At AirAsia X, we aim to provide everyone with the opportunity to fly further at the most affordable rate. We are very proud to be the only airline to offer nonstop direct flights on this route, and to add Mauritius into our growing list of nonstop travel options from Kuala Lumpur. We are sure that the announcement of this route will definitely excite the market, especially here in Malaysia. Apart from that, the flight to the paradise of Mauritius is perfectly timed to connect to all points in our vast network in Asia and Australasia using the FlyThru service. Benyamin Ismail
…. Mauritius is the perfect stepping stone for those Malaysians who wanted to go beyond and explore the beauty of Africa – from beautiful Cape Town to the exotic lands of Namibia, Madagascar and Botswana. Arik De, Head of Commercial for AirAsia X Bhd
Not only Malaysians will be able to visit Mauritius – passengers from other points in the AirAsia network can use the Fly-thru facility at KLIA2, to travel smoothly from Australia/New Zealand or Asia.
Why visit Mauritius?
It's not just the Sun, Sand and Sea that attracts visitors to Mauritius. The all year round tropical climate is perfect for holidays at any time and has contributed to the ecology of this island nation. Apart from the beaches, lagoons and reefs, this volcanic island is home to diverse and unique flora and fauna, making the rainforests, waterfalls and hiking trails popular with those looking for an eco-tourism holiday experience.
Foodies can look for the diverse culinary choices on offer, thanks to the multi-ethnic backgrounds of the local population which also influences the cultural life of the country as you can join in the various festivals held through the year. History buffs will enjoy visiting the museums in the Capital, Port Louis where you can learn of the country's of colonial past.
If you feel like relaxing, why not do so on the longest beach in Mauritius at Belle Mare Beach sipping fresh sugarcane juice? If you've never tried scuba diving, this may be your chance to learn, as the island is well known for its excellent underwater visibility and warm temperatures that attract an abundance of marine life.  And for the really adventurous, you can always try an Underwater Walk around the ocean bed in an oxygen helmet and mingle with the fishes.
Visa requirements
Visitors from most countries are eligible for visa free entry for 30 days upon arrival. You will need to show evidence of funds for your stay and have a return ticket. ** Mauritius is a member of the Commonwealth of Nations, formerly known as the British Commonwealth.
 images ©LL