The new daily Malindo Air to Sydney service is due to take off, with the inaugural flight on 14th August 2019. Like the airline's services to Brisbane, Melbourne and Adelaide, flights will travel via Bali. This offers a wide range of options for travellers apart from those just making the one hour stopover in Denpasar.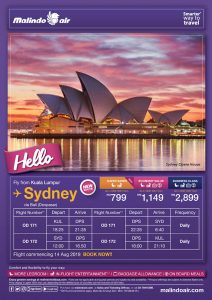 The new daily service from Kuala Lumpur International Airport (KLIA). Flight OD171 will depart at 8:25p.m., arriving at Ngurah Rai International Airport (Bali) at 9:35p.m. After an hour long stopover, the flight departs from Bali at 10:35p.m. for arrival into Sydney Airport at 6:40a.m. the next morning.
The return flight, OD0172 departs Sydney at 12:00p.m. to arrive in Bali at 4:50p.m. The flight continues at 6:00p.m., landing in Kuala Lumpur at 9:10p.m. This service will benefit travellers who wish to fly between Kuala Lumpur and Sydney, as well as those preferring to just do one sector. Travellers looking for a Bali stopover can also do this easily as there are a number of daily Malindo Air flights on the Kuala Lumpur-Bali route.
Promo fares Malindo Air to Sydney
Booking is available on the Malindo Air website at a promotional one-way Economy Class fare from MYR799 and MYR2,899 for Business Class. Tickets are also available from Malindo Air's ticketing offices, customer care centre and preferred travel agents.
Flight schedule Kuala Lumpur (KUL) and Sydney (SYD), via Bali (DPS)
Sector
Flight No.
Departure
Arrival
Frequency
KUL/DPS
OD171
18:25 (6.25pm)
21:35 (9.35pm))
Daily
DPS/SYD
OD171
22:35 (10.35pm)
06:40 (6.40am)
SYD/DPS
OD172
12:00 (12pm)
16:50 (4.50pm)
DPS/KUL
OD172
18:00 (6pm)
21:10 (9.10pm)
*All timings are local
The new service uses a Boeing 737-900 aircraft, offering Business and 168 Economy Class seats.