Malindo Air has recently added a Smarter Shuttle service – one of a number of new initiatives to make life easier for the travelling public.
Smarter Shuttle Service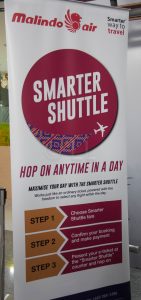 Malindo Air has recently introduced their Smarter Shuttle service between Subang Skypark and both Penang and Johor Bahru, allowing passengers the flexibility of changing their itinerary on the day of departure. The airline has now extended the service to cover flights between Subang and Alor Setar, Terengganu, and Kota Bharu.
In a move that will surely appeal especially to business passengers making a quick trip for a meeting, Smarter Shuttle service allows passengers to change their flight departure to an earlier or later flight on the same day at no charge. Leisure travellers may also enjoy their holiday a little longer.
….. a huge advantage to both leisure and business travellers alike, especially for local destinations whereby they would be able to hop on the available flight of their preference. Malindo Air CEO, Chandran Rama Muthy
Malindo Golden Senior Fare
The other little initiative that has been slipped into the Malindo fare packaging is one specially targeted at Senior Citizens. If you're sixty or over, the airline has introduced the Malindo Golden Senior Fare, offering senior citizens a 20% discount on the base fare.
You can't currently take advantage of this concession online – purchases need to be made at Airport Ticketing Offices or authorised Malindo Sales outlets. Even if you aren't yet in this category, this is a perfect opportunity to make a special gift to your parents or grandparents.
For bookings and enquiries:
If you prefer to use your mobile phone,