Malindo Air Phuket flights take to the skies with their first flight on Thursday 10th November 2016, just in time for the end of year holidays. The four times weekly direct flights take off at a convenient time after lunch from Kuala Lumpur International Airport KLIA so you should be able to settle in nicely and enjoy the sunset when you arrive. Return flights leave just before 4pm local time allowing much of the day to enjoy Phuket before you leave.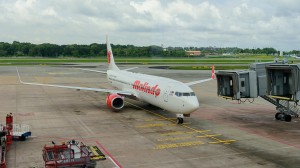 Although the direct flights currently only operate from Wednesday to Saturday, if you wish to travel on another day, flights are available via Bangkok on a sister company, with bookings made through Malindo Air.
Introductory Promotional Fares
Bookings are now available for the new flights with one-way promotional fares starting from RM139 for Economy Class and RM599 for Business Class, inclusive of 30kg baggage allowance (40kg for Business), in-flight entertainment and light refreshments. The flights are operated on Malindo Air's Boeing 737-800 aircraft.
Why visit Phuket?
Phuket is a large island close to the western side of Thailand facing the Andaman sea, the reason it has been branded as 'pearl of the Andaman'. The island is one of the earliest of Thailand's well known sun and sea destinations and offers a wide array of attractions including deep-sea diving, high-end dining, luxury shopping, seemingly endless white beaches and some of Thailand's top resort hotels.
Bookings and enquiries may be made on the Malindo Air website. You can also contact their Customer Care Centre online, or by phone – 603-7841 5388 from 7am to 11pm daily.
For purchases through mobile devices, you can use the Malindo Air mobile site, or download the Malindo Air App available on Google Play and the App Store.
Malindo Air Phuket flight schedule to / from Kuala Lumpur
| | | | | |
| --- | --- | --- | --- | --- |
| Sector | Flight No. | ETD | ETA | Frequency |
| Kuala Lumpur (KUL) to Phuket (HKT) | OD 540 | 14:45 (2.45 pm) | 15:10 (3.10 pm) | Wednesday, Thursday, Friday, Saturday |
| Phuket (HKT) to Kuala Lumpur (KUL) | OD 541 | 15:55 (3.55 pm) | 18:25 (6.25 pm) | Wednesday, Thursday, Friday, Saturday |
**** Note: Kuala Lumpur time is one hour ahead of Phuket.