Updated with 10 top tips, HERE. The Royal Queensland Show 2015 which everyone just calls 'The Ekka' (translation – 'Exhibition') starts with a Grand opening on Friday 7th August and runs until Sunday evening 16th when it closes with a big fireworks display.
The Ekka, has been organised by the RNA (Royal) National Agricultural and Industrial Association of Queensland since the first Exhibition was held over four days in August 1876. Since then the Ekka has been held every year except 1919 due to the worldwide flu epidemic and in 1942 when the Showgrounds were used as a troop staging depot. The Show became 'Royal' in 1921 under a warrant granted by His Majesty King George V. The Showgrounds are bordered by Bowen Bridge Road with Gregory Terrace running through the middle, close to the city.
What is there to see and do?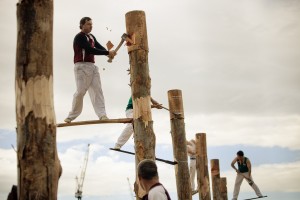 The banner on all the Ekka pages has drop-downs with lots of information, but if you want to see the best the Ekka can offer, click on the Competitions tab to see the 'real' Ekka – the Exhibition of what people in Queensland do and do well. You'll find that there are competitions in activities you may not even know existed – how about the 'Sheep dog trials', or 'Woodchopping' and to ensure the competitions are well run for many years into the future, competitions for young judges in the various categories.
There are many events related to Horses – my favourite is the Harness races and there are competitions for every manner of cattle (dairy, beef you name it, it's there) sheep, horses, cats, dog and even fish! Any country Queenslander knows that farmers, male or female, need to eat well and there are cooking competitions and all manner of cakes, jams and preserves and more are on show.
If you're just there for fun – that's available in spades – Sideshow Alley, tacky as it sounds, is always a great draw and everyone enjoys the rides and the games, the ferris wheel and the dodgem cars. Stuff yourself silly with Fairy Floss and Pluto Pups and 'invest' in a Showbag as you sit down to enjoy the EkkaNITES in the Energex Community Arena.

Stay Safe and Healthy
It's winter and likely to be a bit chilly so dress appropriately, layering your clothes as it can be quite warm in the sun, out of the wind.
It's also 'Flu Season' so take precautions as not everyone is conscious and careful when going out and sharing nasty germs.
Bring a backpack or you can rent a wheelchair or stroller or a locker to leave your things. Be careful with your belongings and if you do lose something, there is a Lost Property station at the Customer Service Counter on the ground floor of the Royal International Convention Centre (RICC).
WEDNESDAY 12 AUGUST 2015 is People's Day which means that, as it's a public holiday in Brisbane there will be lots of people. Monday 10th is a public holiday in outlying areas so that day is likely to be quite crowded as well.
Getting to the Ekka
While there is parking available nearby, you'll still have to walk some distance. Public transport is available and special fares are available for trains with the Exhibition Station in operation for the duration of the Ekka. Catch the Ekka train from Roma Street, Brisbane Central or Fortitude Valley station.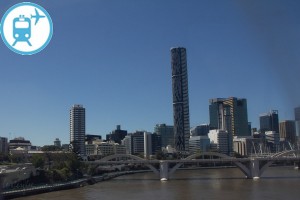 If you're flying into Brisbane for the Ekka, you can get a special Ekka Return ticket on the Brisbane Airtrain valid for use between 31st July and 17th August. To purchase the ticket, follow the prompts and enter the Promo Code Ekka2015 in the appropriate box. Payment may be made by Visa, Mastercard,Amex or PayPal. To get to the Ekka, you can walk from Fortitude Valley Station or catch the Ekka train as above.
Now all you need to do is buy the tickets! And have fun!
Photo credits woodchopping, grandstand: © Paul Harris