The Kuala Lumpur International Airport KLIA and klia2 airspace will close for 90 minutes for 5 days next week. This affects all arrivals and departures of both airports between 9.00 and 10.30am from 27th to 31st August 2018. The closures are to facilitate rehearsals for the Merdeka Flypast on Malaysia's  61st National Day on 31st August. All commercial flights are affected.
Flying through KLIA or klia2?
If you have a booking on an affected flight, or are dropping / collecting someone, please check directly with the airline. Here are the airlines flying into both airports. Malaysia Airlines has issued a travel advisory to this effect. Other airlines are likely to post similar alerts in the next few days.
AirAsia has issued the following travel advice on 23rd August: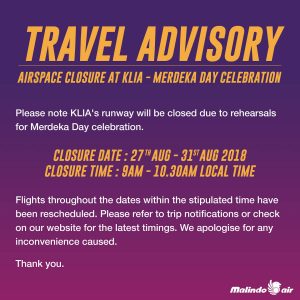 The airspace above Kuala Lumpur International Airport (KLIA) and KLIA2 will be closed between 9.00am and 10.30am (Malaysian time) daily from 27 to 31 August 2018.
This is to make way for the Royal Malaysian Air Force (RMAF) to conduct rehearsals for an aerial flypast that will be part of Malaysia's National Day parade on 31 August 2018.
Due to this airspace closure, AirAsia operations at klia2 will be impacted, resulting in possible flight delays as well as rescheduled flights.
We will update affected guests via email and SMS if there are any changes to their flight status.
We strongly urge all guests to keep their email address and mobile number (with country code prefix) in their AirAsia member profile updated at airasia.com to ensure we can reach them for timely assistance.