1063 was a lucky number for Sherif Radwan, an Egyptian visitor to Kuala Lumpur on 25th July 2019. This was the number of his ticket on the 11am KLIA Ekspres from the airport to Kuala Lumpur. His ticket number made him the lucky 100 millionth passenger on the service, which began operations in 2002.
100 millionth passenger – the prize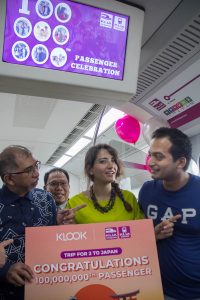 Mr Sherif Radwan should be very happy with his prize, as it's a trip for two to Japan. He and his wife are on their honeymoon and can now look forward to a second honeymoon in Japan. His prize, which was presented by Malaysia's Deputy Minister of Tourism, Arts and Culture, YB Tuan Muhammad Bakhtiar Bin Wan Chik, includes flights, accommodation and ground experiences worth MYR10,000.
The Grand Prize was sponsored by Klook, an international travel activities and services booking platform. Other passengers on board also received vouchers from Klook to book travel activities, services, gifts and snacks. 
KLIA Ekspres & KLIA Transit are operated by Express Rail Link Sdn Bhd (ERL). The two services offer a fast transfer from Kuala Lumpur Sentral to Kuala Lumpur International Airport (KLIA and klia2). KLIA Ekspres runs express to KLIA in 28mins, and on to klia2. KLIA Transit takes 5 minutes longer, with three intermediate stops between KL Sentral and KLIA.
images©ET