Three days in Adelaide may not seem like much, but it's enough to get a taste of what's on offer and make you want to stay longer, or return at a different time of year. Our recent three day trip was pretty packed with a variety of experiences that took us around the city and out in different directions. In between, a couple of short forays nearby our hotel revealed a few secrets.
Head for the Hills – it's not far
Adelaide is protected by the Adelaide Hills, to the East of the city. Settlement began early in South Australia's history with the first migrants making it their home as early as 1839.
The Adelaide Hills
Take a trip up into the hills.This is best done by car as you'll have freedom to drop by some of the small villages just off the highway. We  headed out to Hahndorf, one of the first to be settled. On the way we stopped by Bridgewater, passing the Inn to have a look around the old water powered mill, now a popular dining venue.
When a group of German Lutheran migrants arrived in Adelaide in the first years of settlement, they didn't stay long, but headed for the Adelaide hills. They were looking for a climate similar to what they had left to settle and plant the grapevine cuttings they'd brought with them. Today the Adelaide Hills area is home to numerous cool climate wineries offering tours and tastings.
Apparently the name Hahndorf is a combination of the name of the captain of the ship that brought the migrants safely and 'dorf', meaning 'village'. One of the town's best known residents, Sir Hans Heysen, arrived from Germany as a child in 1884. His beautiful paintings of the local landscape are well known to most Australians. 
Check out the local history at Hahndorf Academy, home to the German Migration Museum, and pop into the nearby German Village shop to look for some lederhosen. Hahndorf is famous for its original German-style architecture and beautiful fresh artisanal food. Stop for lunch at the Seasonal Garden Cafe and take home honey from the Buzz Honey Hive Door. If you are a fan of indigenous artists, you can find the shop nearby with both originals and prints for sale.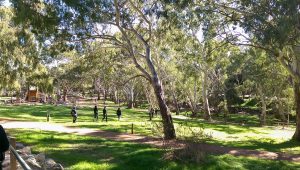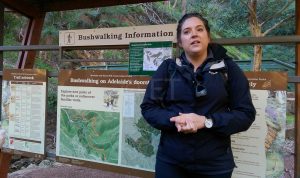 Get cosy with nature – Go bush walking
Want to see koalas in their natural habitat? Need a bit of exercise? Or do you just enjoy getting a bit of fresh air? The Morialta Conservation Park is only 10km north east of Adelaide city, but you'd never guess that once you arrive. You feel as if you're miles from civilisation, except that the walks are well signposted and is some places they're wooden walkways.
Stop by the entrance boards to see the different walks you can do. They're colour coded with degree of difficulty, distance and how long you'll need. You can also see where to find the entrance to each and what you will see. There's also a board with Safety advice. Make sure you read that one carefully.
If you have children with you, they will love the interactive Mukanthi playground, which has an indigenous theme. The kids will enjoy building shelters from the pile of branches. There's a picnic ground and public toilets nearby.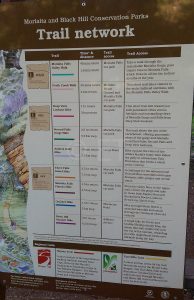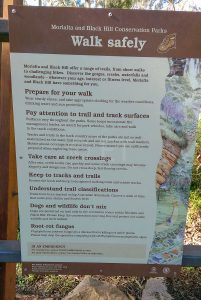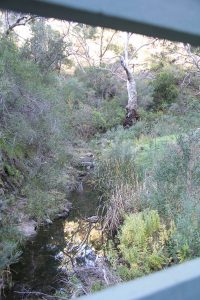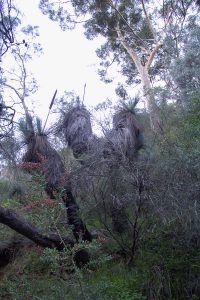 We had the pleasure of lunch waiting for us when we finished our walk, a delicious barbecue of river fish baked with paperbark and lemon myrtle. The accompanying dishes included a number of other indigenous plants and all were beautifully decorated with edible flowers. Our walk and lunch were arranged by pureSA, who specialise in tailor-made experiences. They'll also cater for private bookings and charter trips for visitors who want a great experience with native foods and the natural environment.
Join us on our trip to Hahndorf, meet some interesting people and then learn about the Morialta Conservation Park. Even better – see what we had for lunch!
EconomyTraveller travelled as a guest of Malindo Air and the South Australian Tourism Commission.
images©ET