The Malaysia Airlines Fly Malaysia Campaign starts today to promote Visit Malaysia 2020 (VM2020). The airline will work closely with Tourism Malaysia to promote Malaysia to the world.
Fly Malaysia brand campaign
The campaign uses a number of different strategies to promote Malaysia's scenery, culture and people.
Advertisements and Social Media
The campaign will programme high visibility advertisements and make full use of Malaysia Airlines' social media channels from Q4, 2019 until the end of 2020. These will engage with different segments of the target audience.
Special 'Fly Malaysia' logo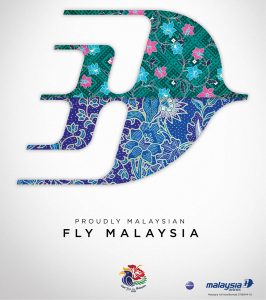 The airline's familiar 'wau' logo, will be re-styled using the airline's iconic kebaya motif. This will be complemented with a traditional batik design, representing Malaysia's rich culture, heritage and diversity.
Sales campaigns with sister airlines
During the Fly Malaysia campaign, Malaysia Airlines has planned a number of sales campaigns together with its sister airlines. The aim is to encourage Malaysians to travel locally and to connect tourists to Malaysia.
Firefly operates an all ATR 72 fleet across Peninsula Malaysia, out of their hub at Subang Skypark. Subang Skypark is close to Kuala Lumpur, easily accessible by public transport.
MASwings also operates an all ATR 72 fleet out of their hub in Kota Kinabalu International Airport, Sabah, serving the East Malaysian states in Borneo.
Collaboration with state tourism bodies
The airline will promote domestic destinations through collaboration with Malaysia's state tourism bodies. While 'Malaysian Hospitality' remains the core brand promise, matching its flight code MH, Fly Malaysia heavily promotes Malaysia as the preferred destination through close cooperation with Tourism Malaysia. This campaign also encourages Malaysians to participate in the airline's social media initiatives promoting the country.
…… Malaysia Airlines first started in the golden age of commercial air travel. We have been serving Malaysia for over 70 years and today, we continue to serve the country by covering over 1,000 destinations via our airline partners. Malaysia Aviation Group CEO, Izham Ismail
He added a familiar message for all Malaysians flying the national airline, mentioning the familiar feeling of 'being at home, wherever their journey goes' with crews 'expressing our service through our culture and to always be Malaysian'. 
For more information or to book tickets to discover Malaysia, check out the Malaysia Airlines website.