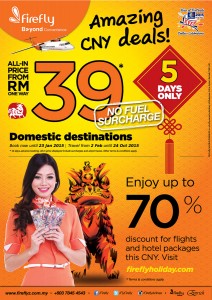 Firefly is currently offering flights for all domestic bookings for MYR39 one way, on sale until 23rd January for travel between 2nd February and 24th October 2015.
All inclusive one way-fares for Firefly's international destinations start from RM99 for travel to Medan, Batam, Pekanbaru, Singapore and Krabi.
At a Press Conference to announce the special fares, Firefly's CEO Ignatius Ong also announced the removal of fuel surcharges for all fare classes. He added that the airline is currently offering a variety of holiday packages with discounts up to 70% inclusive of flights and accommodation.
For more information and to make your bookings, go to the Firefly website. At the same time, Malaysians who would like to win a mystery prize in the 39 Mystery Boxes Instagram contest can also find the details online.
Tip! While there are many seats available on the busy routes with multiple flights a day, you might have to look carefully to find a seat on one of the less busy routes. For example, you will not find this price available for a flight from Kota Bharu to Johor Bahru until mid June.
Be warned that all flights around the Chinese New Year which falls on 19th February are either Sold Out or have very limited seats still available.
Nevertheless, this is a good deal as flights leave Kuala Lumpur from the city airport at Subang (Subang Skypark SZB) and use the 72 seater ATR 72-500 which saves you time to and from the airport. The fares include all taxes, a snack and 20kg of checked baggage.
For those travellers in Malaysia who may pass through the Bangsar LRT, stop by the Firefly booth at Bangsar LRT Station beside the Ticketing Entry Point. You  will be able to purchase flight tickets and Firefly's merchandise including the newest item, an ATR-aircraft soft toy called Skyle. They'll also give you a bag of Firefly peanuts if you drop by to say hello.
Exchange Rate as at 19th January 2015 USD1 = MYR 3.56. Please note that this rate may vary.