If you're a fan of Szechuan food, you should enjoy AirAsia's latest addition to their in-flight menu. The latest addition to their Santan in-flight menu is a Szechuan-inspired Kung Pao Chicken dish. Featuring chicken cooked in kung pau sauce, it's  served with fragrant white rice and garnished with spring onions. The sauce is a tasty blend of  dark soya sauce, garlic, ginger and dried chili, topped with roasted peanuts.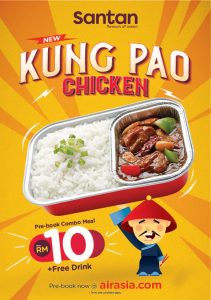 AirAsia food is generally pretty good. They put a lot of effort into selecting food from around the region that will appeal to their customers.
…. Food is an important part of our inflight service and why our guests enjoy flying with us. To get it right, we listen closely to their feedback, especially when developing a new meal. Kung Pao Chicken was the clear winner in an onboard survey conducted a few months ago, and it is our pleasure to deliver to our guests what they asked for – a tasty, satisfying dish that showcases the best of China. Siegtraund Teh, AirAsia Group CCO
You can pre-book your Kung Pao Chicken combo meal with a complimentary drink. The meal is available when you book your ticket, for MYR 10 on all AirAsia flights (carrier code AK).  It's also available on AirAsia X D7 flights for MYR15 across all AirAsia destinations, except AirAsia India (I5) flights.
If you haven't yet selected your meal, make your selection via Manage my Booking. Pre-booking your meals gives you a wider choice of meals, greater savings and priority meal services onboard.