Australia is a big country and since 'white settlement' a couple of hundred years ago, communication and getting the mail have always been difficult due to the vast distances between towns and properties in the 'Outback'. A mail run out of a town like Wilcannia in western New South Wales would take maybe a whole week on horseback, or by horse and cart.
Not surprising then, that three intrepid young World War 1 veterans, Queenslander Fergus McMaster, Wilmot Fysh from Tasmania and Victorian Paul McGinness saw the opportunities presented by aircraft following their war experiences and set up the Queensland and Northern Territory Aerial Services Limited at the end of 1920 in the western Queensland town of Winton. Known by its acronym QANTAS, the new airline at first ferried mail and was later involved in the setting up of the Flying Doctor Service and even made their own planes between 1926 and 1928 in Longreach. The first international flight between Darwin and Singapore was in 1935.
Since those first flights in November 1920, Qantas has held a position in the ranks of the world's oldest airlines and to mark the 95 year celebrations, the airline has enlisted the help of a couple of well known ambassadors, albeit still a few years short of Qantas' lengthy history.
Forty-four of the Barbie and Ken plastic dolls, dressed in mini Qantas uniforms worn since 1920 will go on display until November in the Qantas Club in Sydney with those in the first group of five showing off the uniforms from 1920 to 1948, including the fur collared jackets worn when open cockpit flying meant Qantas pilots needed flying goggles and leather clothing to stay warm.
Also on display are the flamboyant Pucci designed bright green and blue prints of the late 1970s, when female flight attendants were known as  "air hostesses" as well as the Yves Saint Laurent flight attendant 'Power dressing' uniform from the late 80s.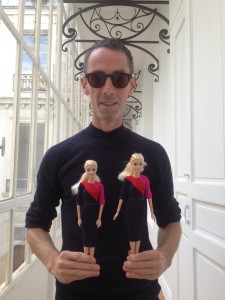 The collection is the work of the late John Willmott–Potts, a former Qantas long haul flight attendant. He spent twenty-two years assembling the collection and used it as part of a travelling interactive history lesson called 'Stitches in Time' that he delivered to schools and libraries in rural NSW. After his death in 2010, the collection was donated to the Museum of Applied Arts and Sciences in Sydney.
With the introduction of new uniforms for flight attendants last year and new pilots uniforms in 2016, Qantas asked Australian born, Paris-based designer, Martin Grant to create a mini version of the current Qantas uniform to update the collection. The airline will gift the new pieces to the Museum of Applied Arts and Sciences to add to the collection when all the dolls return after this special birthday exhibition.
Image source Qantas