You can balik kampung Hari Raya this year with more choices after AirAsia announced extra flights at fixed low fares over the festival period.
Balik kampung Hari Raya fares
Fixed at RM199* and RM249* one way from Peninsular Malaysia to Sarawak and Sabah respectively, the fares are available for booking until 30th April for travel between 19th and 21st April and from 28th to 30th April 2023. Book now to visit family in your hometown in Kuching, Sibu, Bintulu and Miri in Sarawak and to Kota Kinabalu, Sandakan and Tawau in Sabah as they'll sell out fast.
You can also book these special fares to fly direct from Johor Bahru to Miri, Sibu, Kuching and Kota Kinabalu. *Promotional fixed fares are for one-way travel inclusive of taxes and fees. They are only applicable to the extra flights and specific flight numbers. Subject to availability. Other terms and conditions apply.
Extra savings with your BigPay card
As part of BigPay and AirAsia's strengthened partnership, BigPay users can enjoy  5% off all AirAsia flights with flight code 'AK' for a year by using the  promo code "BIGPAY5". You can get more information on this promotion   HERE.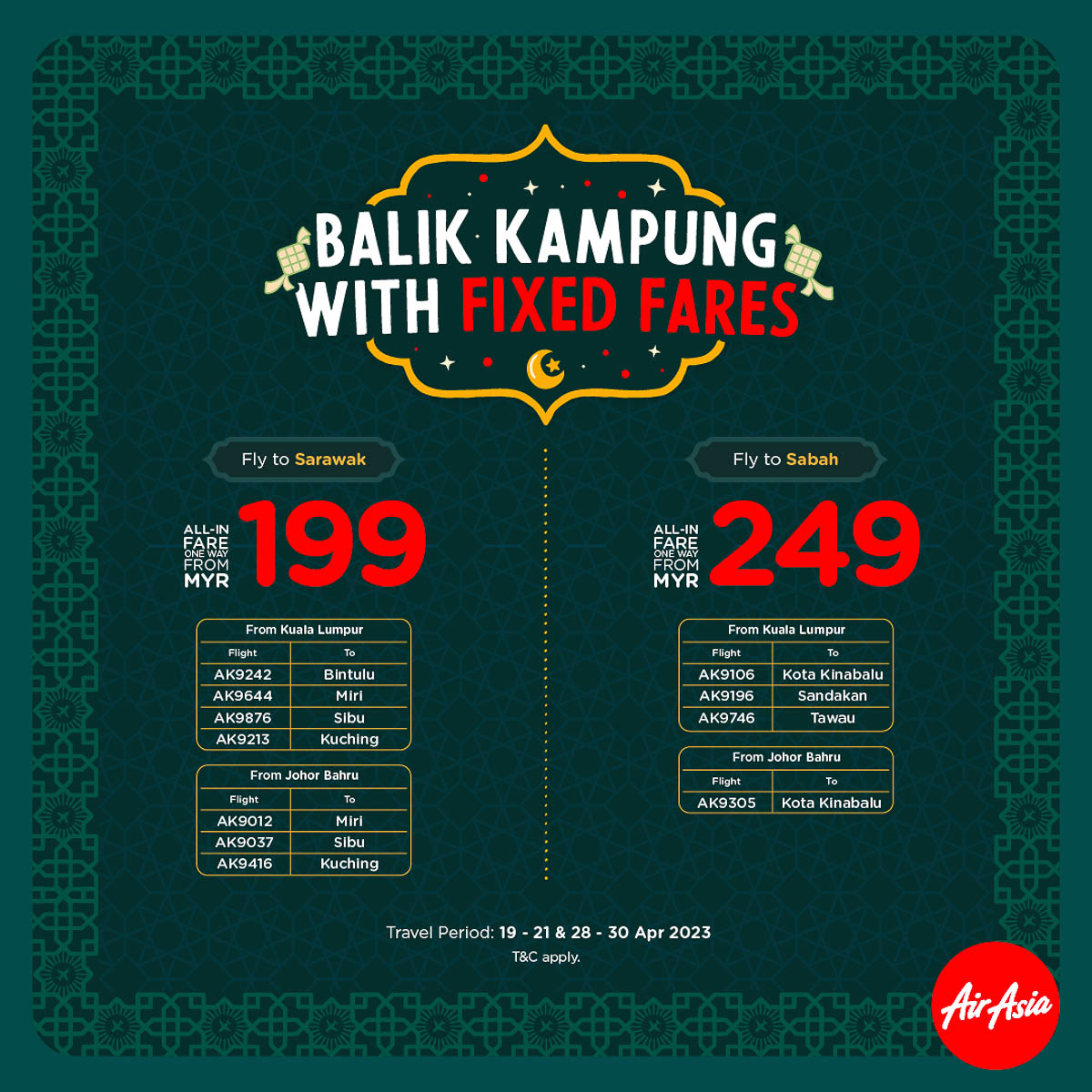 Malaysia's Minister of Transport, YB Anthony Loke announced AirAsia's special 'fixed fares' for the festive season, noting that this is the second time he's doing so this year. He expressed his pleasure that AirAsia had heeded the call to support the government's initiative to lower fares during these peak travel periods.
… These fixed fares will enable  thousands of people to  'balik kampung' and reunite with their nearest and dearest in an affordable manner.Anthony Loke
He further added that other industry players to follow suit to bring down the cost of travel, particularly during the festive periods for more to enjoy celebrating with their friends and families.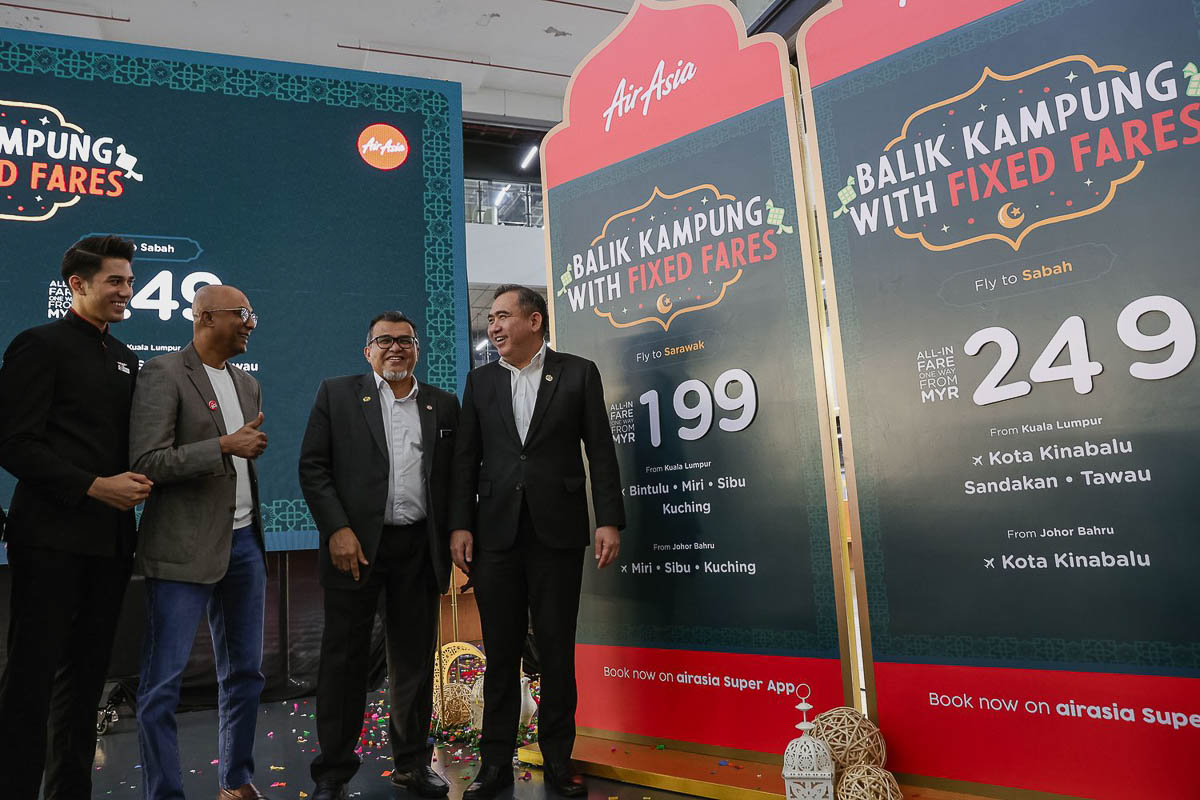 Group CEO of AirAsia Aviation Group Limited, Bo Lingam stepped up to assure travellers that AirAsia now has 164 aircraft as a group and their fleet number will be back to the full 229 in coming months enabling them to carry more passengers at low fares.
… Getting back to what we were pre pandemic wasn't an easy feat but we are  never one to shy away from challenges. In the last 21 years, we've flown close to 800 million guests at unbeatable prices and have offered countless fixed fare campaigns during festive periods ‒ and we're only just getting started again.
He also paid tribute to AirAsia's team of Allstars who've dedicated their careers to providing travellers with world-class service and thanked the Transport Ministry for supporting AirAsia in efforts to enable everyone to fly home this Raya.
If you're travelling during the Hari Raya Aidilfitri period are advised to arrive at the airport at least two hours ahead of your scheduled departure time (for domestic travel) to avoid congestion. You're also encouraged to self check-in using the airasia Super App, which is available 14 days before the departure date. Use the e-Boarding Pass to board the flight for a more seamless and hassle free travel experience
Book on the AirAsia website, or download the airasia Super App from the Apple App Store, Google Play Store or Huawei AppGallery to receive the latest travel information and updates.
Extra flights schedule Kuala Lumpur – Sarawak
Route
Flight No
Departure
Arrival
Days of Service
Effective dates
Kuching – Kuala Lumpur
AK 9212
22:35 (10.35pm)
0:25 (12.25am)
Wednesday, Thursday, Friday, Saturday, Sunday
19th – 21st Apr  & 28th – 30th Apr
Kuala Lumpur – Kuching
AK 9213
0:50 (12.50am)
2:40 (1.40am)
Kuala Lumpur – Sibu
AK 9876
22:25 (10.25pm)
0:25 (12.25am)
Wednesday, Thursday, Friday, Saturday, Sunday
19th – 21st Apr  & 28th – 30th Apr
Sibu – Kuala Lumpur
AK 9877
0:50 (12.50am)
2:50 (1.50am)
Kuala Lumpur – Miri
AK 9644
22:55 (10.55pm)
1:20 (1.20am)
Wednesday, Thursday, Friday, Saturday, Sunday
19th – 21st Apr  & 28th – 30th Apr
Miri – Kuala Lumpur
AK 9645
1:45 (1.45am)
4:15 (4.15am)
Kuala Lumpur – Bintulu
AK 9242
22:05 (10.05pm)
0:25 (12.25am)
Wednesday, Thursday, Friday, Saturday, Sunday
19th – 21st Apr  & 28th – 30th Apr
Bintulu – Kuala Lumpur
AK 9243
0:50 (12.50am)
3:05 (3.05am)
Extra flights schedule Kuala Lumpur – Sabah
Route
Flight No
Departure
Arrival
Days of Service
Effective dates
Kuala Lumpur – Kota Kinabalu
AK 9106
22:25 (10.25pm)
1:30 (1.30am)
Wednesday, Saturday, Sunday
19th, 29th & 30th Apr
Kota Kinabalu – Kuala Lumpur
AK 9107
1:55 (1.55am)
4:30 (4.30am)
Kota Kinabalu – Kuala Lumpur
AK 9109
21:30 (9.30pm)
0:05 (12.05am)
Thursday
20th Apr
Kuala Lumpur – Kota Kinabalu
AK 9108
0:30 (12.30am)
3:05 (3.05am)
Kota Kinabalu – Kuala Lumpur
AK 9107
23:05 (11.05pm)
1:40 (1.40am)
Friday,
21st & 28th Apr
Kuala Lumpur – Kota Kinabalu
AK 9108
2:05 (2.05am)
4:40 (4.40am)
Kuala Lumpur – Tawau
AK 9746
22:15 (10.15pm)
1:05 (1.05am)
Wednesday, Thursday, Friday, Saturday, Sunday
19th – 21st Apr  & 28th – 30th Apr
Tawau – Kuala Lumpur
AK 9747
1:30 (1.30am)
4:20 (4.20am)
Kuala Lumpur – Sandakan
AK 9196
22:45 (10.45pm)
1:40 (1.40am)
Wednesday, Friday, Sunday
19th, 21st, 28th & 30th Apr
Sandakan – Kuala Lumpur
AK 9197
22:05 (10.05pm)
4:55 (4.55am)
Extra flights schedule Johor Bahru – Sarawak
Route
Flight No
Departure
Arrival
Days of Service
Effective dates
Kuching – Johor Bahru
AK 9417
21:55 (9.55pm)
23:20 (11.20pm)
Wednesday, Thursday, Friday, Saturday, Sunday
19th – 21st Apr  & 28th – 30th Apr
Johor Bahru – Kuching
AK 9416
23:45 (11.45pm)
1:10 (1.10am)
Johor Bahru – Miri
AK 9012
18:25 (6.25pm)
20:25 (8.25pm)
Wednesday
19th Apr
Miri – Johor Bahru
AK 9013
20:50 (8.50pm)
22:50 (10.50pm)
Johor Bahru – Miri
AK 9012
22:05 (10.05pm)
0:05 (12.05am)
Friday, Sunday
21st  28th, & 30th Apr
Miri – Johor Bahru
AK 9013
0:30 (12.30am)
2:30 (2.30am)
Johor Bahru – Sibu
AK 9037
23:25 (11.25pm)
1:05 (1.05am)
Wednesday, Thursday, Friday, Saturday, Sunday
19th – 21st Apr  & 28th – 30th Apr
Sibu – Johor Bahru
AK 9038
1:30 (1.30am)
3:05 (3.05am)
Extra flights schedule Johor Bahru – Sabah
Route
Flight No
Departure
Arrival
Days of Service
Effective dates
Johor Bahru – Kota Kinabalu
AK 9305
1:45(1.45am)
4:05 (4.05am)
Wednesday, Thursday, Friday, Saturday, Sunday
19th – 21st Apr  & 28th – 30th Apr
Kota Kinabalu – Johor Bahru
AK 9304
23:05 (11.05pm)
1:20 (1.20am)