American Airlines continues its push into the antipodes with the announcement of non-stop flights between Auckland and Los Angeles due to take off in June 2016, pending regulatory approvals. In a statement issued following the announcement, the American Airlines CEO Doug Parker said that the new route will give customers of American, the largest airline in the world, direct access to a renowned travel destination. New Zealanders will gain more flight options and convenient connections to the world's top financial centres and cities throughout the U.S., Mexico, the Caribbean, Central and South America from American's long-standing LAX hub.
Qantas Group CEO Alan Joyce, who was also present at the ceremony in Auckland, said the new Auckland-Los Angeles service, which will codeshare with Qantas, would join together networks on two continents. "Customers can fly to more than 150 US destinations with American Airlines and more than 70 destinations across Australia and New Zealand with the Qantas Group and we're very pleased to now be adding this new route to the list."
American plans to operate its new daily service between LAX and AKL with the newest addition to its fleet, the Boeing 787-8 Dreamliner aircraft. The schedule is expected to Depart Auckland (AKL)  at 1:20 p.m, arriving in Los Angeles (LAX) at 6:30 a.m., the same day.
The Los Angeles (LAX) flight is scheduled to leave LAX at 10:45 p.m, arriving in Auckland at 6:35 a.m., two days later.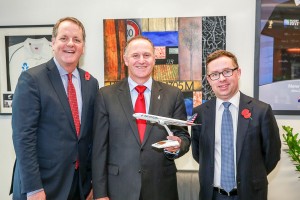 photo credits ©Qantas