We're hearing news about yet another new airline set to take to the skies in the Asian region. This latest entry, Air Japan the new airline brand from the ANA Group will operate medium-haul international flights from February 2024. With a tagline of "Fly Thoughtful", they have spent a lot of effort to follow through in making the traveller comfortable, from the choice of colours to the composition of special 'boarding music'.
AirJapan the new airline
As an airline that wishes to benefit everyone and everything, AirJapan will strive to create a new air travel experience with its unique Japanese creativity and quality. Bookings are now open for their first flight from Tokyo Narita International Airport on 9th February 2024, to Bangkok Suvarnabhumi International Airport. The airline will use B838 aircraft although it is not clear whether these are new aircraft, or ones redeployed from the parent company.
The aircraft used in their publicity is still listed as belonging to the ANA Group or All Nippon Airways, which has hubs in Osaka and Tokyo Narita. The airline serves more than 40 destinations in Japan and offers flights to destinations in Asia, Europe and North America. ANA is a member of the Star Alliance Airline Group. Currently, they are opering code share flights out of Singapore with their parent ANA, Air Canada, Singapore Airlines and United Airlines for flights to Narita.
Planespotters reports that the Boeing 787-8 Dreamliner registered as JA801A, shown in the photo, is owned by parent company All Nippon Airways. It was delivered on 25th September 2011, making it just under 12 years old. We will continue to monitor for updates on aircraft.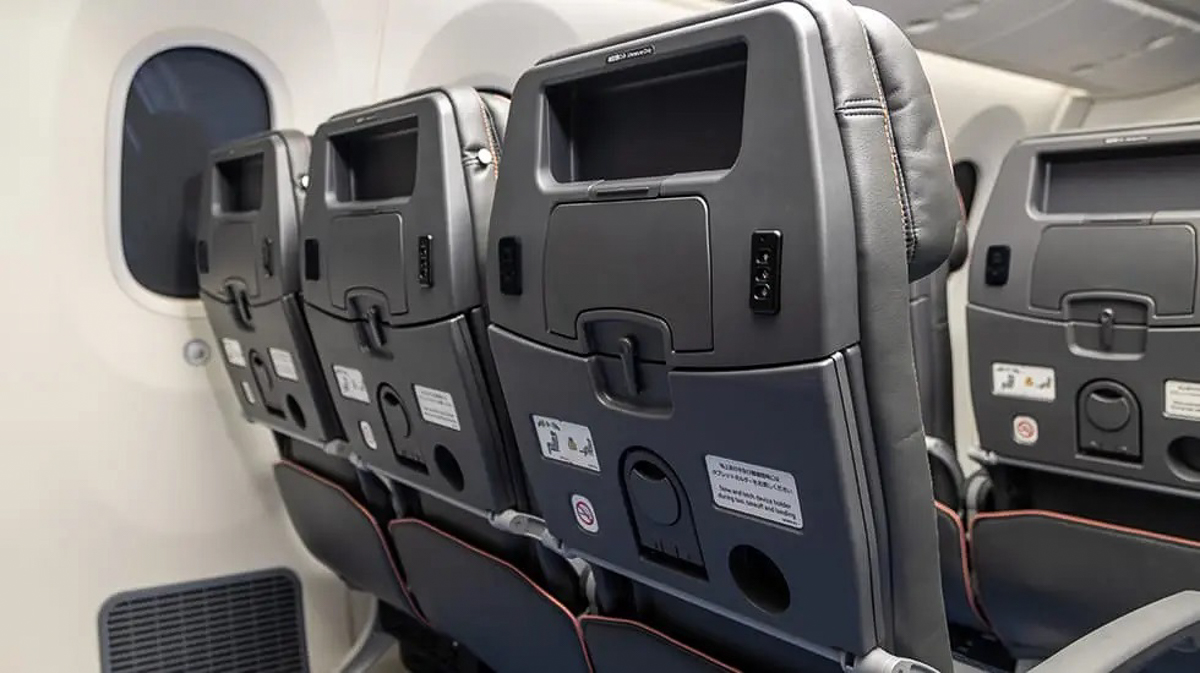 Passenger seats are made with high quality Japanese faux leather for a comfortable in-flight experience. Boasting a generous seat pitch of 32 inches (approximately 81 centimeters), and deeper reclining angle, these seats provide the level of comfort needed to relax even on longer trips. Follow this link to find out more about the seats as well as the food and services on board.
The seat backs are equipped with Type-A and Type-C USB ports and tablet holders, so you can comfortably use your smartphone or tablet device to access in-flight entertainment (IFE). Air Japan will deploy Bluebox's Blueview Onboard Retail and IFE, using the Blueview digital passenger services platform, to be deployed on Boeing B787 aircraft.
…. AirJapan the new airline brand under ANA HOLDINGS INC., will deploy the platform's onboard retail and in-flight entertainment (IFE) modules on the airline's widebody fleet. Air Japan intends to begin operating flights in February 2024 and expand its network over time, serving medium-haul markets in Asia.
Use of the Blueview onboard retail solution allows passengers to use their own devices to order items from AirJapan's food & beverage menu and retail catalogue. Hosted on the Bluebox Wow portable wireless system, Blueview will also deliver an engaging IFE experience with passengers able to stream content to their own devices. The IFE content will be tailored to the markets served by AirJapan.
Find out more about the Bluebox Aviation Systems designs and their award-winning digital passenger experiences for the commercial aviation industry. The company is headquartered in Dunfermline Scotland, and has a global support network in Europe, the US, Australia, and Singapore. Follow them on LinkedIn and Twitter Twitter (X).
Go to their official website to make bookings or find out more about Air Japan and their future plans. You can also follow AirJapan the new airline on their official social media channels at Facebook.

Enjoy their  specially composed 'boarding music' which can also be viewed on their and YouTube channel.
all images used are from the AirJapan website and copyright remains with AirJapan.