AsiAsia's acquisition of a 50% stake in online travel planner Touristly Travel Sdn Bhd (Touristly) fulfills a long held dream for the start up's owners. AirAsia will also gain value in the passenger oriented  deal.
AirAsia / Touristly Travel: the details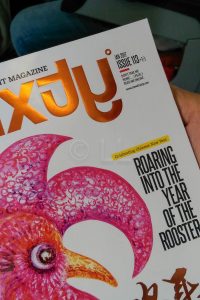 Under the deal, AirAsia Berhad will inject the digital platform of its Travel 3Sixty inflight magazine into Touristly through AirAsia Investments Ltd. Touristly will operate under the Travel 3Sixty brand.
The digital platform comprises the online brand for the Travel 3Sixty inflight magazine, touchpoints on airasia.com and online advertising assets. This will enable Touristly to reach AirAsia's 60 million guests annually. Under the terms of the arrangement, they will also gain access to offline advertising assets. This will include the physical version of the inflight magazine, overhead cabins and seat trays on AirAsia aircraft.
…. Our dream was to help travellers to Asia Pacific find amazing things to do in the region and we're truly excited about this opportunity to be able to share our platform with more people. Touristly CEO, Aaron Sarma
The agreement further strengthens AirAsia's ancillary portfolio and offers passengers access to a range of on-ground activities. These include restaurants, theme parks, attractions, spas and tours at over seventy AirAsia destinations.
AirAsia Group CEO Tony Fernandes has been appointed Chairman of the Board for Touristly upon completion of the acquisition.
….. We see enormous potential in Touristly, which perfectly complements AirAsia's existing travel offering. Our guests will be able to choose from thousands of activities when purchasing a flight and this brings us a step closer to becoming a truly one-stop digital airline. Tony Fernandes
Touristly has enjoyed a relationship with AirAsia since gaining recognition by Tune Group startup incubator Tune Labs in May 2016. The startup represented Malaysia at Pitch@Palace Global at St James Palace in London, UK in December 2016.