AirAsia recently flew the families of three young Malaysian cyclists to meet them in Ho Chi Min City, Vietnam.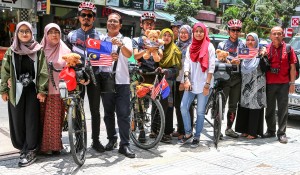 Muhammad Adib Mohamad Ali, 26, Mohd Azrulhan Mohd Shaful, 26 and Amirul Alis bin Ali, 32, cycled into Ho Chi Minh City on Sunday 20th September, kitted out in AirAsia cycling gear. The three are on their way home to Kuala Lumpur after leaving the United Kingdom in August 2014. Their 21 country trip has seen them already visit 18 on the list over the past 13 months, the most recent of which was China, before cycling the length of Vietnam to Ho Chi Minh City (Saigon).
From Ho Chi Minh City they will pass through Cambodia and Thailand, entering Malaysia through Padang Besar en route to Kuala Lumpur by the end of the year.
AirAsia contributes towards youth and talent development and the fulfilment of dreams through the support of projects such as "Journey to Homeland Project" Cycling from the UK to Malaysia which was organised by these young Malaysians in their mission to cycle from the United Kingdom back to Malaysia.
Image credits © AirAsia