AirAsia has started its Kuching to Langkawi direct service with the inaugural flight on 9th August 2017. The four times weekly service will operate on Monday, Wednesday, Friday and Sunday. The flight took off from Kuching airport just before 1pm, arriving at the Langkawi International Airport just over two hours later. Langkawi, the duty free tourist haven in northern Malaysia, will also welcome AirAsia's inaugural flight from Shenzhen on 10th August.
Spencer Lee, AirAsia Head of Commercial welcomed the flight and said that AirAsia is committed to continue growing the Kuching hub as Sarawak has a lot to offer beyond its tourism attractions.
 …. Increasing connectivity into Sarawak is important for us as it is also one of the top preferred investment destinations in Malaysia with Sarawak Corridor of Renewable Energy (SCORE) attracting investors to set up manufacturing plants on ICT, agriculture, industrial and many more. Spencer Lee
Special Kuching to Langkawi introductory fares
Pick up a one-way, all-in ticket Kuching to Langkawi or Langkawi to Kuching, starting from MYR 100 if you book by 13th August for travel until 8th Feb 2018. Bookings may be made online at airasia.com, the mobile site mobile.airasia.com or on AirAsia's mobile app on iPhone and Android devices.
Where else can I fly from Kuching?
AirAsia now flies to eleven destinations from Kuching with over two hundred weekly flights one way. In addition to Langkawi, AirAsia flies from Kuching to:
Miri
Sibu
Bintulu
Kota Kinabalu
Johor Bahru
Kota Bharu
Penang
Kuala Lumpur
Singapore and
Pontianak
Fly-Thru passengers can also connect to eighteen countries from Kuching via the Kuala Lumpur hub, including Thailand, China, Hong Kong, Macao, Indonesia.
Flight Schedule for Kuching, Malaysia (KCH) – Langkawi, Malaysia (LGK):
| | | | | |
| --- | --- | --- | --- | --- |
| Route | Flight No | Departure | Arrival | Flight Frequency |
| Langkawi – Kuching | AK 5092 | 1010 (10.10 am) | 1230 (12.30 am) | Monday, Wednesday, Friday |
| Kuching – Langkawi | AK 5093 | 1255 (12.55 pm) | 1510 (3.10 pm) | Monday, Wednesday, Friday |
| Langkawi – Kuching | AK 5092 | 0900 (9 am) | 1120 (12.20 am) | Sunday |
| Kuching – Langkawi | AK 5093 | 1145 (11.45 am) | 1400 (2 pm) | Sunday |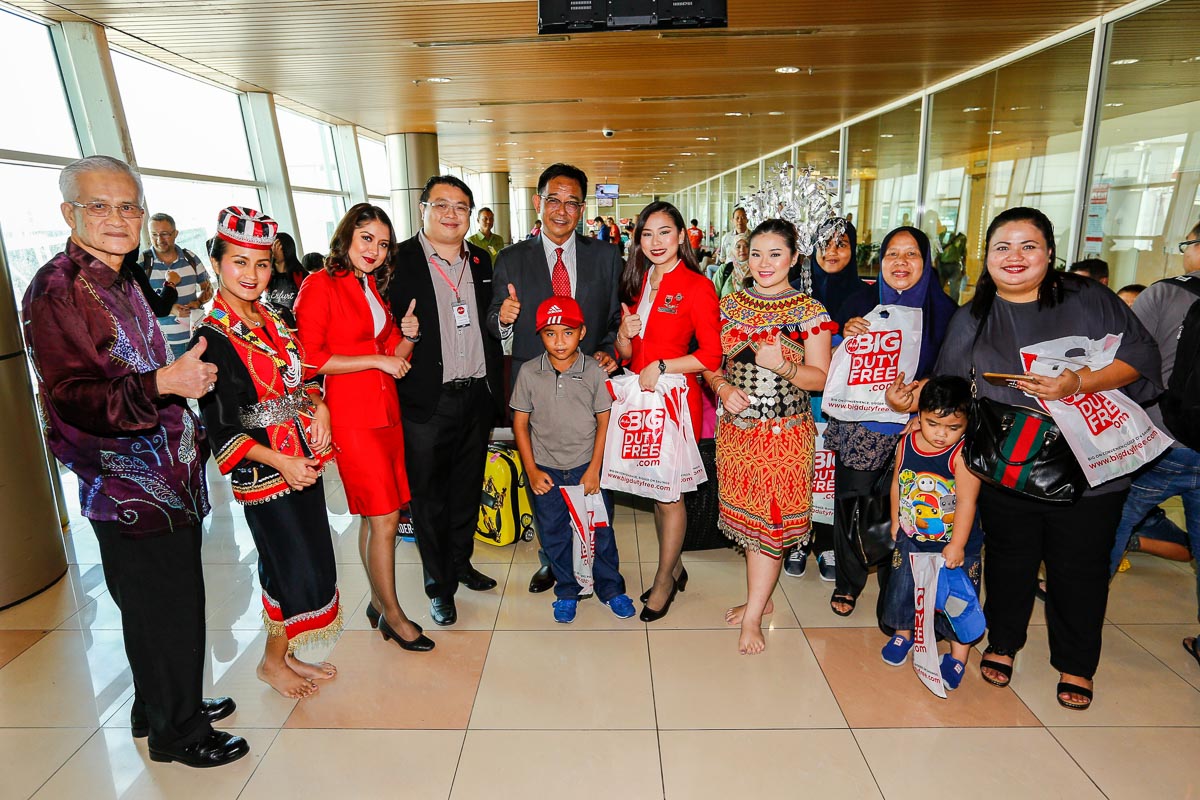 *Promotional all-in-fares quoted are for one-way travel only inclusive of taxes and fees. Terms and conditions apply.