Hatyai became the 6th International destination for AirAsia from Senai Airport in Johor Bahru when the Thai AirAsia inaugural flight from Hatyai landed there recently. On hand to welcome the first flight were Ms Aireen Omar, Chief Executive Officer of AirAsia Berhad; Mr Md Derick Basir, Chief Executive Officer of Senai Airport Terminal Services Sdn Bhd; Magdlane Tuborng Melai, Director of Ministry of Tourism and Culture Malaysia Johor Office.
…. AirAsia group are pleased to be expanding services from Senai International Airport and providing our guests with a direct link between Johor Bahru and the city of Hat Yai. This brand new route operated by Thai AirAsia marks an important milestone for AirAsia group as the third airline to commence services into Johor Bahru. This new route is indeed a great new addition to our growing network in Johor Bahru and will act as a bridge for trade, commerce and cultural exchange with the city of Hat Yai. We are committed to investing in the communities we serve, and growing our secondary hub such as Johor Bahru. We are very happy and appreciative of the support and partnership opportunities provided by Senai International Airport. There are many more potential routes that we can explore from Johor Bahru, and we will work closely with all of our affiliates to create more connectivity into Senai International Airport. Aireen Omar, AirAsia Berhad CEO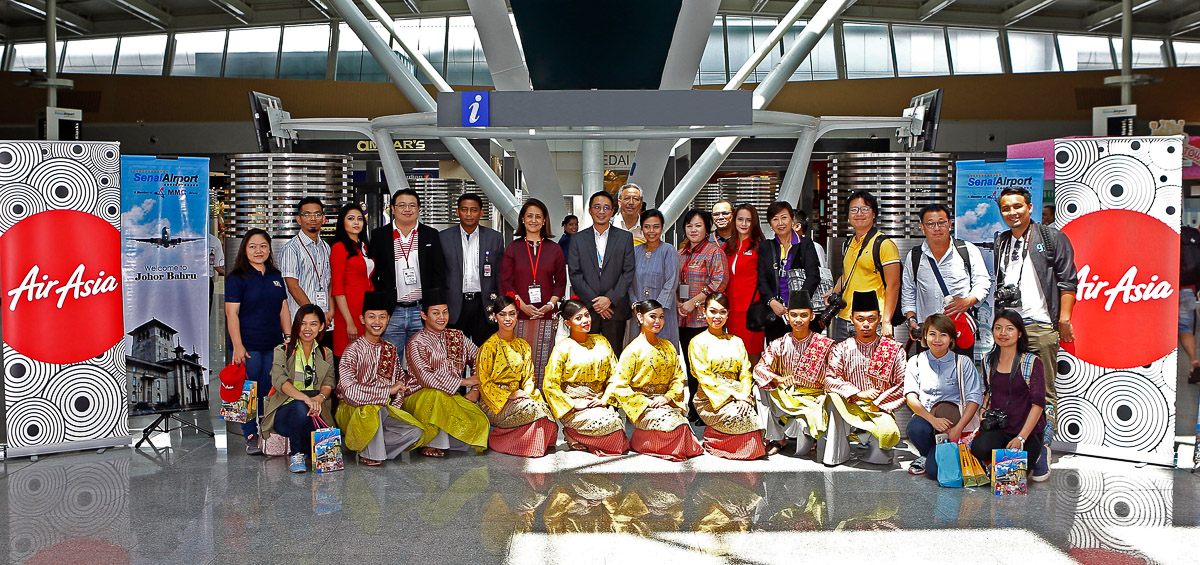 The daily flights are well timed to allow plenty of time to reach the airport at either end, giving passengers time on arrival to start a holiday or reach home comfortably. The timing should also suit Singaporeans, who have been taking advantage of the favourable exchange rate and increasing availability of destinations, to make the journey to Senai to catch their flights.
On the first flight FD510 was a group of Thai journalists and representatives from Thai AirAsia. The daily direct flights mark the beginning of a much-anticipated connectivity between southern city of Thailand and southern peninsular Malaysia.
….. We are delighted to welcome Thai AirAsia to Senai Airport. Hat Yai will be the second city in Thailand which is connected directly to our airport. Currently, AirAsia Malaysia flies 4 times weekly from Senai Airport to Bangkok. Md Derick Basir, CEO of Senai Airport Terminal Services Sdn Bhd
The AirAsia Group operates a total of 7 domestic routes, and 6 international routes into Senai International Airport, represented by three airlines – AirAsia Berhad (flight code AK), Thai AirAsia (flight code FD) and Indonesia AirAsia (flight code QZ).
Flight Schedule for Hat Yai, Thailand (HDY) – Johor Bahru, Malaysia (JHB)
| | | | | | |
| --- | --- | --- | --- | --- | --- |
| Flight No. | From | To | Departure | Arrival | Flight Schedule |
| FD 0510 | HDY | JHB | 11:25 (11:25am) | 14:00 (2:00pm) | Daily |
| FD 0511 | JHB | HDY | 14:30 (2:30pm) | 15:10 (3:10pm) | Daily |