AirAsia will partner Sarawak Tourism Board to promote this year's Borneo Jazz and Rainforest World Music Festivals. As one of the two festivals' airline partners, AirAsia will fly in more visitors for these two popular events.
Sarawak Music Festivals
These two festivals attract increasing numbers of visitors each year. The Borneo Jazz Festival and Rainforest World Music Festival are now cornerstone international music festivals in the State of Sarawak, bringing tens of thousands of local and international audiences together every year.
The Borneo Jazz Festival in Miri
This acclaimed music fest runs from 11th to 13th May 2018.
Miri, a city with a dozen parks is the gateway to four national parks, best known of which is the Niah National Park. Niah's famous Great Cave is inhabited by tens of thousands of bats and swiftlets.
The area is also archaeologically important for their cave paintings and as the site of the earliest modern human remains found in Southeast Asia. The wider area is home to rainforests, caves, waterfalls and limestone pinnacles, making a visit a rich ecotourism experience.
Miri is also closely connected to the oil and gas industry. Visit the Grand Old Lady, the first inland oil drilling platform in Malaysia and the Petroleum Museum. Divers will love the variety of sea habitats and colourful ocean-floor gardens at the diving spots close to Miri.
Rainforest World Music Festival (RWMF) in Kuching
The RWMF runs from 13th to 15th July 2018. Events are centered in the lovely Damai Beach area about a 45 minutes road trip from Kuching. While you enjoy the music you can learn about the diverse peoples of Sarawak, their culture, customs and homes at the Sarawak Cultural Village. In and around Kuching, go for a walk along the riverbank and check out the waterfront bazaar.
Get out of town and visit the hilltop Ching San Yen temple in Kampung Muara Tebas. Afterwards, enjoy a fresh seafood feast at the jetty at the foothills. Ride a sampan across the Santubong River to visit Fort Margherita. And you absolutely must not miss at least one bowl of Sarawak laksa. Ask people for their recommendation and you'll have to eat 10 bowls!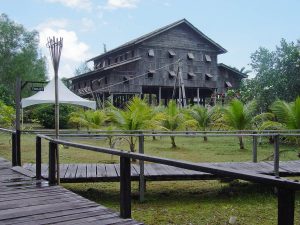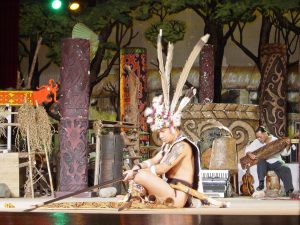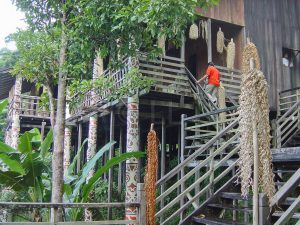 Promotional Fares
As part of the partnership, AirAsia is offering one-way, all-in fares to Miri 
from MYR 79 from Kuala Lumpur

from MYR 129 fly-thru from Penang, Melbourne, Hong Kong and other locations. 
Book seats at airasia.com or their mobile app by 30th April 2018 for immediate travel until 30th September 2018. Check out their current offers for travel to Kuching.
AirAsia RedTix is also the official partner for the Rainforest World Music Festival this year and tickets are available on airasiaredtix.com.
The airline flies to five destinations from Miri with a total of 86 weekly flights one way to Kuala Lumpur, Kota Kinabalu, Johor Bahru, Kuching and Singapore. AirAsia flies to 12 destinations from Kuching with a total of 257 weekly flights to Shenzhen, Singapore, Pontianak, Miri, Sibu, Bintulu, Kota Kinabalu, Johor Bahru, Kota Bharu, Penang, Kuala Lumpur and Langkawi.
The partnership will help Sarawak Tourism Board boost visitor numbers to Sarawak through their connection to the 23 countries on their network. They will promote the festivals, as well as the diverse cultural identities, unique traditions and eco-tourism attributes in Sarawak.
For information on these two festivals and other events in Sarawak, visit www.sarawaktourism.com.
*Promotional all-in fares quoted are for one-way travel only inclusive of taxes. Terms and conditions apply.