British Olympic swimmer Ben Proud will join forces with Air Asia in a four-year tie-up that will see AirAsia sponsor Proud as he works towards qualifying for his second Summer Olympics. The Games will be held in Tokyo, Japan in 2020.
Why a British Olympian, you may ask… Sharing an alma mater with AirAsia Group CEO Tony Fernandes probably started the ball rolling. Ben Proud lived and studied in Kuala Lumpur as a youngster and developed a love and talent for the sport before developing it when he returned to Britain.
What's the deal?
Ben Proud will be working with the Amateur Swimming Union of Malaysia (ASUM) to host an annual Talent Pool coaching clinic in Malaysia. The first of these clinics for promising young competitive swimmers took place earlier today in Putrajaya. Thirty talented young Malaysian swimmers aged between 12 and 15 underwent the intensive one-day session at Marina Putrajaya Indoor Pool.
This programme will be repeated across other Asean countries in conjunction with the respective National Swimming bodies. Today's session was conducted by Proud and AquaElite coaches Antony James, a former Olympian, who will be joined in subsequent clinics around Asean by Commonwealth Games finalist Steven Beckerleg.
…. Asean has an abundance of talent, but we don't always develop that to the fullest. I hope that with Talent Pool, which we will take all across Asean, we can help fill that gap and maybe even unearth the next Schooling, Sun Yang, Kitajima or Ben Proud." AirAsia Group CEO Tony Fernandes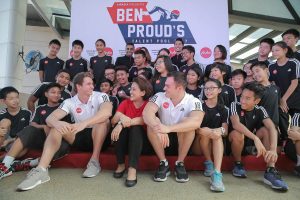 In his first Olympics as a British Olympic swimmer, Ben Proud placed fourth in the 50m freestyle finals, after setting a new British record in the qualifiers. He's also the Commonwealth champion in the 50m butterfly and 50m freestyle and is a member of Team Great Britain for the FINA World Aquatics Championships and LEN European Aquatics Championships.
…. I am delighted to have the chance to return to my swimming roots in Malaysia, where I first fell in love with the sport whilst growing up in Kuala Lumpur, to help train the talents of tomorrow. It will be really rewarding to work with AirAsia to inspire and nurture future swimming champions throughout the Asean region over the next four years. Ben Proud