8th August is observed as ASEAN Day and AirAsia flew the Asean flag today, announcing their latest route – Phu Quoc, Vietnam. Phu Quoc (pronounced Phu-Kwok, with a soft p and k) is Vietnam's largest island, though it's nearer Cambodia than Vietnam.
The four weekly flights from Kuala Lumpur klia2 to Phu Quoc will commence on 2nd November 2018. This is probably the best time of year to visit with sunny skies and temperatures between 25°C and 28°C from November to March.
Why visit Phu Quoc?
The island enjoys a diverse landscape featuring lush forests, beaches with crystal clear water and towering mountains. More than half the island is a National Park where visitors can enjoy the  many hiking trails. The tropical forest is home to a wide variety of wildlife.
The most popular beaches are in the south west part of the island. They include Long Beach, Ong Lang Beach, Ganh Dau Beach and Starfish Beach, which offer stunning views of the sunset.
Visit the Ham Ninh Village for a glimpse of a local fishing village;
Suoi Tranh Waterfall surrounded by greenery, caves and rock pools;
Enjoy fresh seafood and local Vietnamese tastes at the Dinh Cau Night Market

Duong Dong is the largest town, with day and night markets selling crafts, produce and fish.
The three main regions in the district are Phu Quoc island, Hon Thom and An Thoi Archipelago. Phu Quoc is part of the Kien Giang Province which was recognised by UNESCO as a World Biosphere Reserve in 2006.
Speaking to media and invited guests, AirAsia's Head of Commercial, Spencer Lee, commented that this is the first direct service from Kuala Lumpur to one of Asean's best-kept secrets, Phu Quoc.
….As a truly Asean airline, we're committed to enable more people to visit more places in this region…… We hope to contribute to the social and economic development of Phu Quoc through the power of connectivity. We look forward to working with the local government to develop Phu Quoc into a world class tourist destination. Spencer Lee
He also added that travellers from any country can also visit Phu Quoc visa-free for up to 30 days. This will make this island paradise more accessible.
Introductory Special Fares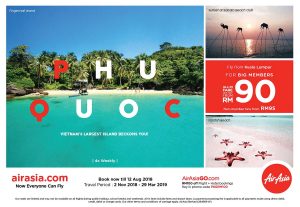 AirAsia is offering special introductory all-in, one-way fares from Kuala Lumpur to Phu Quoc from MYR 90*. These fares are available for booking on airasia.com and the AirAsia mobile app from 8th August to 19th August 2018 for travel between 2nd November 2018 and 29 March 2019. *Promotional all-in-fares quoted are for one-way travel only inclusive of taxes and fees. Fare shown are for BIG members only. Terms and conditions apply.
Specially for BigPay members:
Enjoy zero processing fees when making payment using BigPay card.
BIG members can redeem a one-way flight from Kuala Lumpur to Phu Quoc from 100 BIG Points (base fare only)
Phu Quoc is AirAsia Malaysia's 59th unique route and the fifth route into Vietnam. AirAsia also flies to four other destinations in Vietnam from Malaysia 
Ho Chi Minh City
Da Nang
Hanoi
Nha Trang
Flight Schedule Kuala Lumpur (KUL) – Phu Quoc (PQC)
Route
Flight No
Departure
Arrival
Days of Service
Kuala Lumpur – Phu Quoc
AK545
1250hrs (12.50pm)
1335hrs (1.35pm)
Monday, Wednesday, Friday, Sunday
Phu Quoc – Kuala Lumpur
AK 546
1405hrs (2.05pm)
1655hrs (4.55pm)
All times are local. Local time in Vietnam is one hour behind Malaysia.
images ©LL & AirAsia