AirAsia invites everyone to Go Away as interstate travel resumes with a free seats promo to encourage you.The airline is well prepared, with emphasis on the highest safety standards as airline goes fully digital with a contactless journey throughout. This starts with mandatory check-in via Super App until boarding using FACES facial recognition which is expected to be available at all domestic airports soon. This makes the entire journey fully digital and paperless thus further minimising possible human contact between its guests and employees.
Free seats promo, increased flights
To kickstart the resumption of interstate travel, AirAsia will operate a daily flight schedule of 61 flights across its 16 domestic destinations.
In the first round, AirAsia Malaysia (flight code AK) will fly from Kuala Lumpur to
Langkawi (63x weekly)
Alor Setar (10x weekly)
Kota Kinabalu (35x weekly)
Bintulu (2x weekly)
Kuching (10x weekly)
Labuan (14x weekly)
Miri (4x weekly)
Penang (21x weekly)
Sibu (2x weekly)
Sandakan (21x weekly)
Johor Bahru (10x weekly)
Kuala Terengganu (28x weekly)
Tawau (28x weekly)
Kota Bharu (35x weekly)
More routes will be added and frequencies increased as the travel demand grows in tandem with the reopening of more leisure destinations in the near future. This is subject to approval from the authorities.
Pick up your free seats promo fares for flights from Kuala Lumpur to Penang, Johor Bahru, Terengganu and Kota Bharu from only RM12 one way*. *Free seats exclude airport tax, MAVCOM fee and other applicable fees, so the RM12 covers these fees. Terms & Conditions apply.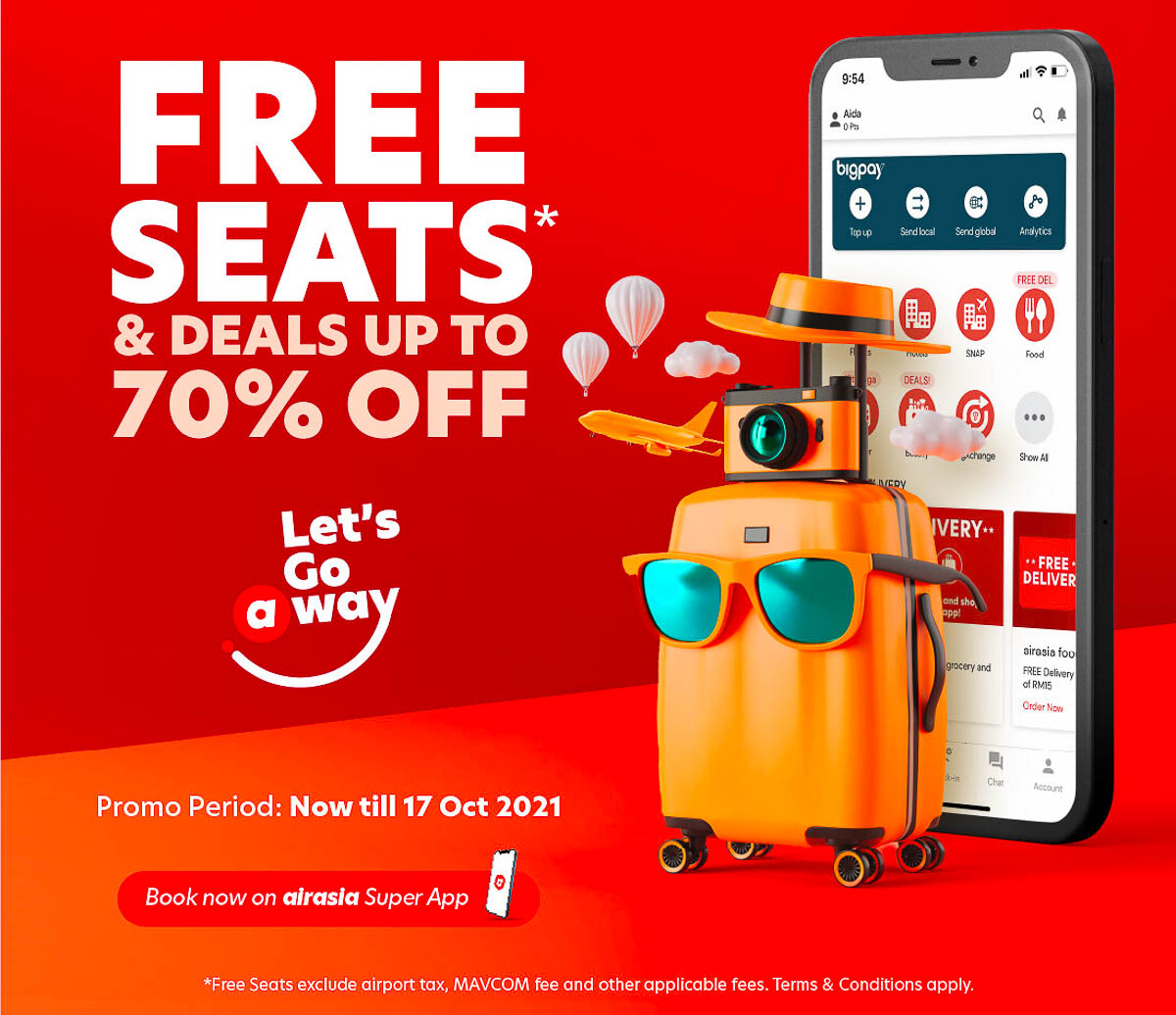 The flights are available for booking on the airasia Super App by clicking on the 'Flights' icon until 17th October, for travel from 1st November 2021 to 30 April 2022. If you have a credit account, you may use them to redeem these flights. Priority booking for BigPay and airasia Hong Leong Bank card holders happens from 1000hrs on 10th October 2021.
Travellers can also save up to 60% with flight+hotel SNAP combos! Each SNAP deal consists of a return flight + 3D2N hotel stay, and these packages are usually snapped up very quickly. The latest SNAP flash sale runs 13th-15th Oct 2021, featuring a  flight+hotel deal to Penang from RM179/pax. Click on the SNAP icon on the airasia Super App and you are assured that all hotels listed under SNAP are authorised to operate by the government and adhere to strict SOPs.
For those who prefer to book their hotel stay separately, enjoy an additional 10% discount on all hotels by using promo code AAHOTEL10 at 'Hotels' icon at the Super App for the same booking period, until 17th October for travel from 1st November to 30th April 2022.
Meanwhile, eligible guests who have redeemed the AirAsia-Ministry of Arts, Tourism and Culture (MOTAC) Cuti-Cuti Malaysia e-vouchers can use them to claim a discount of RM50 on any AirAsia Malaysia domestic flight booked between 4th and 17th October 2021 for travel between 4th October and 30th November 2021. Full redemption details are available on airasia website, subject to terms and conditions. The-vouchers are still up for grabs on a first-come-first-served basis.
AirAsia has spent the period of downtime in travel the past one-and-a-half years to further improve and revamp its flight procedures and processes. In the highest interest of safety and wellbeing of all its guests and employees, AirAsia only accepts fully-vaccinated guests on board its flights, with fully-vaccinated employees to operate flights and be on-duty at airport terminals.
For more information on the newly improved Self Check-in service and how to use it to verify vaccination and health certificates, visit the AirAsia Support Page here. For flight changes, click here to chat with AVA. For the latest flight status visit airasia.com/flightstatus.
Stay up to date with everything e-commerce from the airasia Super App by following @airasiasuperapp on Instagram and Facebook for the latest updates on airasia Super App's e-commerce offerings. For a seamless and enhanced experience, download your airasia Super App from the Apple App Store, Google Play Store or Huawei AppGallery.