Netizens are already jumping up and down about the increases in AirAsia's baggage prices. We've got all the info here, so you can check exactly how the change in pricing will affect you.
New Baggage Pricing Structure
With the new baggage pricing structure, pre-booking checked baggage via Manage My Booking will be subjected to an additional charge on top of the current price. Basically, that means, you pay more if you don't add baggage straight away when you make the initial booking but add it later through the 'Manage my booking' feature.
This new checked baggage pre-booked pricing applies to all flights (carrier codes: AK, FD, QZ, Z2, i5, D7, XT, XJ) except bookings made for flights originating from Indonesia and India.
How do I still enjoy savings with the new pricing structure?
Pre-book checked baggage allowance when you book your flights as checked baggage booked after the completion of the initial flight booking process will be charged at a higher price.
This table shows the difference when you pre-book checked baggage for a one-way flight Kuala Lumpur to Singapore:
Checked baggage 20kg

Currency
Pricing during initial flight booking
Pricing after initial flight booking
MYR
45
52
Before you get too excited, you'll be pleased if you pay the extra through 'Manage my Booking', because if you wait until you get to the airport, that's where the pain really hits!
This table shows how excess baggage (i.e. not pre-paid either at initial booking or before going to the airport) will be charged:
Currency
Pricing after initial flight booking
Airport counter rate
Checked baggage 20kg
Airport baggage (15kg) + Excess baggage (5kg) = Total check-in weight (20kg)
MYR
52
355
How much will my luggage cost?
As the baggage cost varies depending on the currency you use to pay, you can check the applicable costs for your flights using this link – enter your departure location and destination.
Check the weight before you head for the airport!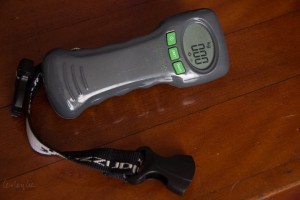 Now you know how much you can carry, get yourself a digital bag scale. The price has come down considerably since we bought our 'brick' some years ago, and there are quite a few types on the market. Many of the airlines sell these from their online or on-board stores, or you can purchase at travel stores.
Ours is a reliable and well known brand, Balanzza and you should be able to pick up either this one or a new smaller model. This one was purchased on board one of our flights and I have seen it in a number of in-flight sales booklets.
We have always found the measurements to be accurate.