Many of us can't travel at the moment, or have Covid-19 imposed restrictions on where we can go. If you live in Malaysia, you'll know Movement Control Orders have been extended until 18th February, with extra restrictions. This may include further restrictions on supermarket shopper numbers. This mornings Zoom launch of airasia fresh Fresh Pack to make grocery shopping easier. This is the latest initiative of AirAsia via their digital platform.
airasia fresh Fresh Pack
This new way of purchasing fresh groceries online using Fresh Pack by airasia fresh today, allows shoppers to customise their grocery selection bundle at a flat price. Even better it's delivered free to your doorstep at a convenient time for you, powered by Teleport. The Fresh Pack will initially be offered across Malaysia, to be followed by other ASEAN countries, starting eith Indonesia.
The customisable fresh groceries bundle or Fresh Pack comes in small or large size options. There are four categories: vegetables, fruits, meat and seafood.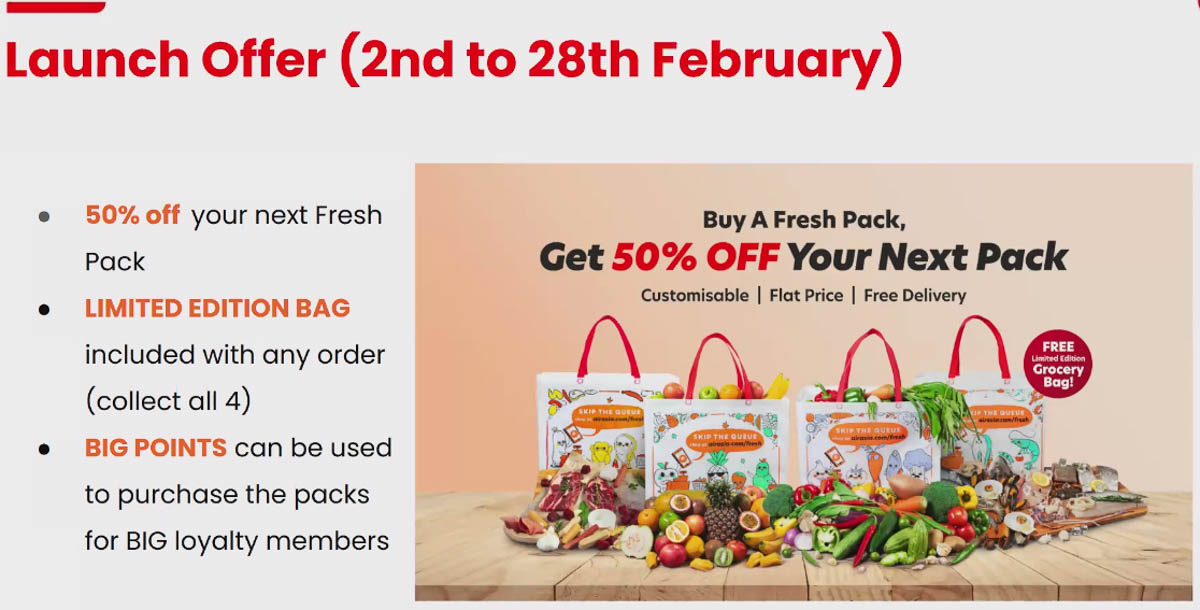 To celebrate the launch of this first-of-its-kind customisable Fresh Pack and in conjunction with Chinese New Year, airasia fresh is offering all shoppers:
50% off your second Fresh Pack purchase from 2nd February to 28th February 2021.
Each Fresh Pack order comes with a collectible limited edition grocery bag,
Available in four different designs,
Released weekly throughout the month of February.
The limited edition grocery bag was designed in collaboration with Penang-based illustrator and graphic designer Ong Lyn-Hui.
All Fresh Packs and more are available on the airasia Asean super app by clicking on the 'Fresh' icon, or at airasia.com/fresh.
…. At airasia fresh, we aim to make it as convenient and affordable as possible for people to purchase their groceries online, especially fresh produce such as vegetables, fruits, meat and seafood. Maybel Chan, Head of airasia Fresh
She explained that by leveraging on the airasia ecosystem which includes airasia farm, the B2B platform connects farmers direct to business owners. This lets airasia Fresh offer the best value and affordability to customers while directly benefiting farmers.
Maybel further added:
….Whilst there are boxed offerings out there, the difference with our Fresh Packs are, you get to select what you want, at an affordable flat price, and conveniently delivered to you for free!
What's on offer?
Prices start from as RM30 for a small pack of vegetables to a large seafood pack for RM95 where customers can select up to 7 kilos of seafood with 40 different types of seafood available.
Airasia Fresh contributes towards the local economy by supporting various local suppliers to reach more customers. The initiative creates more jobs especially for Teleporters (airasia delivery partners) as the company expands their offerings on airasia fresh.
Lock in your Unlimited Free Delivery throughout the whole MCO period by using the promo code STAYHOME with a minimum spend of RM30.
Sizing/Pricing for airasia fresh Fresh Pack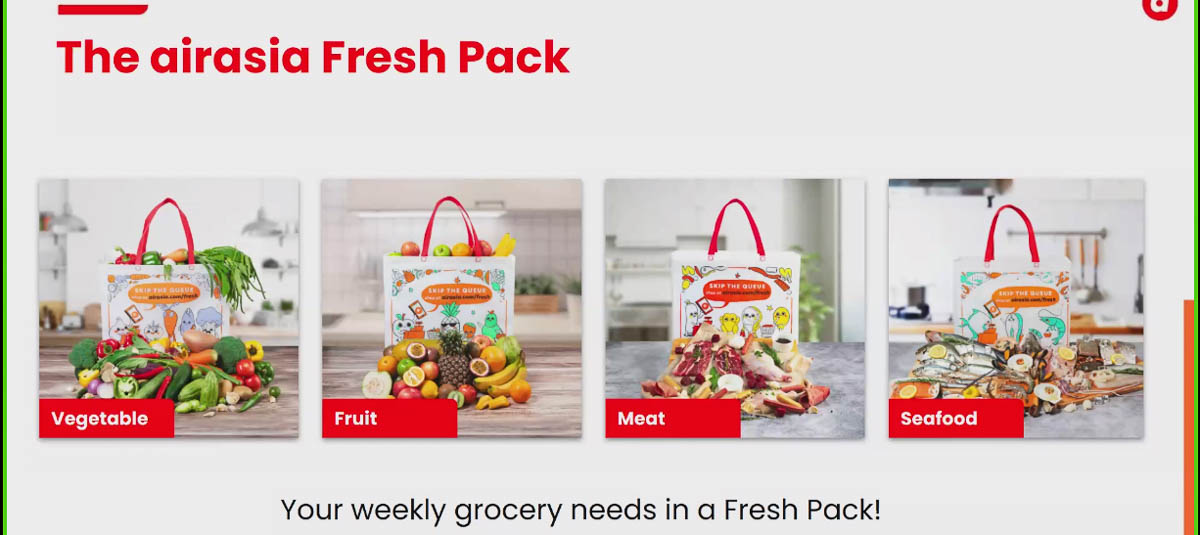 VEGETABLES

[Small Pack: RM30; No. of Items: 6]
[Large Pack: RM55; No. of Items: 11]

FRUIT

[Small Pack: RM35 ; No. of Items: 5]
[Large Pack: RM55; No. of Items: 8]

MEAT

[Small Pack: RM55; No. of Items: 4]
[Large Pack: RM100; No. of Items: 7]

SEAFOOD

[Small Pack: RM46; No. of Items: 4]
[Large Pack: RM95; No. of Items: 7]
BIG Members who shop on airasia fresh can also enjoy more savings and value by using BIG Points to pay for their purchases.
AirAsia Group COE Tony Fernandes challenged Pete Chareonwongsak, Teleport Asia CEO to a cook-off, using ingredients from the Fresh Pack bag. See who won here…..