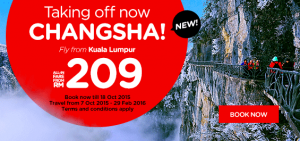 AirAsia has celebrated the inaugural flight of its direct Kuala Lumpur / Changsha service on 2nd October 2015. This four times a week service joins the existing daily flights between Bangkok's Don Mueang airport and the ancient Chinese city.
In conjunction with the first flight, until 18th October 2015, you can pick up a promotional all-in one way-fare to Changsha starting from RM209 for travel between 7th October 2015 and 29th February 2016.
Flight Schedule for Kuala Lumpur (KUL) –  Changsha (CSX):
| | | | | |
| --- | --- | --- | --- | --- |
| Route | Flight No | Depart | Arrive | Frequency |
| KUL – CSX | AK174 | 1800 | 2230 | Monday, Wednesday, Friday, Saturday |
| CSX – KUL | AK175 | 2315 | 0345 (+1) | Monday, Wednesday, Friday, Saturday |
Changsha is the capital of Hunan Province, with a history dating back to at least 3000 years ago. One of the important rice producing areas of China, the area is also home to ancient tombs from the Han Dynasty more than 2000 years old. Mao Zedong (Chairman Mao Tse Tung) studied to become a teacher in the city, later teaching in one of the schools and joined the Communist Party during that period.
Many visitors come to Changsha to visit the world famous UNESCO World Heritage Site, Wu Ling Yuan (Zhangjiajie) where the Hollywood blockbuster Avatar was filmed. The area is well known for hiking, cycling, boating, mountaineering, parasailing, rock climbing and camping at sites such as Tianzi Mountain, Yangjiajie, Wulingyuan, Tianmen Mountain, and the Diaojiao Houses in Shiyanping.
You can also visit the Glass 'Brave Men's Bridge' in nearby Shiniuizhai National Geological Park, Pinjiang County. If you want to go straight to this really scary destination, you can catch the bus (Line 9) straight to Yueyang from the airport. The ticket will cost around 50Yuan.
Book your tickets online at the AirAsia website, the AirAsia's mobile app on iPhone and Android devices, or the AirAsia mobile site.