One of the most popular island destinations in South East Asia just became a little easier to get to – you can now book all the way through to Koh Samui and Koh Phangan when you fly AirAsia from KLIA2, Kuala Lumpur.
Book your ticket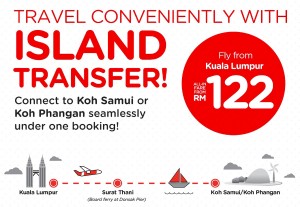 and fly and ride from Kuala Lumpur straight to Koh Samui or Koh Phangan with introductory one way fares starting from RM122, including flight, coach and ferry transfer, for bookings until 20 September 2015 for travel until 29 February 2016.
With guaranteed land and sea transfer upon arrival at the Surat Thani Airport in Thailand, you are spared the hassle of having to book through different operators and the long wait upon arrival before you can move on to your holiday destination.
AirAsia plans to extend this facility to Fly-Thru passengers where passengers can connect to these islands from Beijing, Hong Kong, Tokyo, Sydney and other parts of the region in one single booking.
Bookings may also be made using AirAsia's mobile app on iPhone and Android devices and their mobile site.