The airasia.com Super Sale has begun! This Super Sale is the launch event for the airasia.com new identity online as Asean's super app. The launch completes AirAsia's transformation from a digital airline into a comprehensive lifestyle platform for everyone. 
airasia.com Super Sale 2020
AirAsia Group launched the airasia.com Asean super app on 8th October 2020. The app provides a simpler, faster and more convenient user experience with over 15 types of products and services under three main pillars, travel, e-commerce and fintech.
To celebrate the launch, airasia.com is introducing the first ever airasia.com Super Sale. The Super Sale is the successor to AirAsia's hugely popular legacy of AirAsia Free Seats. The Group-wide sale is on now, until 18th October 2020 with storewide discounts of up to 90% across all product offerings on the  airasia.com super app and the airasia.com website.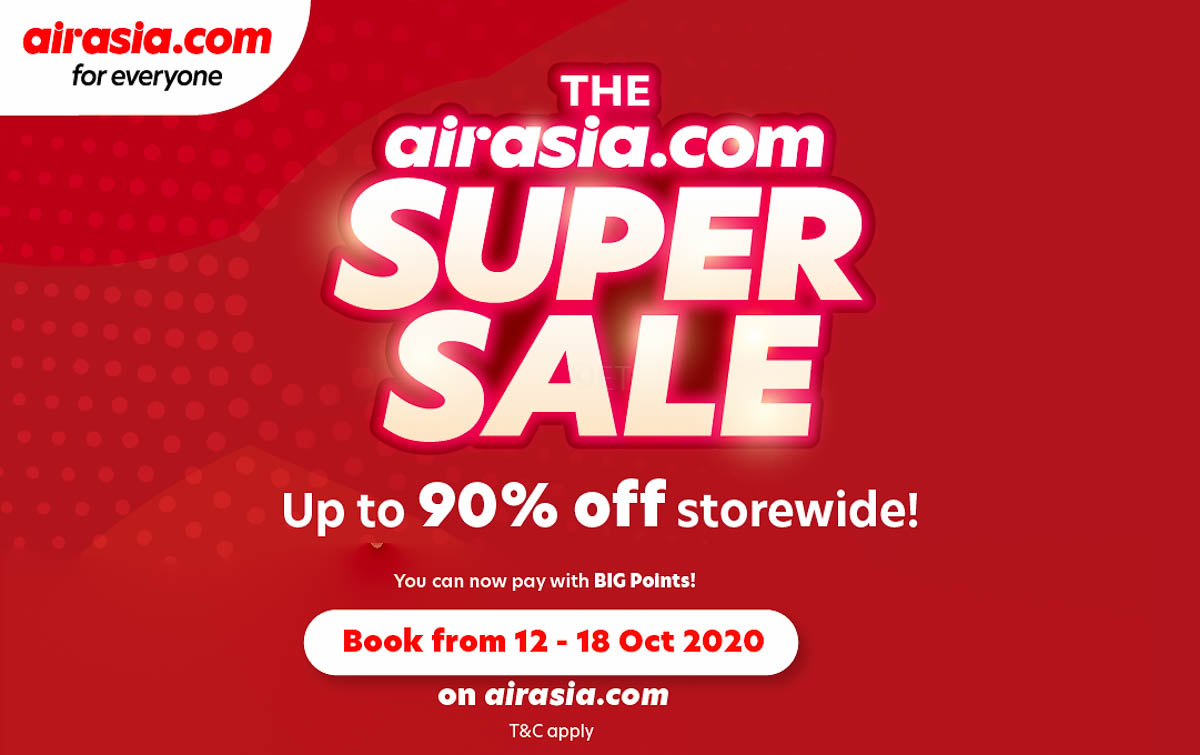 At the launch, Tony Fernandes, CEO of AirAsia Group spoke of how the airline has not wasted the crisis. Instead they have used the lockdown period to fine-tune their platform, unify the user experience and simplify payment to a one-click checkout. 
He added that:
…. We democratised flying 19 years ago and enabled millions to travel, to explore. We pride ourselves in being a disruptive leader, connecting the Asean region, providing value, simplicity and inclusivity, for everyone.  Now with airasia.com, we are enabling everyone to fly, to stay, to shop, to eat, all at the convenience of one super app.
AirAsia used their pandemic related downtime to accelerate their digital business and expand airasia.com's product offering from travel to everyday life. The airline is touting airasia.com as the emerging Asean super app, your best travel and lifestyle companion.
What's on sale in airasia.com?
As part of the airasia.com Super Sale, customers can choose from a variety of deals – there's something for everyone.
Discounts up tp:
90% off SNAP (flight+hotel) combo (starting from RM88 per person)
90% off on airasia shop
50% off on airasia food (formerly known as OURFOOD) and airasia fresh (formerly known as OURSHOP)
50% off all Malaysia domestic flights
10% off flights of any other airlines to over 3,000 destinations worldwide
up to 30% off on activities
up to 20% off hotels
20% off Unlimited Deals
Muslim customers can enjoy a special 10% off on Aqiqah Abroad and Aqiqah Makkah from IKHLAS.
There's more
Users can also
earn double BIG Points* during the airasia.com Super Sale
pay using BIG Points* for purchases made on airasia.com
BigPay users can perform an easy and secure 'One-Click' immediate checkout
Visa cardholders will also enjoy more savings as airasia.com's partner during the Super Sale.
*BIG Points are not applicable for purchase of Insurance, Health and non-AirAsia flights.