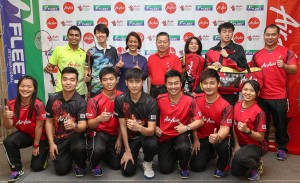 If you're a badminton fan, watch out in the next few years for these young players currently training with the AirAsia Badminton Academy.
A group of the Academy's high achievers, including Lyddia Cheah Yi Yu, Roni Tan Wee Long, Jagdish Singh, Vincent Puah, Loh Wei Sheng, Erica Khoo Pei Shan, Ti Wei Chyi and Ng Sin Zou have received their new Fleet and AirAsia Badminton Academy training kit at a launch event on 6th August 2016. The sponsorship agreement is for a period of one year.
The AirAsia Badminton Academy, which was launched in 2012, has trained more than 250 world-class badminton players, some of whom are now playing in both national and international competitions as part of the Malaysian National team.
The players at AirAsia Badminton Academy are coached by four experienced coaches, headed by Robert Lin Woon Fui, a former national player who rose to World No. 4.  He is assisted by Zulkefle Bin Mohd Nor, former state player and A'Amar Bin Hashim, a former national player.
The Petaling Jaya-based training academy also organises special public badminton clinics as well clinics. On top of sharpening their badminton skills, the clinics are also a platform to spot and identify up and coming talents to be trained and nurtured under the academy.