You're booked a great airfare, blocked the annual leave and are ready to go – but what do you do when you get there? Sometimes figuring out what to do on holiday is as easy as performing a Google search. But does that get you the truly local experience? We've recently been introduced to localyokl, a start-up that hopes to bring local knowledge to travellers. localyokl have suggested seven things that anyone else might miss when touring Queensland's Gold Coast. Here's what their local experts recommend:
1. All day road trip with Surfing, Fishing and Waterfall Adventures
[label]For the adrenaline junkie[/label] Live the dream of an Aussie surfer. Enjoy the ultimate day trip enjoying the best beaches the Gold Coast has to offer. Your Guide is an experienced surfer and will be able to help you find the perfect wave for your skill level. Once you're finished in the 'green room' you will enjoy a scenic drive inland before arriving at a majestic waterfall for a picnic lunch. After lunch, enjoy a spot of fishing before heading home to your accommodation. [table style="table-condensed"]
Price: $120 per person
Details here
Includes: Surfboard hire, food, water, fishing rods and accessories, transport
[/table]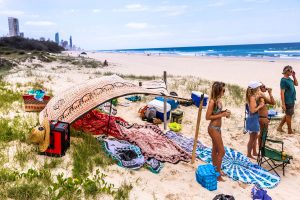 2. Flower Crown Making Class
[label]For the one with nature[/label] This activity is great for small groups, hen's parties or people looking to learn a new skill. Your guide, Sarnia, will teach you to create your very own flower crown over two hours sitting by the picturesque Tallebudgera Creek. Take your time to plan, pick and put together your very own native, tropical or rose style crown. This activity also includes snacks and beverages for your enjoyment. [table style="table-condensed"]
Price: $89 per person
Details here
Includes: Your very own uniquely crafted silk flower crown, healthy snacks and drinks.
[/table]
3. Beachside Seafood Masterclass and Lunch
[label]For the foodie[/label] Fresh, local seafood tastes so much more delicious when cooked by the beach with salt in the air and a glass of wine in your hand. Firstly, you'll meet for coffee with your Guide to chat about the menu before heading off to the local fishmongers to purchase freshly caught fish. You will then be taken to a stunning Gold Coast beach front home where your Guide will teach you how to prepare, cook and present a beautiful seafood meal. [table style="table-condensed"]
Price: $195 per two people booking
Details here
Includes: Snacks, transport, all seafood lunch ingredients, and a glass of wine with lunch.
[/table]
4. Camping Trip
[label]For the fair dinkum Aussie Experience[/label] Leaving in the late afternoon, your
localyokl
Guide will pick you up from your accommodation and then head south to a stunning property in Northern NSW. You will camp in a prime location abundant in nature and wildlife. There are two epic locations that offer a beach side or inland experience. [table style="table-condensed"]
Price: $260 per person
Details here
Includes: two dinners, two breakfasts, one lunch, camp gear (tent, mattress, blankets etc.), utensils and cooking gear, transport, water, local knowledge.
[/table]
5. Stand Up Paddle Board Yoga (SUP Yoga)
[label]For the health enthusiast[/label] Connect with the natural beauties of Tallebudgera Creek at sunrise. You will learn how to use a stand up board and correctly paddle before taking part in SUP yoga. Enjoy the fresh air and scenery with your experienced Guide, plus take home stunning photographs of your experience! [table style="table-condensed"]
Price: $85 per person
Details here
Includes: Stand Up Paddle Board hire, photos and light refreshments.
[/table]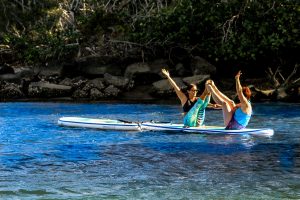 6. Soul Soothing Yoga Retreat – four hours
[label]For the yogi[/label] 'Zen Your Life' will be an unforgettable experience of soul soothing, body rejuvenation and blissful surrender. This private retreat will guide and mentor guests with yoga and meditation, whilst they are nourished with local organic food and treated to a unique Zen Thai Shiatsu massage with pure essential oils. This private 4hr retreat is the ultimate chance to unwind, sooth your soul and reconnect. [table style="table-condensed"]
| | |
| --- | --- |
| Price: $550 per person | Details here |
[/table]
7. Sunrise to Sunset Adventure
[label]For the photographer[/label] Enjoy a full day photography adventure around the hidden gems of the Gold Coast. Rising early to capture the magic of the beach at dawn you will then move on and refuel at one of the Gold Coast's best breakfast spots to recharge the batteries. Your Guide will then take you off the beaten track to secluded trails and waterfalls to photograph some flora and fauna. [table style="table-condensed"]
Price: $100 per person
Details here
Includes: Photography tour, food and refreshment stops, light room editing help and transport
[/table]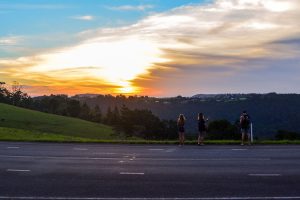 Have what it takes to be a local expert?
If you've always wanted to get paid to do what you're passionate about then why not sign up as a localyokl Guide? Anything from surfing with tourists to taking people on a foodie experience to a hidden café, the opportunities are endless. To learn more, head to www.localyokl.com.