Planning a trip on Qatar Airways in the near future? Our recent trip Kuala Lumpur/Paris via the airline's home port of Doha gave us the opportunity to try out a few of their aircraft types.
Seating:
Both legs between Kuala Lumpur and Doha used Airbus A330-200 aircraft with Economy seating arranged in a 2/4/2 configuration. Audio Video on demand is available at each seat and power is available via a USB port in the seat back.
On the Kuala Lumpur/Doha leg, we selected seats 15 A&B, close to both galley and toilets. As this aircraft carries only Business and Economy placing us in front of the wing. Although one of the older A330s in the QR stable, and a little dated in terms of the facilities such as the entertainment system, the aircraft appeared to be well maintained and all the facilities worked well. On our return flight Doha/Kuala Lumpur, the aircraft was a A330-200 with the same cabin configuration, but we elected to sit just behind the wing in seats 29A&B. Despite this being a newer aircraft things didn't work as well as in the earlier plane. The Inflight Entertainment (IFE) unit was feeling its age and kept kicking back to the default flight data screen in Arabic. This problem wasn't evident on the similar aircraft we flew Kuala Lumpur/Doha so it may have just been that particular unit as the neighbouring unit seemed to be functioning correctly for the movie package.
It's important to note that if you have long legs you may find that all Economy seats A,D,F and K have the entertainment equipment box taking up about half the space under the seat in front.
The Doha/Paris leg of our journey used one of the airlines four brand new Airbus A380-800s all of which are less than 6 months old. Seats in these aircraft are an inch wider than those in either the A330 or the A340 and are arranged in a 3/4/3 configuration. Our seats A&B in Row 48 were at the front of the aircraft in the downstairs Economy section. This is a small cabin, close to the galley and service was quick and efficient. There is a small section of Economy seating on the upper deck, but this is reserved for Qatar Airways Privilege Club members.
USB power supply is handily located on the IFE unit in the back of the seat in front. The control unit located just below the interactive display screen has a large easy to use screen which has backlit buttons and displays your seat number as well, making it easy to use in low light. The On Demand TV was good, with a good choice of news and entertainment channels. The inflight entertainment worked well and the quality of the picture was excellent. Though our seats were close to the toilet, it wasn't an issue as there is some space in front of the cubicles for waiting so people weren't queueing in the aisle.
As this cabin has fewer seats than the one behind, service was also very fast and efficient.
IFE displays were sharp and ambient cabin lighting was easy on the eyes so that making a trip to the toilet when the cabin was darkened wasn't difficult.
The seats were firm and the space between the seat backs helps reduce feelings of claustrophobia. The narrower seat backs didn't seem to be a problem as they were comfortable and the headrest seemed to have sufficient flexibility to cater for people of various heights.
Qatar Airways uses their four Airbus A340-600s on flights between Doha and Paris in addition to the A380-800 aircraft. Our return leg Paris/Doha was on one of these A340-600s, all of which are around 8-9 years old. The Economy seating is arranged in a 2/4/2 configuration and we selected seats 50A&B towards the back of the plane. As this aircraft carries all three cabin classes, the first ten rows or so of Economy seating are over the wing, with the first Economy row being around row 34. Avoid window seats in row 30 as they are misaligned and seats in the back four or five rows may be cramped and uncomfortable as they are misaligned due to the narrowing of the plane in this area.
The seats were reasonably comfortable for an overnight flight, and being of average size, we found the space between and within the seat adequate. The headrest wasn't attractive, but it had a good range of heights and was easy to move into a shape that held the head comfortably.
There is apparently AC power supply available, but despite my best efforts, I was unable to find any evidence of the socket in my Economy seat.
One plus was the cupholder, a very handy attachment to use for your drinks without having to lower the seat back tray.
Unfortunately, the IFE didn't work well. The control unit, which is kept in the armrest was working, but didn't seem to be 'talking' clearly to the screen, which kept defaulting to the main screen. As it was an overnight flight, I just gave up and read a book and slept. I tried again before landing, but was unable to get the flight data screen to stay in any language but Arabic.
As in the A330s, the entertainment equipment box in the A340 is positioned under the seats in Economy seats A,D,F and K, which you should consider when selecting your seat.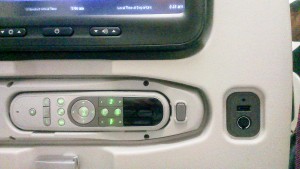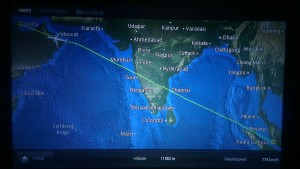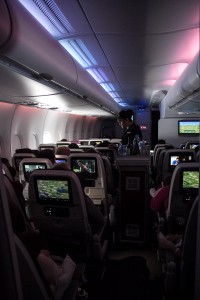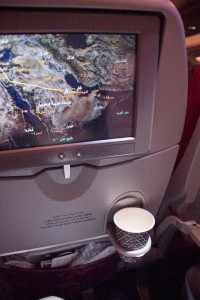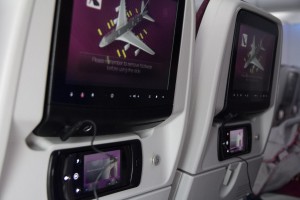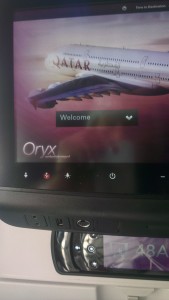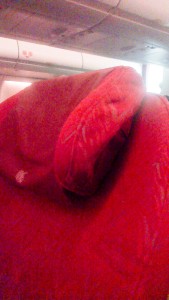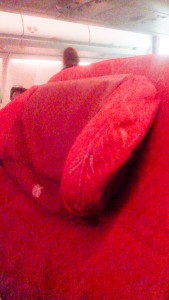 Food
Qatar allows you to select your seats at the time of booking for no extra charge as well as make general meal request (medical / vegetarian etc). However, while the list was quite extensive, we didn't bother as we had no particular dietary requirements.
We were rather disappointed to find that only two of the three choices shown on the inflight menu  were actually available on each leg, one of which was no longer available when the trolley reached us on the Doha/Kuala Lumpur final leg. Because of the timing of our flights, we ended up with three breakfasts, one dinner and four snacks. This meant we ate two scrambled eggs, one pancakes and three fish with shitake mushrooms for our three breakfasts between two of us. The scrambled egg out of Kuala Lumpur was considerably better than that out of Doha, both in presentation and taste, the pancake from Doha/Paris was acceptable, but the fish / shitake mushroom combination did not marry well either out of Kuala Lumpur or Doha. The other offerings of yoghurt, fruit etc were satisfactory, though the croissant was somewhat tough. Qatar airways is still following the traditional Economy meal serving style which takes up a lot of space and requires rearranging of the components to finish the meal. Tea, coffee, juice, beer and wine were available and served with and after the meal.
The dinner selection out of Paris also offered fish, the serving was adequate and reasonably tasty. Each leg also included a snack of a small danish and a savoury wrap/turnover, served in a cardboard box and juice, beer or wine and tea / coffee. Overall, the food was nothing really special, adequate in quality and quantity, but not one of the things that would make me choose this airline over another with similar pricing and connections.
General Comments re our experience with Qatar Airways
Comfort kits containing socks and eye shades, toothbrush & past and ear bud covers were given on each of the first three legs.
Staff were quite efficient and responded well to requests.
Schedule
Times may vary due to Summer time changes. All times are local.
[table style="table-striped"]
Sector
Aircraft
Depart
Arrive
Meals
Also flies
Depart
Arrive
Kuala Lumpur/Doha
A330-200
3.00am
5.30am
snack
breakfast
777-300ER
9.45am
11.50am
A330-200
5.50pm
11.20pm
Doha / Paris
A380-800
8.45am
2.10pm
breakfast
snack
A340-600
2.10pm
8.15pm
A380-800
1.40am
7.25am
Paris/Doha
A340-600
10.20pm
5.50am (next day)
dinner
snack
A380-800
10.30am
5.55pm
A380-800
4.00pm
11.35pm
Doha/Kuala Lumpur
A330-200
8.05am
8.20pm
breakfast
snack
777-300ER
8.05pm
8.25am (next day)
A330-200
1.25am
2.10pm
[/table]
Booking:
We booked online at the Qatar Airways website. From the 'Book' dropdown menu, you can choose either the 'Book' or 'Flight Offers' option which will give you the latest list of best prices and the length of time they are still available.
Remember to have any loyalty card handy – whether it be from Qatar of one of the oneworld partners. Select your seats and meal options as you step through, or leave them until later and use 'Manage Booking' function to make your selections.
Baggage Allowance: Economy travellers get 30kg of allowance, with maximum dimensions of 300 cm except to/from and between certain destinations in North and South America. Details are on the Qatar Airways website.
Payment Options:
Qatar Airways offers numerous ways to pay for your tickets.
All major credit cards are accepted (VISA, MasterCard, American Express, UATP, and Diners Club) Conditions may vary depending on country, length of time before travel etc.
All major debit cards, including Visa and Mastercard, available in most countries.
An option to save your booking and pay later via 'Manage my Booking' or by offline payment is available in some countries.
A few countries will allow payment through your bank.
PayPal is quite widely accepted for payment.
Passengers in certain other countries (e.g. China, Iran, Lebanon, Kuwait and Kenya are also given country specific options.

** The author's travel was not subsidised by the airline.