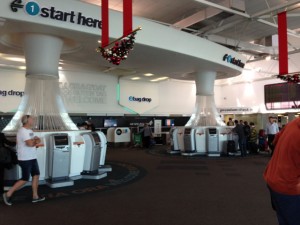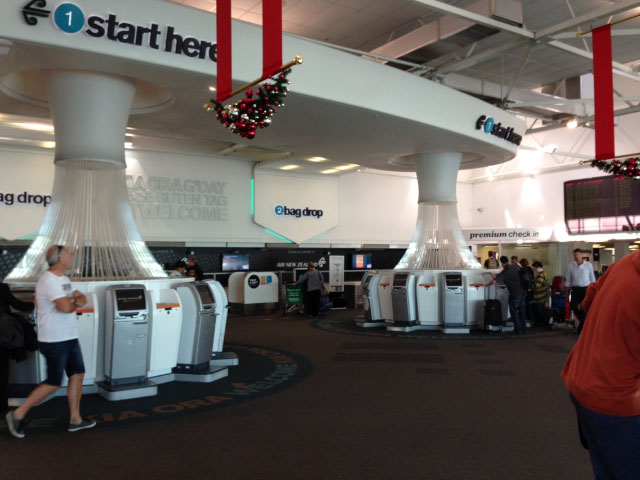 Having visited New Zealand a number of times, I know the drive between any city is absolutely picturesque and should be the number one choice for any new traveller to the land of the long white cloud.
However if you are somewhat time poor, flying in New Zealand is often very cheap fast and reliable. During a weekend visit to New Plymouth in November 2013 I opted to fly from Auckland with Air New Zealand link operated  by Mount Cook Airline.
Fares
Having monitored prices for some time before and even after purchasing, I noticed the fare for a seat only ticket typically only fluctuated between a very reasonable range of NZD 60 to 90 (AUD  55-83).
Auckland Domestic Airport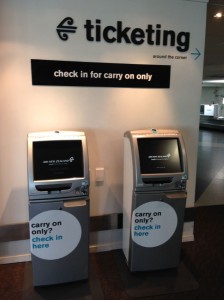 As I was travelling with only hand luggage I was able to take advantage of the self service check in at Auckland Domestic Airport saving myself even more time. For those travelling with baggage Air New Zealand has a very a efficient multi step baggage check in area at Auckland Domestic Airport.
Auckland Domestic Airport is a short walk from the International terminal via a designated pathway which is about 50% undercover. The facilities include a good range of food and retail outlets and ample seating. As I'd flown with hand luggage only I did not investigate baggage interline options.
Aircraft
Air New Zealand link operate a fleet mostly consisting of ATR 72s and I was lucky enough to travel on one for the return leg which had been specially painted in Air New Zealand's All Blacks livery featuring the distinctive 'fernmark' logo.
Travel between Auckland and New Plymouth was a mere 45 minutes and conditions both to and from New Plymouth a little bit choppy on take off and decent. Service was pleasant but minimalistic with just a biscuit pack and spring water on offer. On such a short flight though it hardly mattered.
The Cabin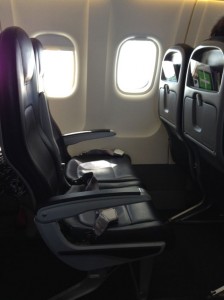 The interior was very crisp and appeared well maintained. Neither of my flights were very full and I even had a spare seat on the journey down to New Plymouth. The flight was reminiscent of any QantasLink regional flight or perhaps Virgin Australia Regional due to the use of the ATR. Air New Zealand staff cabin crew and friendly and attentive, and the pilots even gave a very comprehensive briefing to the passenger cabin about the expected weather conditions for the entire flight.
On the whole I was very pleased with my experience on Air New Zealand link and would opt to travel domestically this way again. Ordinarily I would only feature one leg for a trip report but both journeys were equally fast, pleasant and featured the same in flight service offering leading me to conclude that Air New Zealand have achieved a very consistent product.
Whilst the beautiful New Zealand landscape is not to be missed, it's winding roads can still consume half your day travelling between any major centre. This is a fast, viable and pleasant alternative if you happen to be pressed for time.