All 67 of Qantas' Boeing 737 aircraft used on domestic routes will be upgraded, with about half the aircraft undergoing refurbishment in the airline's Brisbane Heavy Maintenance Facility with the balance of the work taking place in Sydney.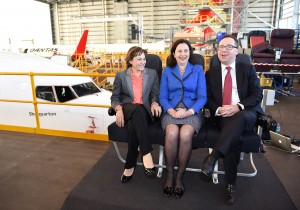 Although no time frame was given for completion of the upgrading, work has already begun and Qantas Group CEO Alan Joyce dropped in recently with Queensland Premier Annastacia Palaszczuk to inspect the on-going work.
The 737 is the backbone of the domestic fleet and this current upgrade is in addition to those taking place on the fleet's 28 Airbus A330 wide body aircraft also underway at the Brisbane facility. 
In addition to visiting the maintenance facility, Mr Joyce announced upgrading work on the Brisbane Qantas Domestic terminal and Lounge facilities. Brisbane is taking on an increasingly important role in providing connections between Qantas domestic routes, both major and regional and international flights to Los Angeles, Singapore, Hong Kong and the recently added daily flights to Tokyo.
What the fleet refurbishment entails
In a statement from the airline, Qantas indicates that twenty-nine of Qantas' 737s already feature personal seat back video on demand inflight entertainment and with the refurbishment, wireless Q-Streaming entertainment will be installed on the 38 remaining aircraft. This will allow customers to stream 400 hours of content to their own personal device.
In addition, each of the 737 aircraft will be fitted with an extra row of economy seats thanks to the reconfiguration of the rear galley and toilets, giving passengers in the additional seats the same legroom and seat pitch offered throughout the economy cabin.
Image source: Qantas