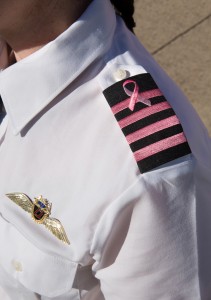 Qantas Group pilots will FlyPink from 1st October, replacing their normal gold epaulettes (shoulder stripes) with pink epaulettes in support of Breast Cancer Awareness Month.
QantasLink Captain Susan McHaffie, who started this initiative, joined the airline in 2013 and was inspired to find a way to raise funds and awareness for breast cancer research when her aunt was diagnosed and overcame breast cancer.
Captain McHaffie says "Together with Qantas, it is my goal to raise $20,000 for breast cancer research. I hope by next year I'll walk past a pilot I don't know in an international airport wearing pink epaulettes in support of breast cancer research."
She is hoping that her idea will encourage airlines around the world to join together for the cause.
How will they raise funds?
Pink epaulettes will be available to all 3,300 Qantas Group pilots who are encouraged to donate $5 and wear pink with pride in October.
Qantas Group pilots will also raise money through a number of other activities during October, including National Breast Cancer Foundation collection tins in crew rooms and Qantas airports as well as Pink Ribbon Breakfasts held around the country.
QantasLink will serve food items in FlyPink branded boxes and brownies in support of the campaign.
QantasLink Chief Pilot, Captain Nathan Miller said Qantas is proud to be behind all its pilots and the FlyPink initiative, which will see pilots donate money to don the pink epaulettes when they sign on for flying duty.
Qantas Group pilots who will wear pink epaulettes include those flying Qantas, QantasLink, Jetstar, JetConnect, Cobham, Network Aviation and Express Freighters Australia.
How can we help?
Customers and other Qantas employees can support FlyPink by donating on their dedicated page #WeFlyPink #showyoursupport.
National Breast Cancer Foundation Chair, Elaine Henry, welcomed the initiative and said the proceeds from the Qantas FlyPink campaign would go directly to life-changing breast cancer research projects around Australia.
Now, what might they come up with during Movember?
Image credit ©Qantas