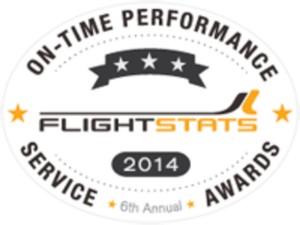 FlightStats, Inc has recently presented Airline Alliance oneworld® with its Airline Alliance On-Time Performance Service Award for 2014 confirming the grouping as the most punctual global airline alliance for the second time. This award joins other recent similar awardsto give oneworld an unprecedented seven of the nine available leading "best airline alliance" awards internationally.
Given that oneworld's 15 member airlines and their 30 affiliated carriers serve almost a thousand destinations in more than 150 countries, boarding 1.4 million customers daily and the FlightStats' award is based on its analysis of some 32 million flights operated by 250 airlines globally in the past year, their top scoring of 79.97% on-time arrivals is commendable.
Among the carriers in the Alliance who won individual awards were four who were included in the top ten most punctual Major Global Carriers. Iberia was third, having 88.46% on-time arrivals, Japan Airlines came in fourth with 87.78%, airberlin took eighth spot at 85.70% and LAN Airlines was ninth achieving 85.63%.
Regionally, Japan Airlines was the most punctual major airline in the Asia Pacific for the third year in a row, with Qantas eighth.  Finnair had the best on-time performance among European Major Carriers with 90.58% of flights arriving on time, with Iberia fourth and airberlin sixth. Qatar Airways was third in the Middle East and Africa category, with Royal Jordanian seventh.  LAN Airlines was second among the major Latin American airlines, with TAM Airlines fourth.  In North America, US Airways had the sixth best on-time record, with its merger partner American Airlines also ranked in the Top 10.
In the global low-cost carrier category, oneworld affiliate member Iberia Express was judged the most punctual.
FlightStats says the awards are "designed to recognise those airlines and airports that demonstrate consistently high performance and deliver on their promise to get passengers to their destinations in a timely manner".  For full details on the awards and to check on flight delays you can visit the Flightstats website.
Other "best airline alliance" awards currently held by oneworld include:
Skytrax's World's Best Airline Alliance 2014 for the second year running.
Business Traveller's 2014 Best Airline Alliance for the second year running.
Premier Traveler's Best of 2014 Best Airline Alliance for the second year running.
Global Traveler's 2014 GT Tested Best Airline Alliance for the fifth year running.
World Travel Awards' World's Leading Airline Alliance for the 12th year running.
Air Transport News' Best Airline Alliance 2014.
About oneworld
oneworld is an alliance of 15 of the world's leading airlines, including airberlin, American Airlines (including US Airways), British Airways, Cathay Pacific, Finnair, Iberia, Japan Airlines, LAN Airlines, TAM Airlines, Malaysia Airlines, Qantas, Qatar Airways, Royal Jordanian, S7 Airlines and SriLankan Airlines, and around 30 affiliates.
oneworld member airlines work together to offer special privileges and rewards for frequent flyers, including earning and redeeming miles and points across the entire alliance network.  Top tier cardholders (Emerald and Sapphire) enjoy access to more than 600 airport lounges and are offered extra baggage allowances and priority baggage delivery.  The most frequent travellers (Emerald) can also use fast track security lanes at select airports.