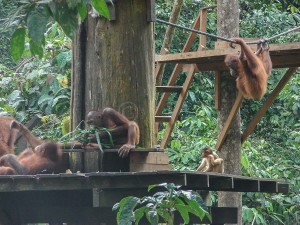 MASwings offers from the Malaysia Airlines East Malaysian subsidiary, list some good fare deals for their flights within Sabah and Sarawak until the end of June 2017.
This covers the local school holidays in May and fasting month of Ramadan as well as the Hari Raya break. Those tickets will go quickly, so get in fast for the best deals, which are available until 31st May 2017.
MASwings Offers
Some of the flights we found included flights to and from Mulu, site of the famed Mulu caves and popular with travellers.
MASwings services use ATR72 aircraft, which fly low enough for you to get a great view of where you're going. The planes are configured with two seats either side of a single aisle and all window seats have a view as they are below the wings.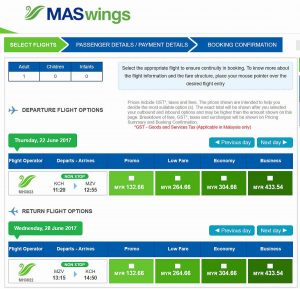 We managed to find a number of tickets available from the lowest price of MYR 103 including a seat from Kota Kinabalu to Labuan. Tickets to Lahad Datu, Tawau, Sandakan, Mulu and Miri are available from MYR 113. MYR 132 will get you a ticket over the Hari Raya period for Kuching to Mulu.
Other fares available under this 'Ramadhan Kareem Promotion' include:
[lists style="star" color="#1e73be"]
Kota Kinabalu to Bintulu and Sibu (MYR 133) or Kuching (MYR 153)
Kuching to Sibu (MYR 103), Bintulu (MYR 113),
Kuching to Miri and Mulu (MYR 133)
Miri to Labuan, Mulu, Bintulu and Limbang (MYR 103); and to Sibu (MYR 113)
Sandakan to Tawau (MYR 103)
Bintulu to Sibu (MYR 103).
[/lists]
MASwings Offers – International
MASwings has a small number of international flights between Sabah and Sarawak to Brunei and Indonesian destinations. Pick up a ticket from Tawau to Tarakan, Indonesia from MYR 157. A flight back starts at 651,000 rupiah (about MYR 211).
Make a booking or get more information on destinations, fares and flight schedules on MASwings' website maswings.com.my.